McAllister thriving in bullpen role for Indians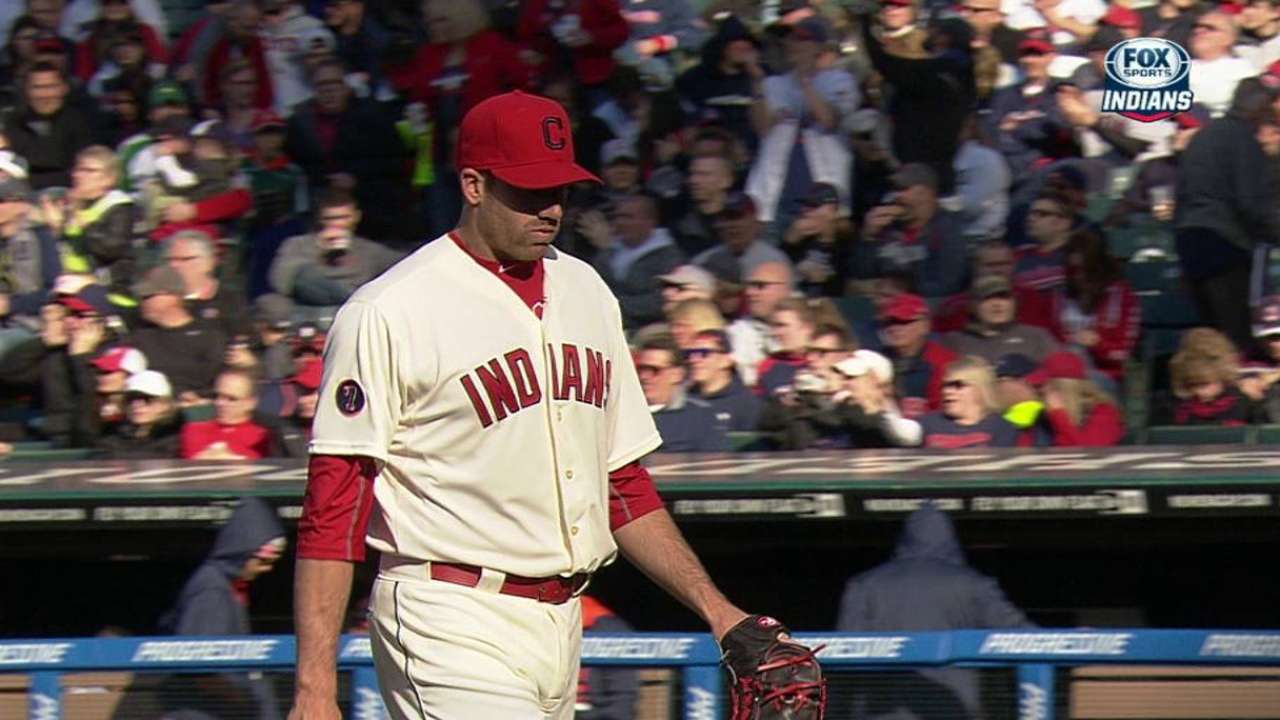 KANSAS CITY -- The Indians have debated since last season whether Zach McAllister's future will include having a consistent home in the rotation or bullpen. Right now, the big right-hander has found a home as a reliever, and he is proving valuable in that role.
"A guy that can give you 200 innings is a very important guy," Indians manager Terry Francona said on Thursday. "But, a guy that can come in and pitch multiple innings out of the bullpen in key situations is also really important to a staff."
McAllister worked a scoreless ninth inning to close out Cleveland's 10-3 win over the Royals on Wednesday night, facing the minimum and striking out a pair of batters in the process. Through nine relief appearances this season, the righty has fashioned a 1.80 ERA to go along with 16 strikeouts and four walks in 15 innings.
Heading into Thursday, McAllister was riding a shutout streak of 6 2/3 innings in his past five games, during which he had 10 strikeouts against no walks and a .130 opponents' average. Dating back to last season, when the Indians used McAllister as a reliever down the stretch, he has turned in a 2.25 ERA with a .558 opponents' OPS and 30 strikeouts through 28 relief innings.
"Some guys, when they go to the bullpen, their velocity plays up," Francona said. "Not everybody, but he's one of them."
After averaging 94.1 mph overall last season, McAllister has averaged 95.5 mph out of the bullpen this year. More importantly, the right-hander has been less exposed in terms of pitch repertoire. McAllister relies mainly on a fastball and slider, but he has struggled to find consistency with a third pitch. That has led to some rough starts over the past two years, but it is easier to get away with as a reliever.
"He's a big, strong kid, man. That equals a good starter -- a durable starter," Francona said. "But, if a guy is having a tough time with his third pitch, what's going to end up happening is he's going to have a high pitch count, he's not going to get deep in the game and then we're looking for Zach. And he's not there, because he's starting.
"I still think Zach is going to be a starter, I really do. But, right now, it's a really good role for him. I know he enjoys it. He's going to be a huge help to us."
Jordan Bastian is a reporter for MLB.com. Read his blog, Major League Bastian, and follow him on Twitter @MLBastian. This story was not subject to the approval of Major League Baseball or its clubs.