Rosenthal appreciates mom's love, support
Cardinals closer says his mother has always been his 'biggest fan in the world'
ST. LOUIS -- Of all the gloves Trevor Rosenthal has come to own during his baseball career, the most precious in his St. Louis-area home is the throwback Rawlings mitt that became his last winter.
His uncle gifted the family heirloom to him, one that once belonged to Trevor's maternal grandfather, who passed away before the Cardinals' closer was born and had sported the glove as a recreational ballplayer. It then spent years displayed in grandma's home -- catching Trevor's eye each time he visited -- before ending up with his uncle and, finally, with him.
It is a glove, Trevor explained one recent afternoon, that provides a unique tie to the grandfather he did not know. But it also represents a link to his mother, Judy, whose devotion and sacrifice helped her son pursue the baseball career that would have made grandpa so proud.
"The thing I remember most, and even to this day, is that she was the biggest fan in the world," said Trevor, who grew up in a family of four, along with his younger brother Tanner. "You do something good on the field, and she's yelling in the stands. It's almost like, 'OK, calm down. I can hear you.' But just the emotion of it and how much she cares about us was always evident."
Judy, an optomology technician, also played both full-time schedule-maker and chauffeur. She juggled shuttling the boys to practice and games -- not just for baseball, either. Trevor Rosenthal starred in soccer until high school, when he gave it up to focus on baseball. He dabbled in basketball and football along the way as well. Tanner was also a multi-sport athlete.
"I pretty much planned my vacation days around the baseball schedule," Judy recalled. "It was the best way to make sure I got them to where they needed to go."
Judy and husband, Russ, moved their family to the suburbs of Kansas City when Trevor was six to pursue a change of careers that the parents thought was best for the long-term stability of the family. They parted with the restaurant they had owned since about the time Trevor was born, deciding, as Judy describes it now, that "we didn't want to raise our kids in that environment."
Judy took on new full-time work, and Russ enrolled in law school. When Trevor was between ages 6-10, Judy would take the onus of getting him to games, where Russ would join them to watch and study on the sidelines.
"She just loved on us no matter what," Trevor said. "Just looking back on our relationship and the relationship we have now, I've always appreciated how she's been there. Just the love and affection inside of her, she's always had an open heart. It's a character trait that I want to continue to have with my kids. Also how she treats other people with kindness -- that's something that has rubbed off on me, too."
In her eldest son, Judy sees a mixture of both parents' personalities.
"He gets his stubbornness from me," she said with a laugh. "The wit, from his dad."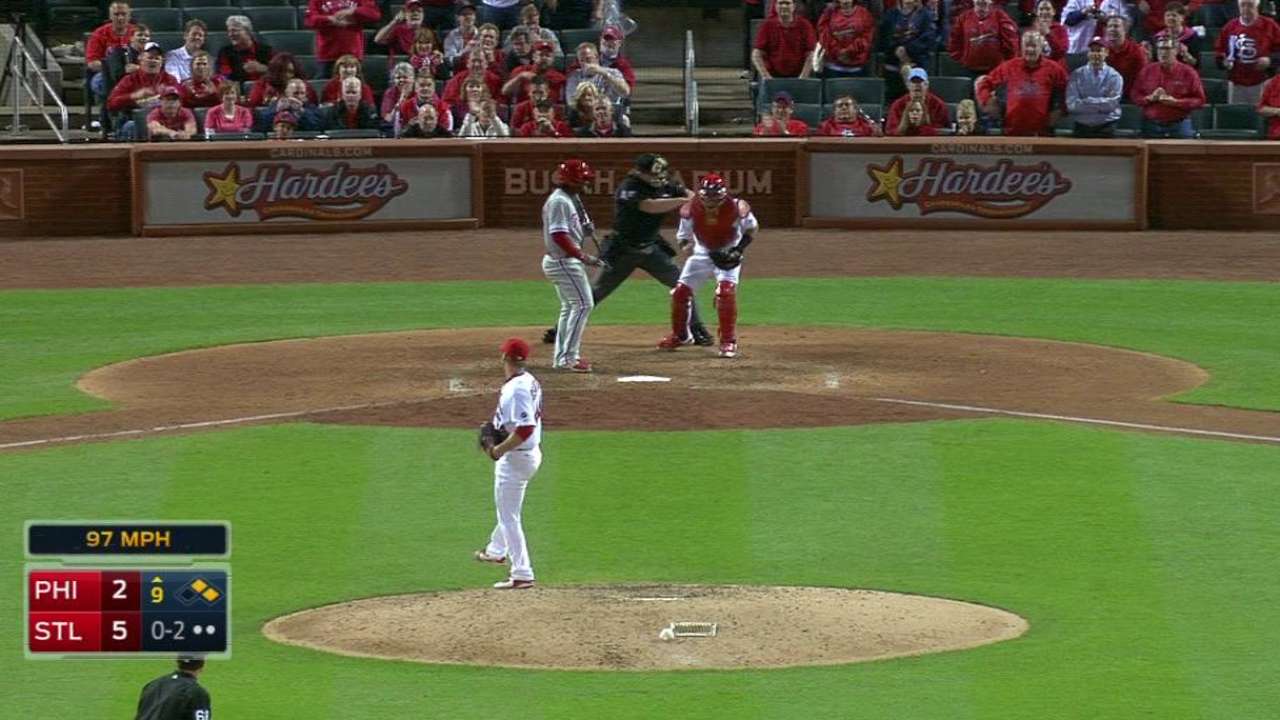 Living just across the state has allowed Judy and her husband the opportunity to take a few trips to St. Louis each season to watch their son pitch. They come to Busch Stadium each year for the home opener and have not missed many playoff series. In 2013, Trevor surprised his mother with a birthday trip to Los Angeles, where she was on hand to see the National League Championship Series eventually won by St. Louis.
And when they're not in the stands, Judy says: "We watch every game, of course. I'm very proud and very thankful and so blessed to watch him be able to do what he does."
They are a small family, but also a close one.
"I value talking to [my parents] and showing respect toward them and continuing to have a good relationship with them," Trevor said. "Because that's what I would want from my kids when they grow up."
Jenifer Langosch is a reporter for MLB.com. Read her blog, By Gosh, It's Langosch, follow her on Twitter @LangoschMLB and like her Facebook page Jenifer Langosch for Cardinals.com. This story was not subject to the approval of Major League Baseball or its clubs.