Susac, mom share bond that goes beyond diamond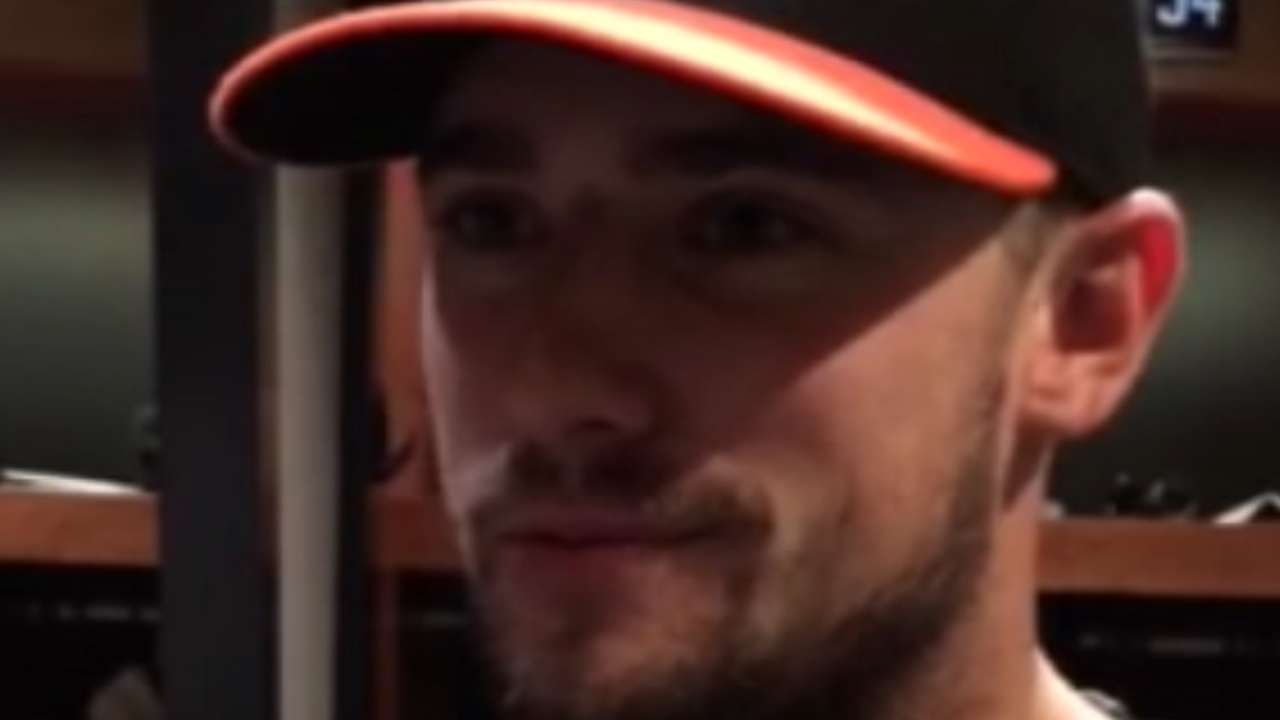 SAN FRANCISCO -- Shawnna Susac's spare time and her three sons' amateur baseball schedules long have been one and the same.
A patient advocate with Dignity Health Medical Foundation near Sacramento, Calif., she consistently works overtime or weekends to juggle work obligations so she can attend weekday games. Or she'll simplify matters by allocating her available time off to see a tournament or accompany a traveling team on an excursion.
"My only vacation time," she said recently, "is going to baseball games."
Her oldest son, Andrew, is well aware of this. "I don't think she ever missed a game," said Susac, a rookie backup catcher with the Giants, as he recalled his baseball beginnings. "If you asked her, she'd say she wants it no other way."
True enough. Though glamour is absent from the travelogue of youth baseball -- "We've been pretty much to every podunk town you can name," Shawnna said -- she doesn't hesitate to go to the ends of the earth, or at least the continent, to support her sons' baseball endeavors.
"Pretty much where they go, I go," she said during a break between games from a tournament in Reno, Nev. "As a parent, that's what you do. We're a pretty close-knit family."
As the oldest boy, Andrew was the first to benefit from his parents' devotion. His father, Nick, frequently coached teams that his sons performed for, while Shawnna complemented her husband with her steady presence and guidance off the field.
"For good advice, that's one person I go to non-stop," Andrew, 25, said of his mother. "I probably talk to her more than my dad now."
Shawnna surmised that the same goes for Andrew's brothers: Matt, 24, who recently graduated from University of Nevada-Reno, and Daniel, 14, who attends St. Ignatius Grammar School in Sacramento.
"They have a different relationship with their father," Shawnna said. "Andrew, I think, calls his dad every day after a game and they break it down and they do their thing. And anything non-baseball comes from me."
For instance, Andrew consulted his mother as he considered proposing marriage to his college sweetheart, Maggie. Said Susac, "I went to her first and said, 'I think it's time to do this.' And she talked me through the steps and told me she thinks this would be a great idea for me. Not that I was afraid to go to my dad or anything [but] my dad and uncle are so baseball-oriented. It's like, 'Well, when are you going to do it, during the World Series?' Mom's not always geared in the baseball or competitive-edge direction."
Result: Andrew and Maggie are engaged to be married in November.
"She's known Maggie as long as I've known her," Andrew said. "She said, 'I think you're right. I think you have to keep her. And you better do it soon, too.' She made sure I wasn't delaying the process."
When Shawnna's called upon to discuss baseball, she knows how to say the right thing.
"She always supported me even in those times when maybe I thought baseball wasn't my thing," Andrew said. "She was always telling me I had the gift to do this for a living one day."
Chris Haft is a reporter for MLB.com. Read his blog, Haft-Baked Ideas, and follow him on Twitter at @sfgiantsbeat. This story was not subject to the approval of Major League Baseball or its clubs.