MLB.com Columnist
Bill Ladson
Mom's support helped shape Strasburg
Encouragement, devotion run in family of Nationals pitcher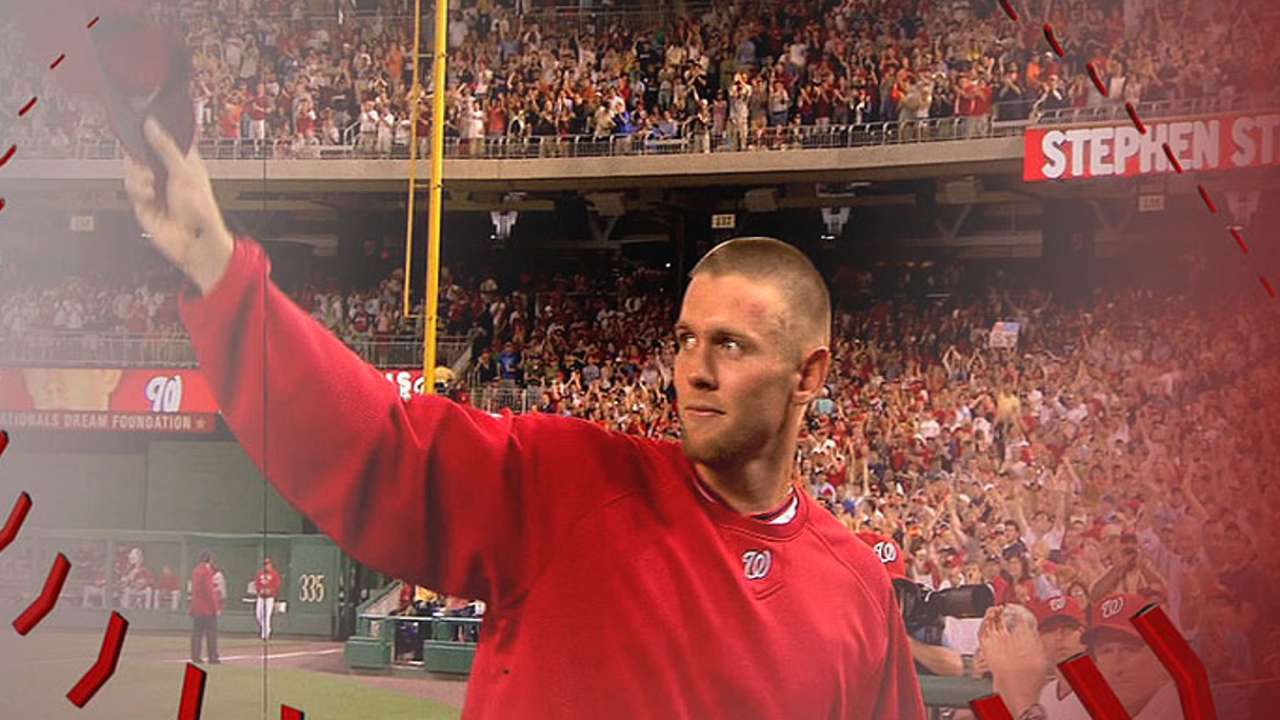 WASHINGTON -- Nationals right-hander Stephen Strasburg will be the first to say that he was spoiled as a child. His mother, Kathy Swett, had a lot to do with that.
When Strasburg was a little kid, Swett took notice that her baseball fan son loved Padres great Tony Gwynn in particular. For Strasburg's fourth birthday, Kathy made sure to encourage that.
"She got me a poster, a jersey, Tony Gwynn with his face on the wristbands," Strasburg said. "We have this picture at home. It's my mom next to me and it's on my birthday with all my family around me. I'm holding this [Tony Gwynn poster] up and I have this big smile.
"It's kind of funny. My mom gave that photo to Tony on his birthday years back. That picture was in his office throughout his coaching career. It sums up what she has done for me."
Swett gets emotional when she talks about her only child. It's obvious that Strasburg has returned the favor.
"It sounds kind of corny, but he is my heart and soul," Swett said via telephone. "He is my everything."
Stephen points out that his mother is a caring person who puts everybody before herself. In fact, she retired from her job in order to take care of her mother.
"It was a commitment that she made a while ago," Stephen said. "My grandparents did so much for her. She wanted to make sure when the time came that they couldn't take care of themselves, she was going to help them any way that she could."
Strasburg also credits his mother for the stubbornness and determination that he has on the mound.
"I go out there and just work as hard as I possibly can," he said. "I owe that to her."
Swett knows her son has the tendency to be a perfectionist.
"That's what drives him," she said. "He wants to get better and better. He also wants to win. He would like to win all the time, but sometimes you don't."
Strasburg made his Major League debut against the Pirates on June 8, 2010, striking out 14 batters. Swett had a lot of family from Virginia who attended that game.
"Just to see him realize his dream, it's an opportunity that has been certainly a blessing for him," Swett said. "I will never forget that day. … We had a wonderful time. I remember coming back to the hotel, I opened up the door of my hotel room and the hotel staff -- I guess they had been watching the game, too. The hotel staff had set up this table inside my hotel room that had champagne, teas -- you name it. We had this big celebration party. It was so much fun. I will never forget it."
The Nats are traveling to San Diego next week, and mother and son are expected to see one another. Swett is hoping to take her mother to one of the games at Petco Park.
"She is looking forward to it," she said. "She is already telling me, 'You think you will have time to come over?' She never wants to impose. It's like, 'Mom, of course I'm going to come see you.'"
Bill Ladson is a reporter for MLB.com and writes an MLBlog, All Nats All the time. He also could be found on Twitter @WashingNats. This story was not subject to the approval of Major League Baseball or its clubs.