Rodriguez K's 4 in two frames after A's callup
Oakland designates right-hander Smith for assignment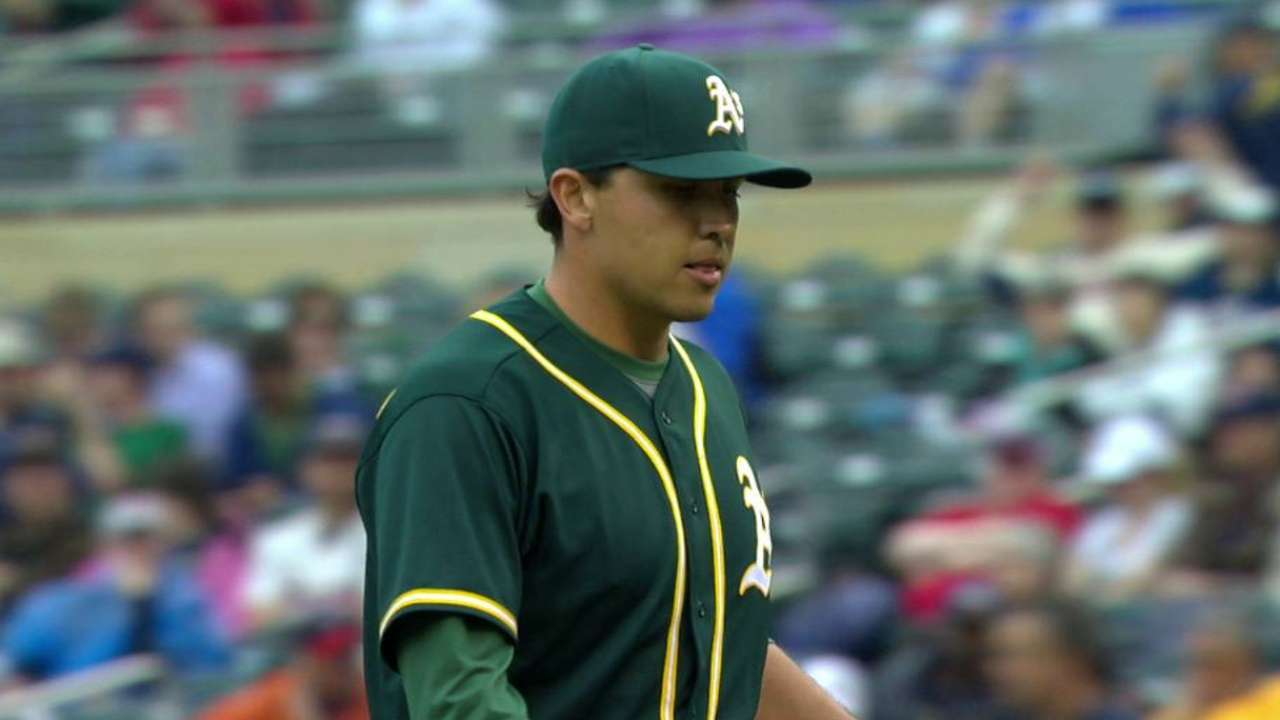 MINNEAPOLIS -- A battered A's bullpen that so desperately has been in need of dependable arms got one Thursday afternoon in Fernando Rodriguez, who struck out four in two scoreless innings in a 6-5 loss to the Twins just hours after joining the team.
"Tried to get him a little bit of a soft landing into a game and start an inning, which he did, and he pitched great," said A's manager Bob Melvin. "Anybody who comes out of there right now pitching good, we're going to look for a little bit more of an extended role."
Rodriguez was selected from Triple-A Nashville on Thursday morning, going on the 40-man roster in place of right-hander Chad Smith, who was designated for assignment.
Rodriguez, 30, was brought in for the sixth and seventh innings, three days after his last appearance with Nashville, when he fanned each of his five batters faced. He had a 2.81 ERA for Nashville, buoyed by a change in delivery with his leg kick in recent weeks.
"I'm just trying to stay really calm with it," said Rodriguez, "and it keeps me out ahead and everything's feeling good."
Smith's turn on the bullpen carousel was brief. The right-hander made just two appearances, allowing five runs in 1 1/3 innings.
• Ben Zobrist, who hopes to be back in the lineup by June 1 following left knee surgery, began hitting off a tee Thursday.
• Right-hander Jarrod Parker will be up to 90 pitches in his next rehab start with Nashville on Friday. He's expected to rejoin the A's rotation at the end of the month.
Jane Lee is a reporter for MLB.com. This story was not subject to the approval of Major League Baseball or its clubs.