MLB.com Columnist
Tracy Ringolsby
ASG debate: Padres trio in mix for NL outfield
Kemp, Myers, Upton are each making a case to start for Senior Circuit
We will be doing daily ASG debates until balloting ends on July 2. We will frequently be pitting one player against another and have a writer make a case for one of them, but that doesn't mean there aren't other good candidates for that position. In fact, your comments could spark a new debate for us to tackle. So let us know what you think!
The centerpiece of the San Diego Padres' offseason overhaul was the complete revamping of their outfield.
With an eye on the present, San Diego acquired Justin Upton, who will be eligible for free agency at season's end, from Atlanta. With an eye on the future, the Padres added Wil Myers from Tampa Bay. And with an inability to turn down a bargain, they took on Matt Kemp once the Dodgers agreed to pick up $32 million of the $107 million Kemp was owed in the final five years of his contract.
So far, so good.
The three outfielders have been key factors in the Padres becoming a contender in the National League West. San Diego leads NL outfielders with 69 runs scored (12 more than Arizona) and 61 RBIs (15 more than Washington). The Friars rank second with 14 home runs, three behind the Dodgers, and are tied with the Pirates for second in stolen bases with 13. And they don't have a Billy Hamilton, who has 14 of the NL-best 18 steals for the Reds' outfield.
What the Padres do have is the question of which of their three outfielders is most likely to be voted to the NL All-Star starting lineup.
Giancarlo Stanton of Miami has become the NL's rock star, which figures to give him an edge for one spot. Dodgers rookie Joc Pederson, who was a key reason L.A. was willing to give up Kemp, has had such an impactful debut that he has even overshadowed Yasiel Puig.
And then comes San Diego's trio.
As well as they have all played, Upton has risen to the top. He doesn't have that big-city legacy of a Kemp, who grew up in the Dodgers' system. However, Upton, 27, is a two-time All-Star who has the strongest stat line of the Padres' outfielders, hitting .294 with seven home runs, 21 RBIs and a .569 slugging percentage.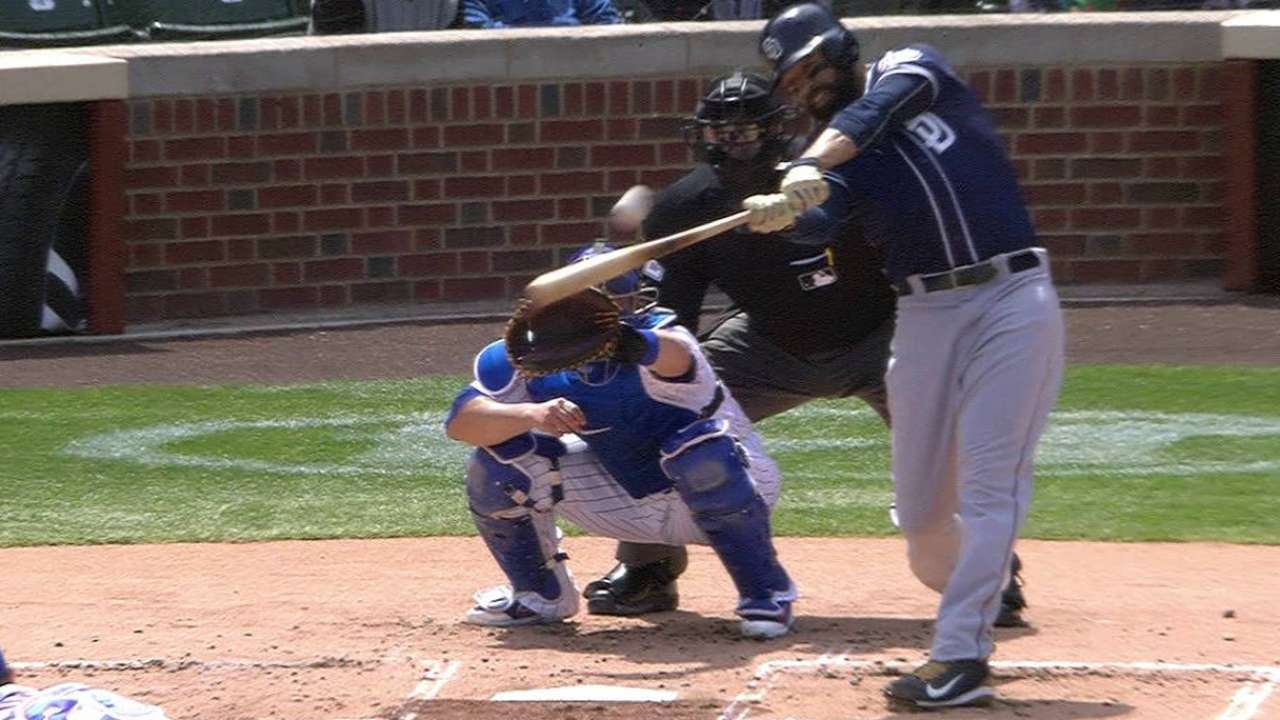 Kemp has that L.A. connection, which helped him earn a starting spot in the NL outfield in 2011, and has put together impressive numbers, too, hitting .291 with 18 RBIs and eight doubles, but he has only one home run so far.
Myers carries the "potential" label. He was limited to fewer than 90 games in each of his first two big league seasons with the Rays, but he was the 2013 American League Rookie of the Year Award winner, and he is only 24. Myers has started to live up to that "potential" this year, hitting .274 with seven doubles, a triple, four home runs and 18 RBIs.
As big a challenge as any of the three will be overcoming the Padres stigma. In their first 46 years of existence, the Padres have had only 20 elected All-Star starters, and that includes Hall of Famer Tony Gwynn (10 times). The only San Diego outfielder other than Gwynn to have been elected to the NL All-Star starting lineup was Hall of Famer Dave Winfield in 1979.
The only Padres player to start an All-Star Game since Gwynn in 1998 was right-handed pitcher Jake Peavy in 2007.
Kemp, Myers or Upton could be primed to end that drought in 2015.
Tracy Ringolsby is a columnist for MLB.com. Read his blog, Write 'em Cowboy. This story was not subject to the approval of Major League Baseball or its clubs.