MLB.com Columnist
Phil Rogers
White Sox say they have time, talent for turnaround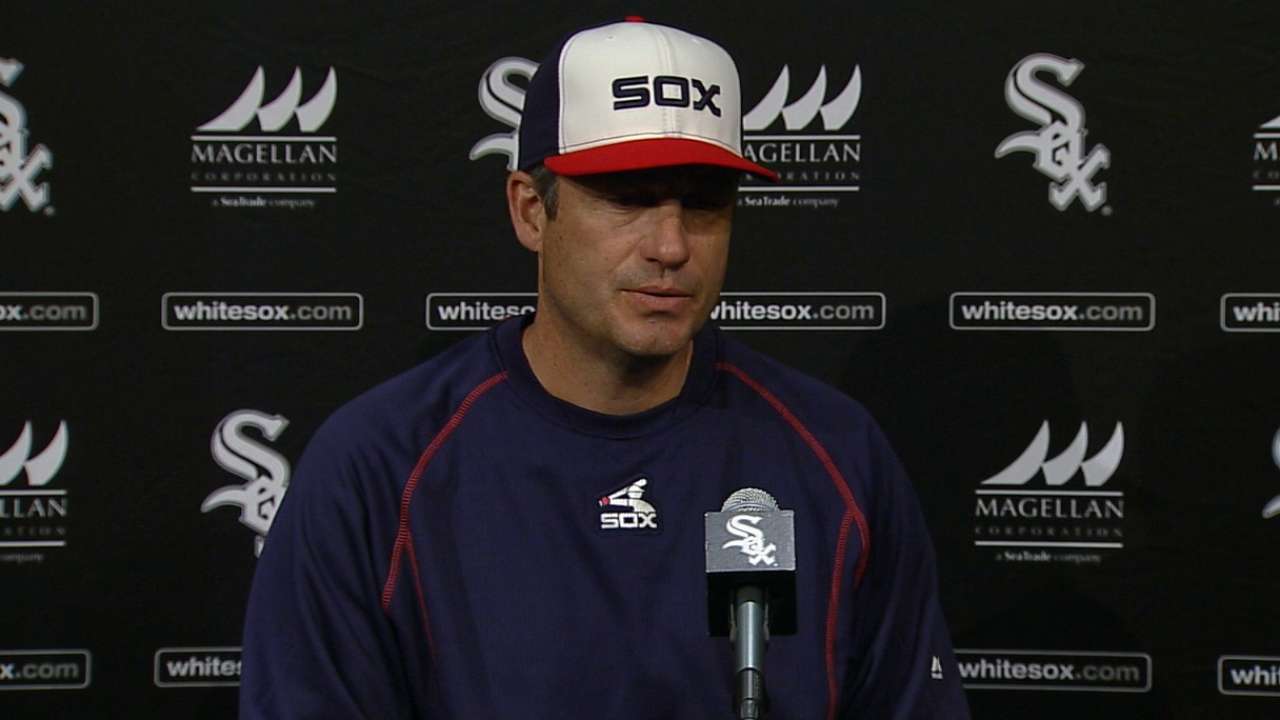 CHICAGO -- Yep, this sounds about right. The White Sox have Jose Quintana starting on Thursday, in a game that might be as big as any in the Robin Ventura era.
The guy that Ken Williams pounced on when he was overlooked by the Yankees gets a chance to give the White Sox a sweep of the Tigers. This could be a huge step for a team that has been off stride since leaving Arizona, and a strong start by Quintana would be the perfect way to finish off the potential turnaround.
With their top three starters working in this series, it was a significant mile marker for the White Sox. Yet until the eighth inning on Wednesday, Brad Ausmus and the Tigers must have wondered why all the fuss about the offseason remodeling project for the Sox.
As far as the balance of power in the American League Central, it has been business as usual in 2015, and that's not a good thing for Ventura, whose career record as a manager is 231-279. There have been questions about his job security, although only Tuesday general manager Rick Hahn did his best to quiet them.
For those questions to go away, the White Sox have to start winning consistently, according to the offseason plan. But one of the beauties of baseball is that it cannot be scripted. Seasons have to evolve at their own pace, organically.
Another of the great things about baseball is that sometimes big things happen out of nowhere. That was the case in a 7-6 victory in which Ventura's team strung together six consecutive hits -- including a three-run homer by Melky Cabrera -- after two were out in the eighth inning.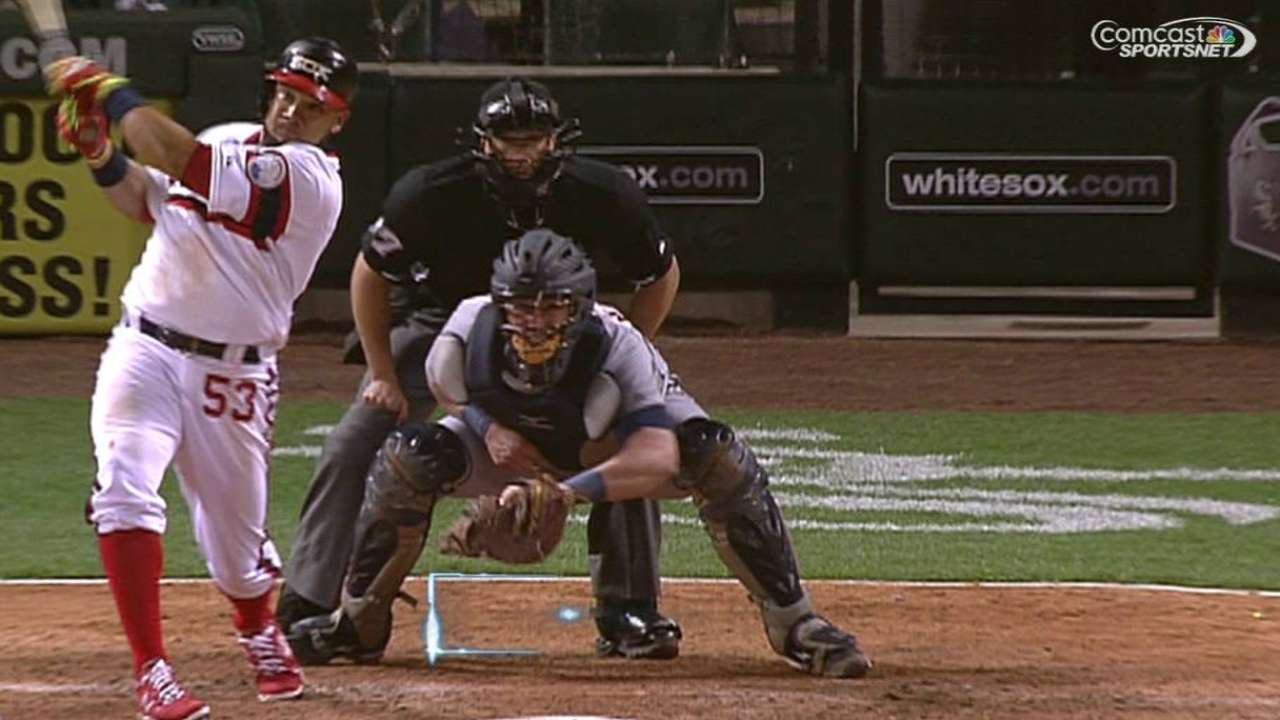 Cabrera's blast into the right-field seats wasn't as dramatic as if it had been in the ninth inning. But nevertheless it might just be the spark that the Sox need.
They believe they have put together a contender this season, just as they believe that an overabundance of no-decisions has caused the 26-year-old Quintana to remain a secret weapon. He finished 2014 ranked 10th overall in fWAR among Major League starters, sandwiched between Max Scherzer and Adam Wainwright.
That sounds like a guy you would want to have on the mound in a big game, right? Quintana sure hasn't looked like it this season, going 1-2 with a 5.28 ERA the first five times around the rotation.
Quintana has pitched well at times, but he's got whacked around too. That's really the story of the entire rotation, with the latest disappointment coming in the form of Chris Sale's lack of command for 5 1/3 innings.
Sale was tortured by Victor Martinez, as usual (he's 16-for-34 with four home runs against Sale), and Miguel Cabrera. Most significantly, Sale failed to build on any momentum gained when Jeff Samardzija beat Detroit, 5-2, in the series opener on Tuesday.
The starting rotation that was expected to be a major strength finds itself with a 5.48 ERA, hovering near the bottom of the league. It will look outside itself for a lift on Saturday night, when rookie Carlos Rodon gets his first start as Samardzija serves the suspension he received from the April 23 fracas with the Royals.
But make no mistake: If the White Sox are to be taken as seriously as they hoped to be, they're going to have to pitch better than they have. The good news is that they are very capable of doing so.
Sale has turned in the worst back-to-back starts of his career, getting torched for nine runs last Friday in Minnesota and allowing the Tigers to score five runs Wednesday, when he matched a career high with five walks. He had started the season well but has lapsed into a rare funk.
This does not qualify as a major cause for concern. As long as Sale is healthy -- and it seems he is -- he'll be fine.
His team can recover from its 10-14 start and get well, too. But it is going to have to start scoring runs more consistently than it has all season, a trend you couldn't have seen coming in Spring Training.
Trying to improve the cast around Jose Abreu, the White Sox signed free agents Cabrera and Adam LaRoche in the offseason. But so far there's been no payoff.
The White Sox had scored only 28 runs in 10 games before breaking out in the bottom of the eighth Wednesday against Joba Chamberlain. But it's the same lineup that left Spring Training confident after ranking sixth in the Cactus League with an average of 4.6 runs per game, not that you can make much of those stats.
Usually you've got to score runs in April and May to set the stage for a big summer. And the White Sox had been stalled.
When Conor Gillaspie lined a home run to right field in the second inning off the Tigers' Alfredo Simon on Wednesday, it ended a nine-game homerless drought, the longest for the White Sox since 1989. Center fielder Adam Eaton, the leadoff man, still hasn't driven in a run in 86 at-bats this season.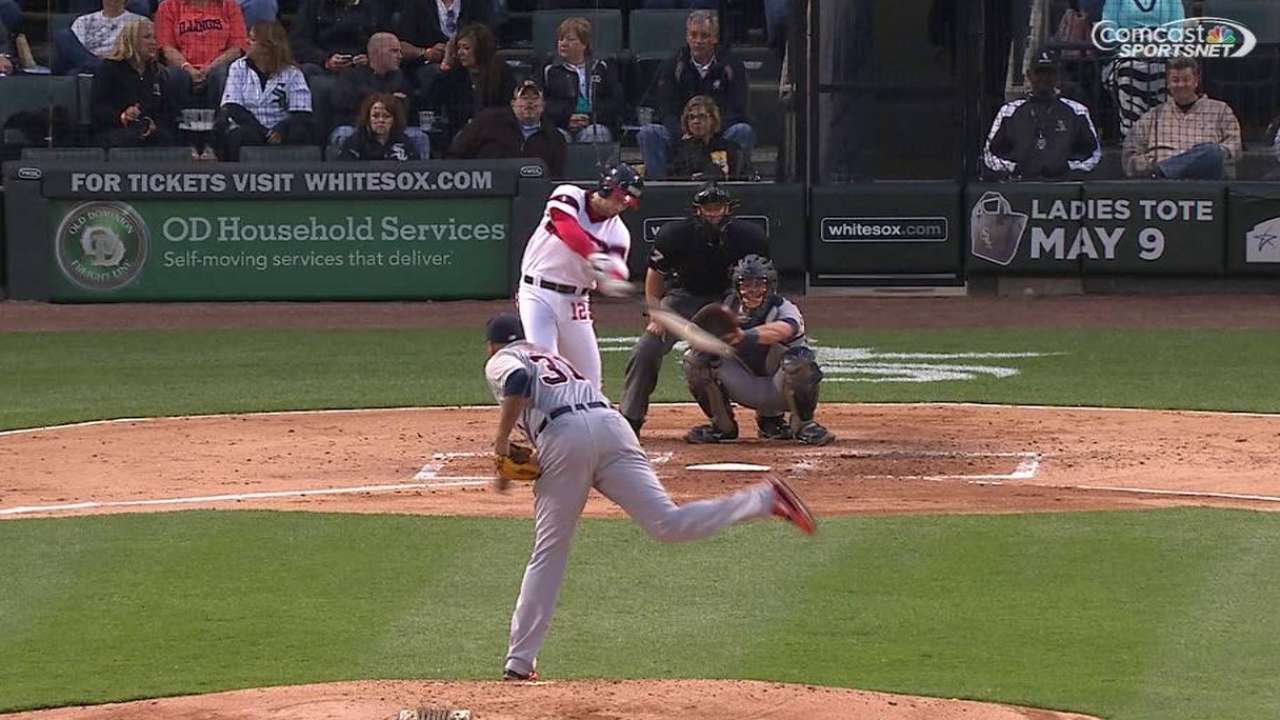 But the out-of-thin-air rally against Chamberlain rewarded Ventura for his belief in his team.
"We keep talking about the offense eventually putting it together," Ventura said. "It's been sputtering, but they continue to grind and realize that it's going to be there, that it's going to come out. These guys are pulling for each other. I think that's the strength of these guys."
Rallies like the one that the White Sox put together against Chamberlain can go a long ways toward changing the outlook of a lineup, especially one that has been pressing. Hahn said he has seen players trying too hard as they attempt to settle into the routine of the season.
"We have a lot of guys who are trying to carry the weight, to step up -- and to their credit -- put a team on their back," Hahn said as the Detroit series was beginning. "Instead, we need guys to just go back to playing the game the way they have for a number of years. ... When guys are able to exhale and get back to performing at their accustomed levels, it will help correct a lot of this."
Quintana gets the ball on Thursday, with a chance to make a statement.
"Based on the rotation we put together, based upon this lineup, we feel there are far, far better days ahead," Hahn said. "We've got to get right and get right quickly, but the die is in no way cast on the 2015 season."
Phil Rogers is a columnist for MLB.com. This story was not subject to the approval of Major League Baseball or its clubs.