Statcast: Didi's glove an upgrade for Yanks
New technology breaks down shortstop's spectacular play against Blue Jays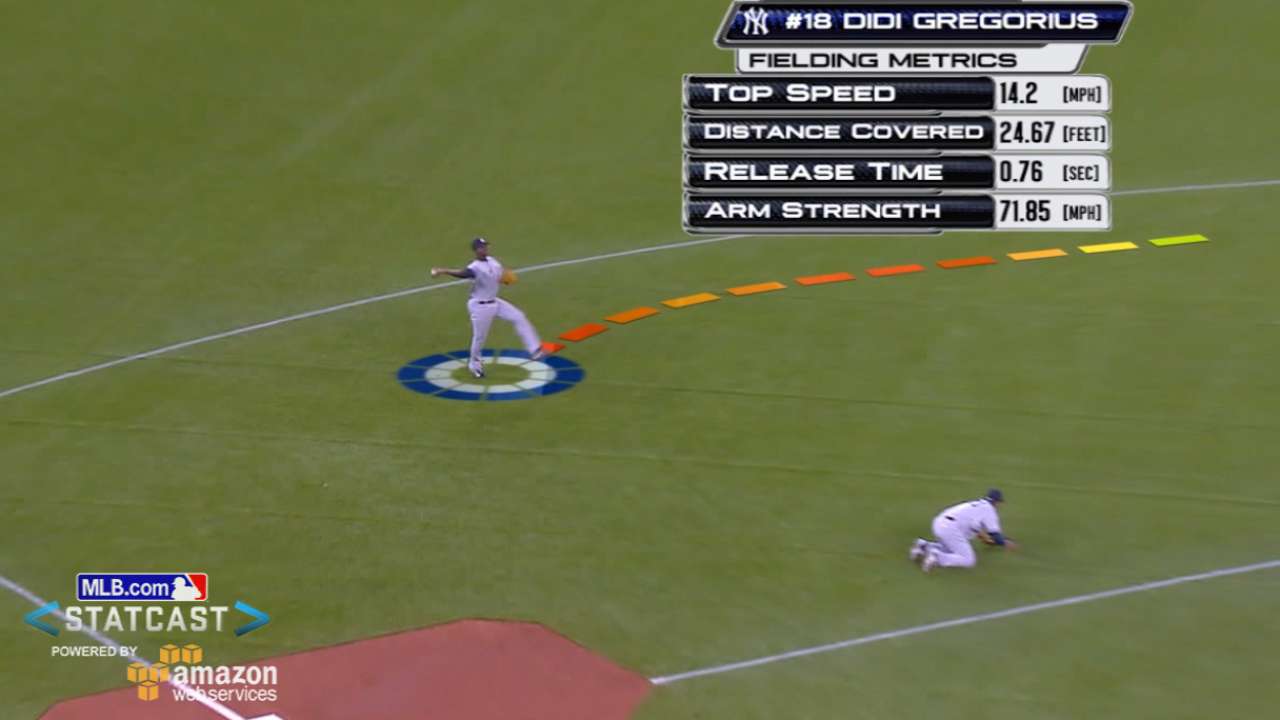 It'd be easy to start off by saying that Didi Gregorius has had a rough go of it trying to replace Derek Jeter as the Yankees' shortstop, but it's unfair to suggest that's actually what he's doing. No one could replace the legendary Jeter on or off the field. Gregorius' task is simply to prove that he's more than just a twice-traded 25-year-old who has yet to play a full season in the big leagues.
While it has indeed been a poor start with the bat (.215/.276/.241), offense isn't Gregorius' only job. With all due respect to the decorated and departed Jeter, shortstop defense had become a considerable problem for the Yankees in recent years. From 2012-14, Yankee shortstops finished last in every advanced defensive metric, even with Jeter missing much of 2013. Gregorius, on the other hand, had shown flashes of stardom but had generally ranked as about average, which is more impressive than it sounds. (If you're average, that means you're better than half the population.)
In other words, "average" is an upgrade for the Yankees in terms of defense at shortstop, and Gregorius showed it by ranging 24.67 feet (mostly away from first base) as tracked by Statcast™ in making a spectacular play to rob Toronto's Kevin Pillar of a hit on Tuesday.
• Get acquainted with glossary of Statcast™ terms
We could give you all of the impressive numbers about what Gregorius did -- despite going the other way and not setting his feet, he still got nearly 72 mph on the throw -- but what's important to remember is that a great play like this isn't just about who's making the out. It's also about who's on the other side of it.
Now, chances are you might not know Pillar, a 32nd-round Draft pick out of California State in 2011. In parts of three seasons with Toronto, he's got just a .285 OBP without much power to make up for it. But Pillar's a good fielder (certainly, you haven't forgotten this incredible catch he made to rob a home run in April), and he can run, stealing 101 Minor League bases between 2012-14 despite spending weeks at a time in the Majors.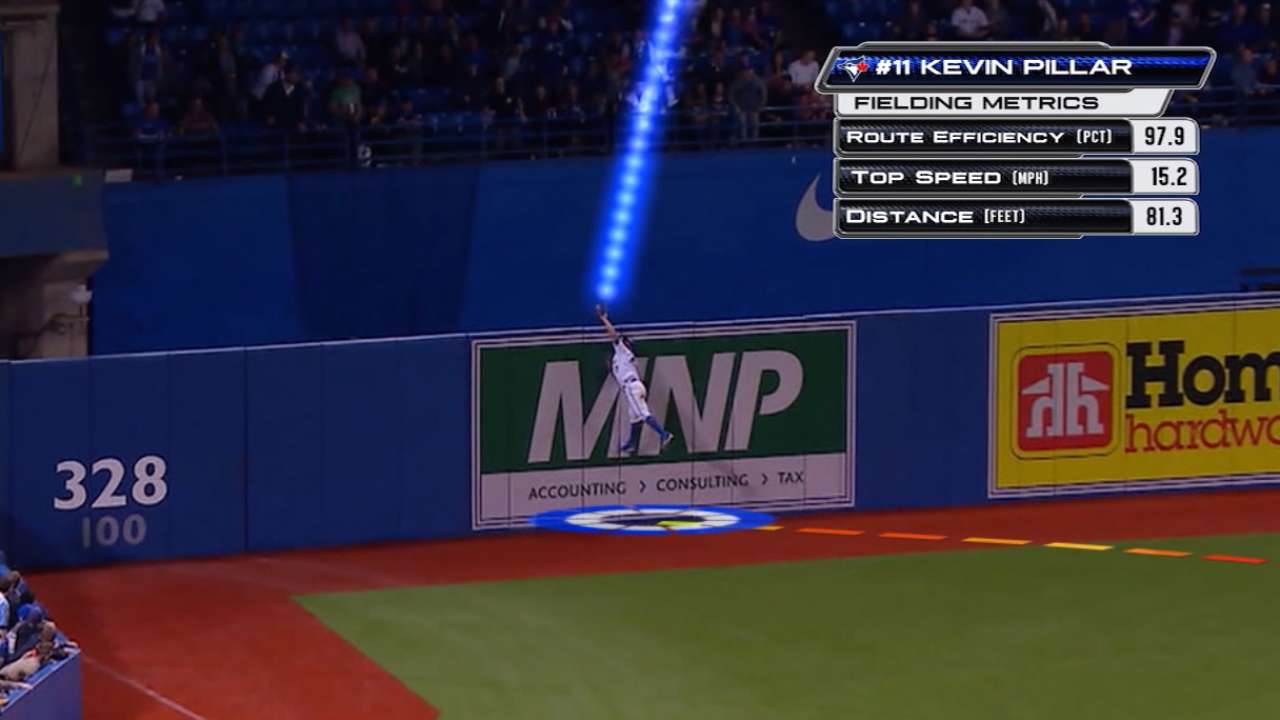 He's no slow-footed catcher or lumbering designated hitter, is the point, and he showed that by topping 20 mph and making it down the line in 4.4 seconds. (By comparison from the same game, Gregorio Petit reached 18.9 mph and took 4.6 seconds on a groundout to short in the fourth; Edwin Encarnacion got only to 14.3 mph and required 5.9 seconds when grounding out to Gregorius in the ninth.)
Gregorius surely knew that Pillar could run and that he had no time to waste, which is why numbers like a throwing release time of just three-quarters of a second are important. Seconds matter, on plays like these. Sometimes fractions of a second do, too.
Mike Petriello is an analyst for MLB.com. This story was not subject to the approval of Major League Baseball or its clubs.