D-backs find stroke, ending trip on high note
Discouraging set in Los Angeles overshadowed by historic output vs. Rockies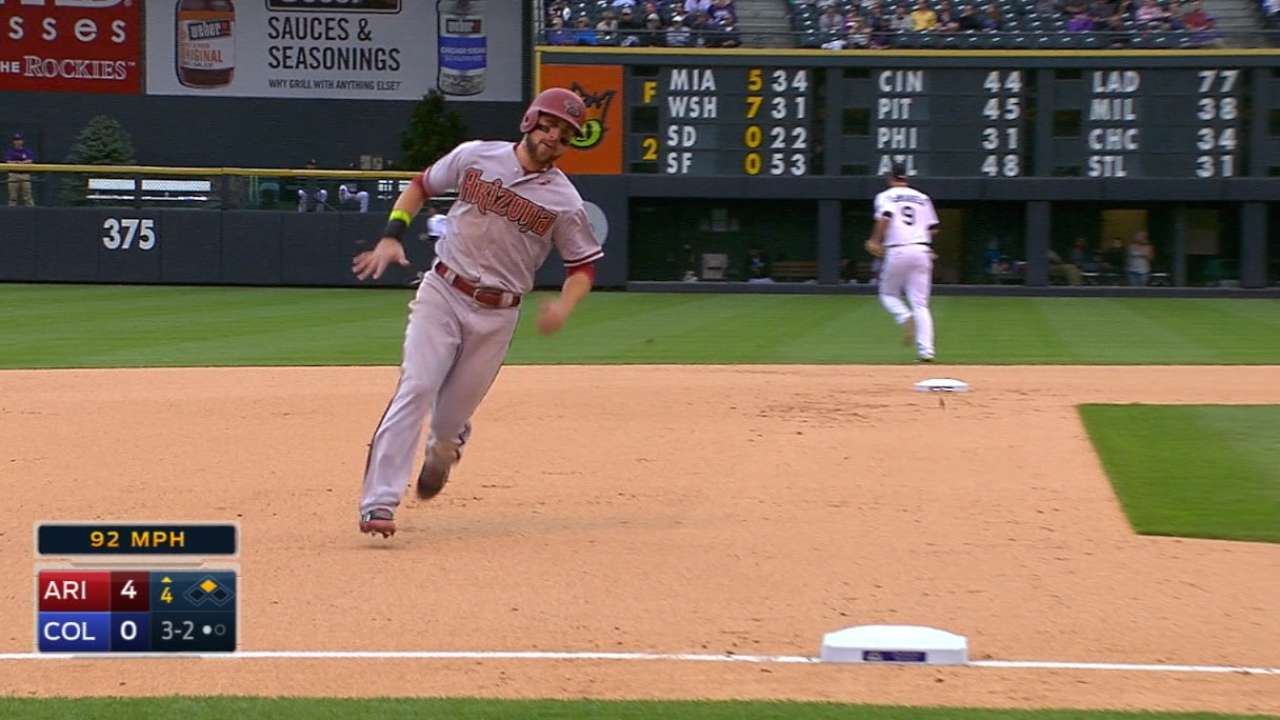 DENVER -- Teams in both dugouts at Coors Field on Wednesday knew well that you can never score enough runs in Colorado. On Wednesday, the D-backs found that 18 was enough.
Arizona set a franchise record for runs scored in a doubleheader, scoring 13 in the first game of the twilight twin bill -- a 13-7 win -- and five in the nightcap -- a 5-1 victory -- on a combined 31 hits. The two teams had endured rainouts on Monday and Tuesday after the D-backs absorbed a three-game sweep at the hands of the Dodgers, who outscored Arizona, 15-4.
"Waiting two days and being able to get these two games in was important," D-backs manager Chip Hale said. "I was really proud of the guys. We had a tough series in L.A., and they wiped it clean. They came out swinging in the first game and continued in the second game."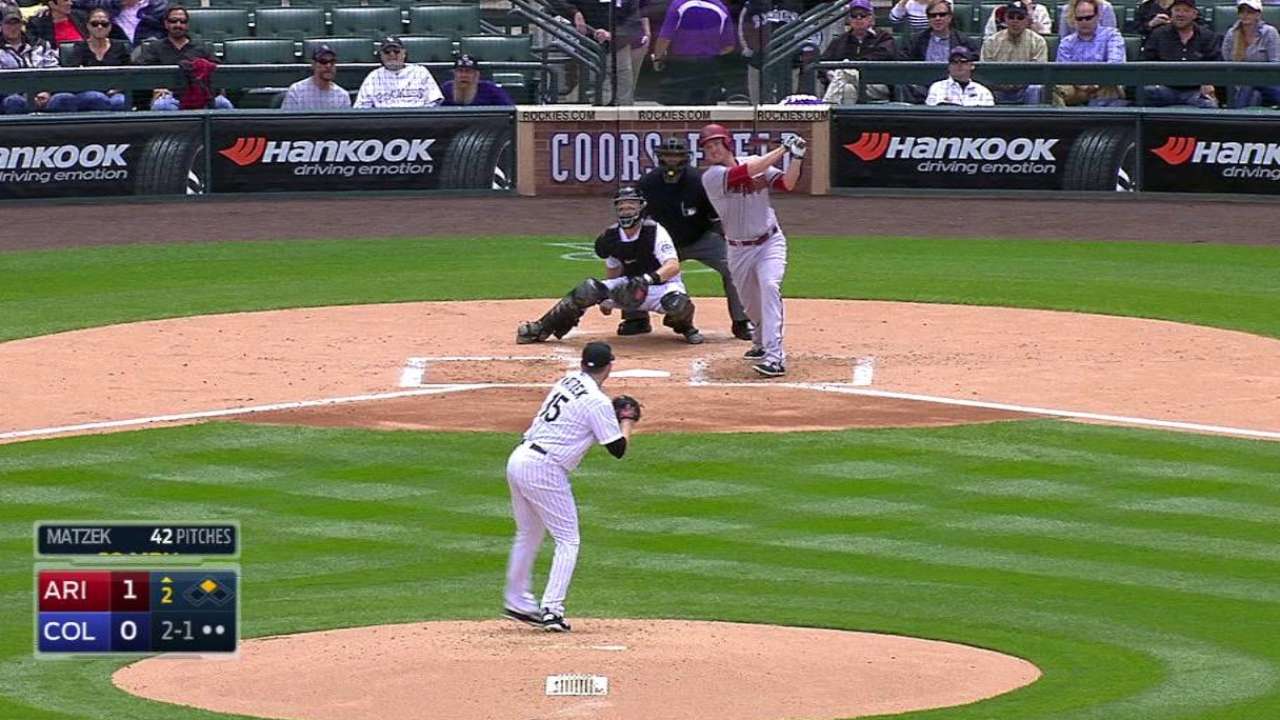 Mark Trumbo gave the offense a boost with an unusual start in the two-hole in Game 1. He went 2-for-4 with a double, a homer, a walk, two runs scored and three RBIs while hitting ahead of Paul Goldschmidt.
"He did a nice job," Hale said of Trumbo. "We just wanted to switch it up, try something different, hit him in front of Goldy, and he did a great job."
Trumbo sat out the nightcap and wasn't needed, as the D-backs turned a big third inning fueled by David Peralta's two-run double into a breezy victory.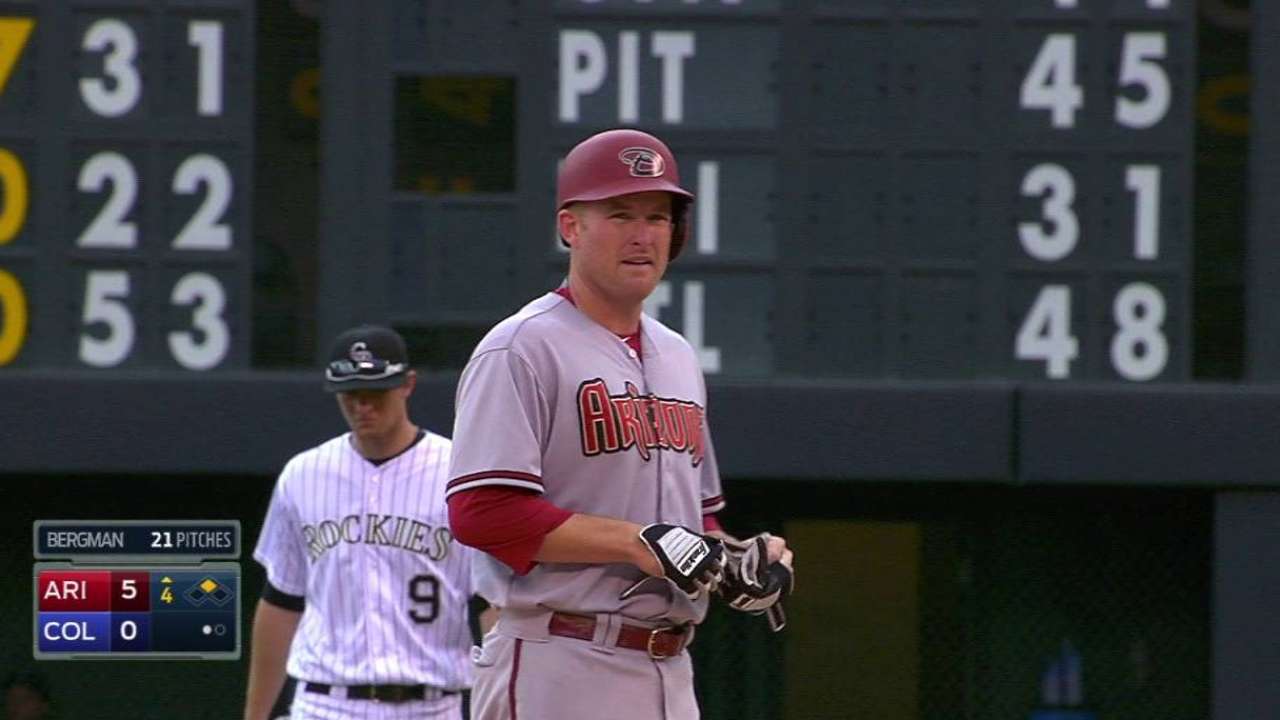 "There was a little tightness but nothing wrong," Hale said of Trumbo. "I had him ready to pinch-hit [with runners on second and third in the eighth inning]. I didn't want to use him there, because I just figured they'd walk him there with two outs and the base open. I wanted to keep the lefty in for their hitters. He was available. In a perfect world, with his history of injury, we didn't want to push two games on him."
Goldschmidt's production in the second game -- 2-for-5 with a homer and two RBIs -- made up for his four strikeouts in an 0-for-5 Game 1 effort.
"It's pretty impressive for the rest of the team to score that many runs with Goldy having such a tough first game," Hale said. "I was going to take him out in the bottom of the ninth -- let him go get something to eat, get more than 30 minutes -- and he didn't want it. In true Goldy fashion, he wanted to finish the game out, even as he struggled. He wanted to be there for the win. He wanted to be a part of it on defense."
Taking the doubleheader and a series win (with a rainout to be made up later in the season) was just what the doctor ordered for the D-backs after they opened their road trip on a sour note in L.A.
"Two wins today is huge," catcher Tuffy Gosewisch said. "We came out and swung the bats really well.
"It's pretty emotional," Gosewisch said of the club's up-and-down road trip. "We're in a good place, and we're going to get better. It's going to be less roller coaster-like. We have to continue to work hard and do this day in and day out."
Owen Perkins is a contributor to MLB.com. This story was not subject to the approval of Major League Baseball or its clubs.