White Sox bats, gloves get in gear in unlikely rally
Beleaguered offense collects six straight hits in 8th; defense bails out closer in 9th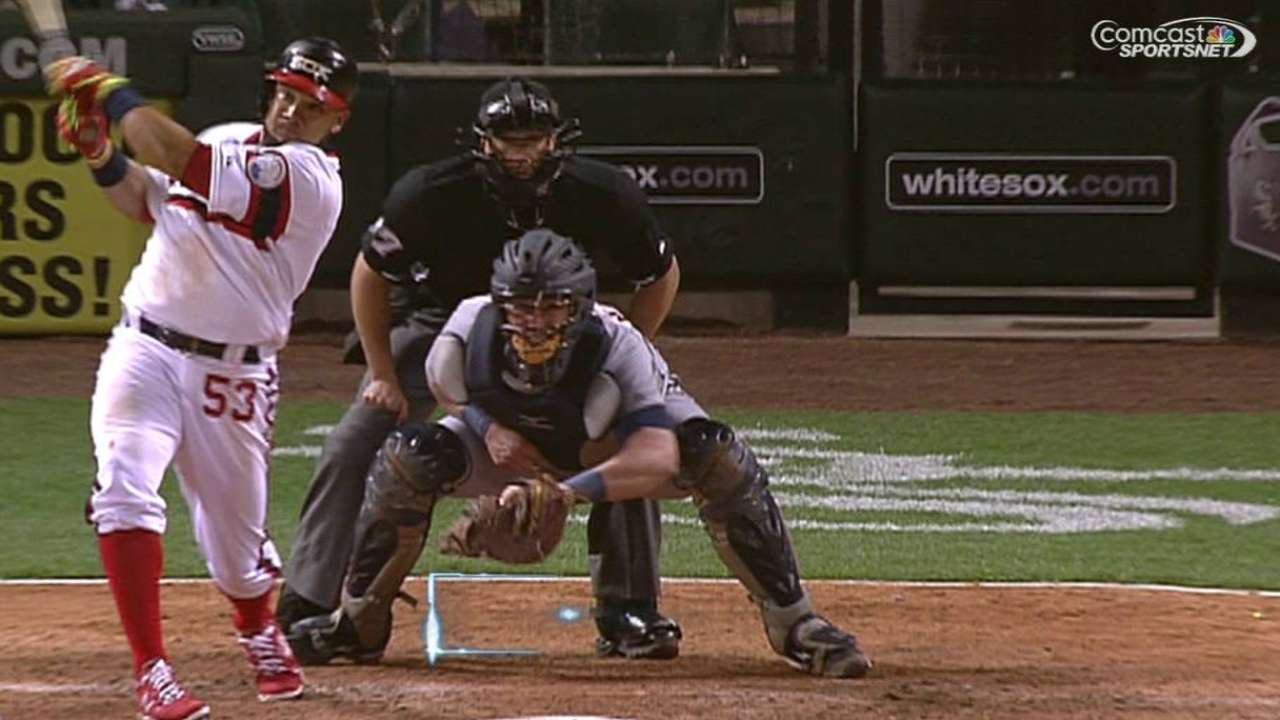 CHICAGO -- The Tigers held a three-run lead with two outs and nobody on base in the eighth inning of Wednesday night's game at U.S. Cellular Field.
Based on the 2015 anemic White Sox offense to date, a FanGraphs win probability formula wasn't needed to figure out the South Siders had very little chance to rally. Then the improbable happened.
Six straight hits off Detroit reliever Joba Chamberlain, with four runs scoring. And the White Sox, who struggled through a miserable 0-5 run on the road last week, picked up an exciting come-from-behind 7-6 victory to win the series and improve to 8-3 at home.
Melky Cabrera delivered the biggest hit, launching a 2-1 slider from Chamberlain for his first homer as a member of the White Sox and a game-tying three-run shot. Avisail Garcia ripped the game-winner three hitters later with a single to center, but every at-bat mattered as this beleaguered offense begins to build.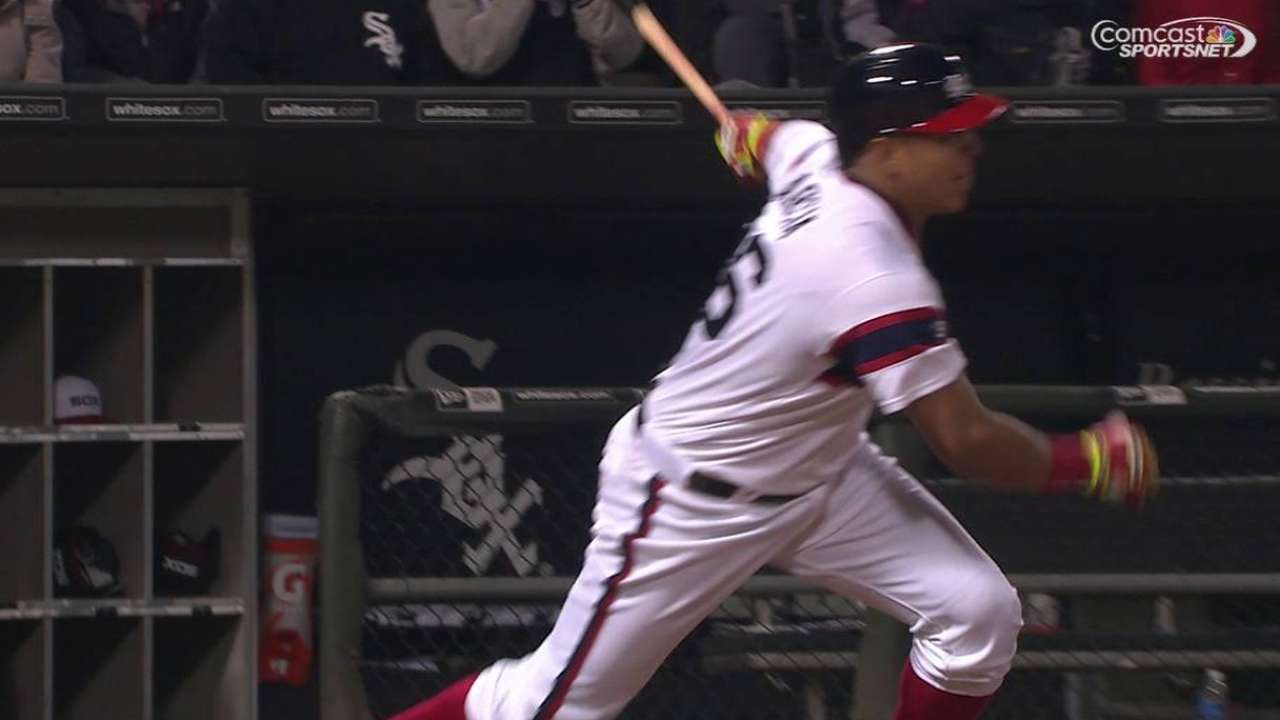 Micah Johnson's single to left, marking his first career three-hit game. Adam Eaton's single off of third baseman Nick Castellanos' glove, a play Castellanos admitted postgame that he could have made. Then there were singles from Jose Abreu and Adam LaRoche to keep the rally going.
It was a reason to smile produced by what is expected to be a consistent offense that the White Sox have been waiting for basically since Day 1.
"I feel very good, because I can hit the home run to tie the game in that situation, and because we can make up four runs in the inning and get the win," said Cabrera through interpreter and White Sox Spanish language broadcaster Billy Russo. "That is most important to us."
"We needed to come back like that late in the game," Garcia said. "Let's see what happens and continue to play hard."
After the offense did its thing, the maligned White Sox defense saved the game behind David Robertson in the ninth. Castellanos singled with one out and James McCann followed with a single to right that would have put runners on the corners.
McCann took too big of a turn off first, Garcia hit cutoff man Alexei Ramirez, and the White Sox pick play allowed Ramirez to nail McCann at first for out No. 2.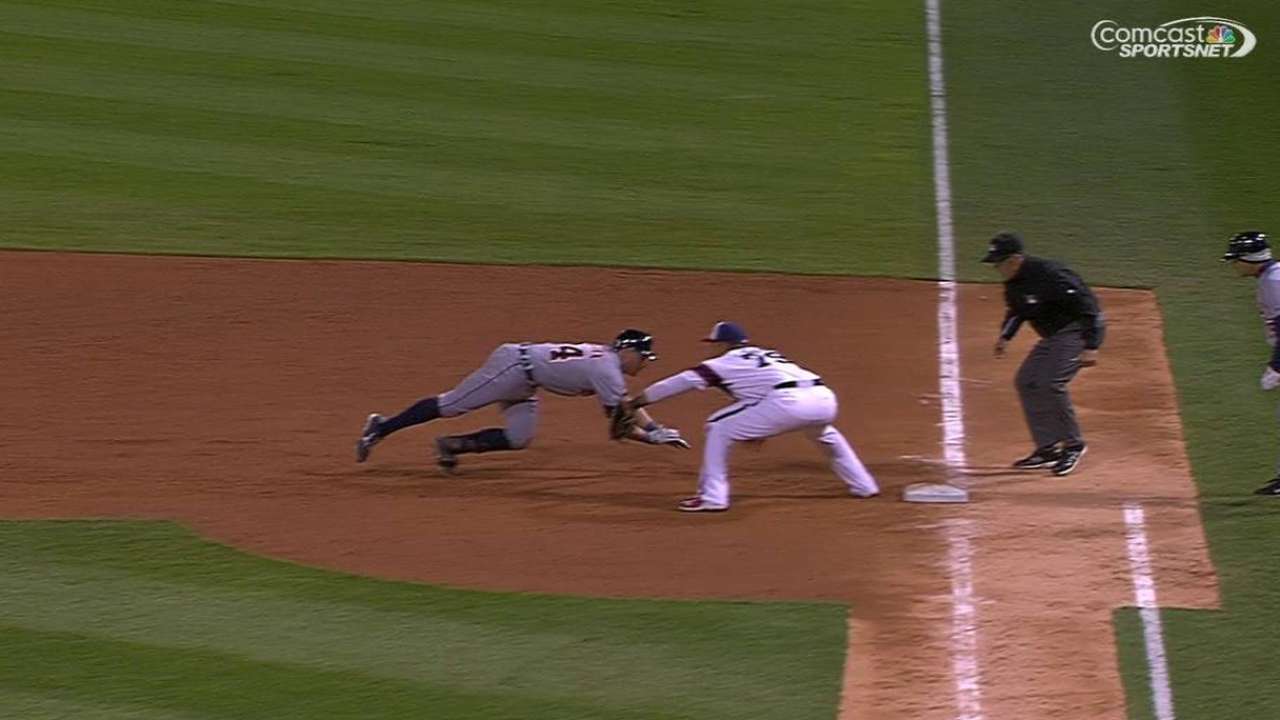 "Hitting the cutoff man, that's my job," Garcia said.
Simple, direct and accurate on Garcia's part. Strangely enough, Chris Sale, one of the best starters in the game, was one of the few players off the mark on Wednesday. It was the offense and defense that assisted.
"Yeah, it's a great win," Sale said. "I just wish I was a part of it."
"We keep talking about the offense eventually putting it together," White Sox manager Robin Ventura said. "It's been sputtering for a little while, not a whole lot of home runs and things like that, but they continue to grind and realize it's going to be there and it's going to come back."
Scott Merkin is a reporter for MLB.com. Read his blog, Merk's Works, and follow him on Twitter @scottmerkin. This story was not subject to the approval of Major League Baseball or its clubs.