Carrasco joker off field, but all business on it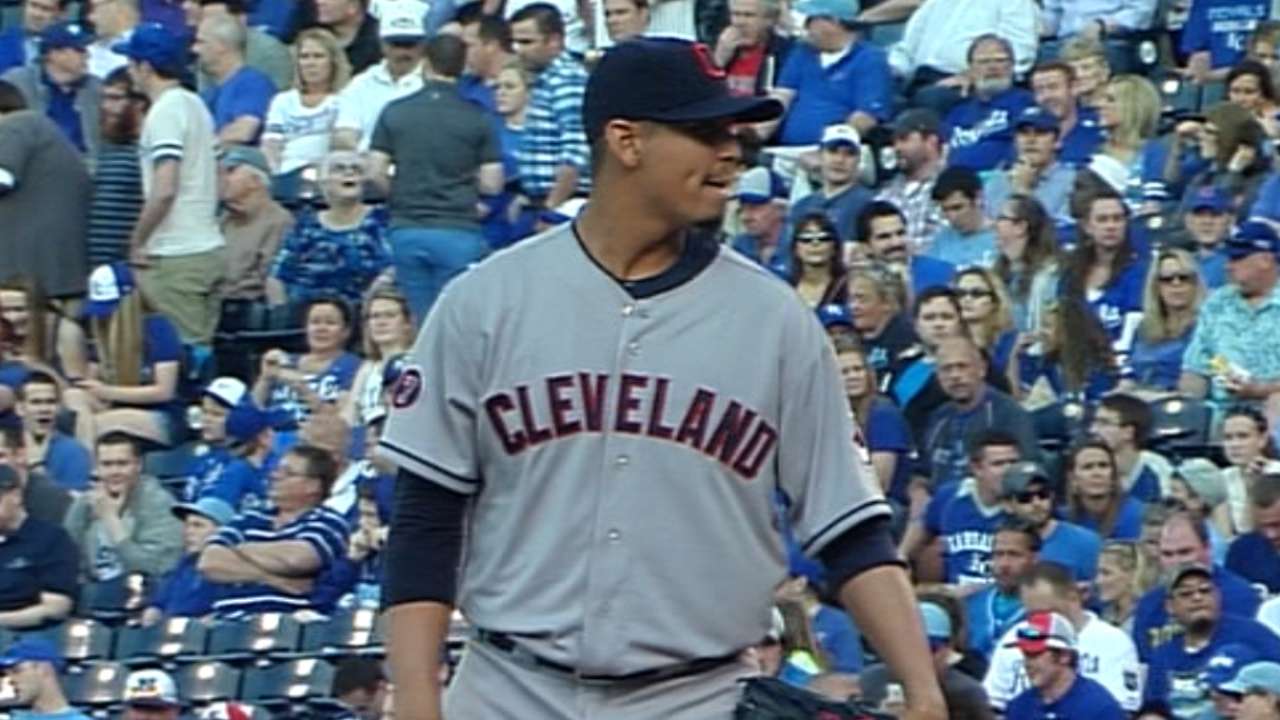 KANSAS CITY -- Carlos Carrasco does what he can to clear his mind when he takes the mound for the Indians. On Wednesday, that meant concentrating solely on a Royals lineup that has stormed out of the gates and helped the defending American League champs get off to a hot start.
"When I cross the lines," Carrasco said. "I focus on my job out there."
Before he pitches, it is a different story.
"I try to have fun before the game," he said with a grin.
A few hours before helping guide the Indians to a 10-3 victory, Carrasco decided to pull a prank on left-handed reliever Marc Rzepczynski. The big righty found a cockroach outside, brought it into the visitors' clubhouse and put it in one of his teammates' shoes. There were plenty of laughs in the room as Rzepczynski chased down Carrasco and made him get rid of the bug.
Why Rzepczynski?
"He's afraid of everything," Carrasco said.
After the win, Rzepczynski rolled his eyes as the starter's comments.
"Everybody's got to have a guy on the team [to torture]," he quipped. "That's me."
When Carrasco crossed the chalk line, he turned his attention to aggravating the Royals.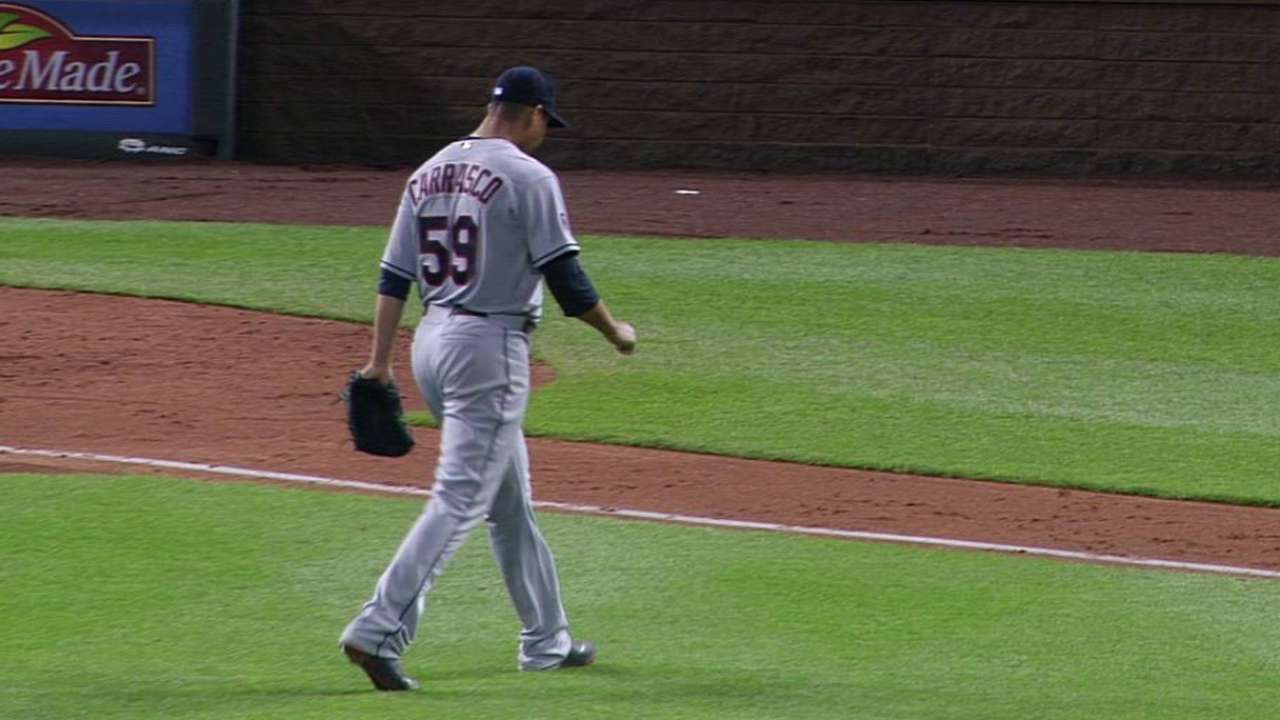 Over seven innings, Carrasco limited Kansas City to three runs on five hits, finishing with six strikeouts and two walks in an efficient effort. That showing allowed Rzepczynski (sans bug in his cleat) and Zach McAllister to work the eighth and ninth innings, respectively, to put the finishing touches on a much-needed victory.
Arguably the most important aspect of Carrasco's performance were his first two frames. After the Tribe's offense struck for one run in the first, the right-hander shut Kansas City down in the bottom of the inning. Then, when Cleveland added three more runs in the second, Carrasco followed with a 1-2-3 inning to help set the tone for an overpowering win.
"He did really well," Indians manager Terry Francona said. "He pitched really effectively against a lineup that feels pretty good about themselves."
The Royals did break through for two runs against Carrasco in the fourth inning, when Kendrys Morales ripped a curveball to right field, where the wind grabbed the baseball and pulled it back to right-center and over the wall for a two-run homer. Then, in the sixth, Lorenzo Cain and Eric Hosmer connected with a triple and double consecutively to plate one more run.
At both turns, Carrasco (4-2, 4.71 ERA) quashed the comeback from extending any further.
"I felt great," Carrasco said. "Before the game started, I just kind of felt like it was going to be a good day. I think the most important thing is, what I did today is I kind of attacked -- inside and outside. Everything was working."
The bullpen appreciated the effort.
"He battled the entire game," Rzepczynski said. "That's what we ask for from our starters."
What the relievers do not ask for is a bug in their shoe.
"Shoot, if he goes seven innings," Rzepczynski said, "I don't care if he does. As long as he takes it out."
Jordan Bastian is a reporter for MLB.com. Read his blog, Major League Bastian, and follow him on Twitter @MLBastian. This story was not subject to the approval of Major League Baseball or its clubs.