A's unable to build on momentum once again
Day after hard-fought win, Oakland falls in rout to Twins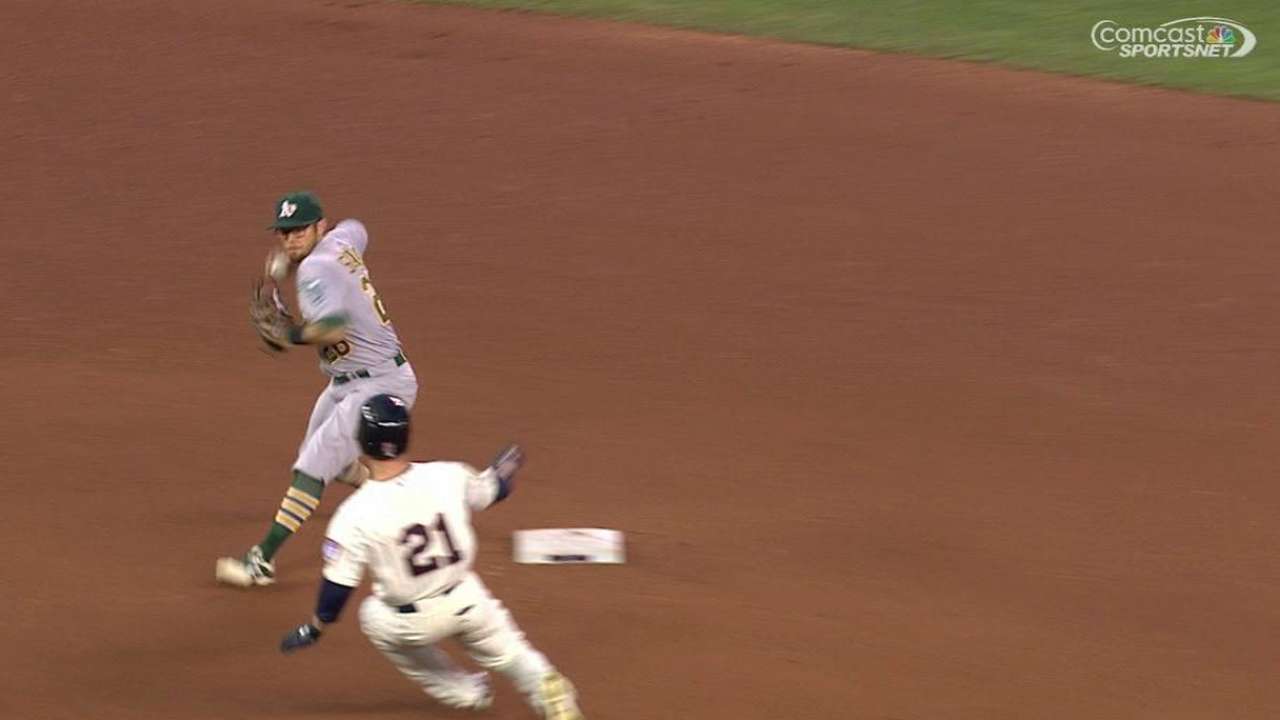 MINNEAPOLIS -- The A's will play their 30th game of the season on Thursday, when they close out a four-game series at Target Field, and they're still on standby for their first winning streak.
Just once, back on April 13-14 against the Astros, have they been able to win consecutive games. Since, any momentum gained has endured a life span of less than 24 hours.
On Tuesday, the A's reveled in a 2-1 victory that showcased excellent pitching performances from Jesse Chavez and Tyler Clippard. By Wednesday evening, the music that accompanied the brief celebration was muted again following a 13-0 loss.
"It's very frustrating," said A's manager Bob Melvin. "There was a great feeling in here yesterday when we won a hard-fought game by one run, and we have [Scott Kazmir] on the mound today and we feel good about it. We just couldn't put together a good game."
Kazmir endured his worst start of the season, allowing as many runs in six innings (six) as he had in his previous five starts combined. Armed with a wonky cutter on this night, he allowed seven hits, including two home runs.
"I didn't have a feel for my cutter for the most part, and I got hurt with that pitch quite a few times," said Kazmir. "That pitch was really inconsistent for me, and they made me pay for it."
It's what Eduardo Escobar hit for a two-run home run in the sixth. Trevor Plouffe sent the pitch to left-center for an RBI single in the third.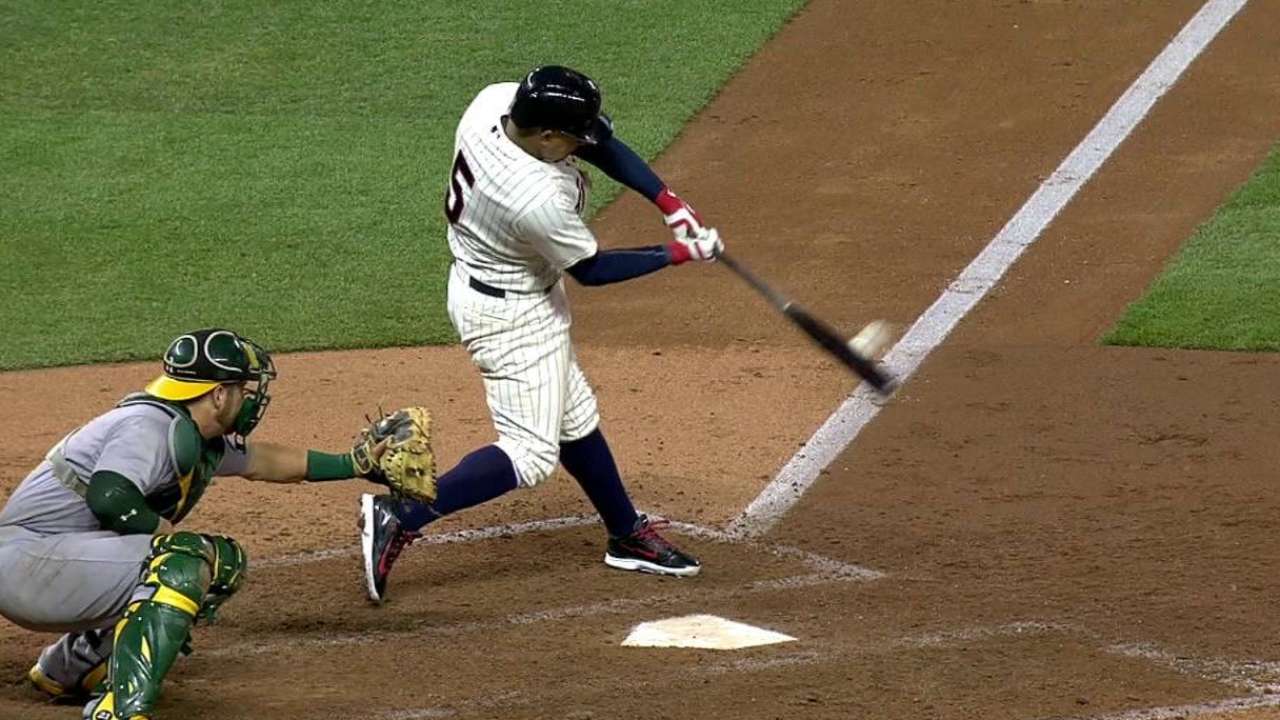 "Just wasn't as fine with his breaking ball as we've seen," said Melvin.
The rest has been seen before. Relievers Chad Smith and R.J. Alvarez combined to allow seven runs, five hits and two walks in the final two innings, continuing a trend of disappointing performances out of the bullpen. Alvarez, who allowed a three-run homer to Kennys Vargas, has served up four long balls in 10 games.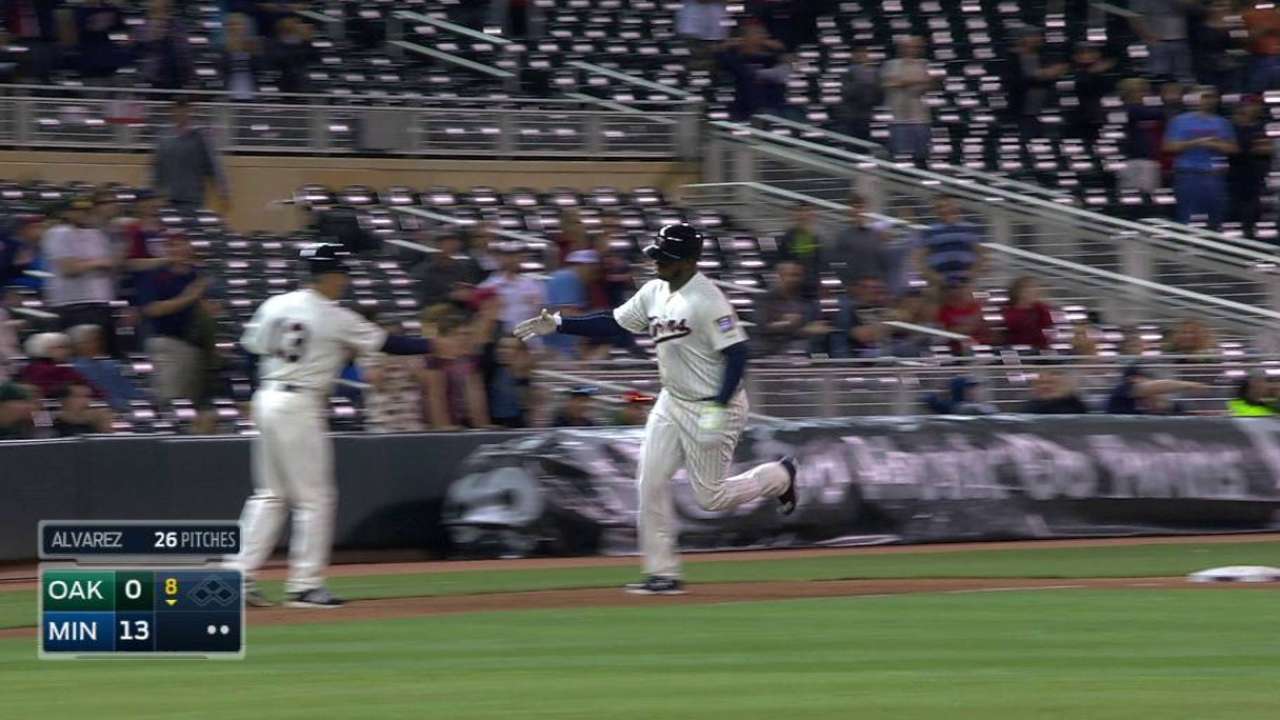 A's relievers have allowed 39 earned runs in 44 innings over the club's last 15 games and 52 total earned runs in 87 2/3 innings on the season for an American League-worst 5.34 ERA.
Fernando Abad, who entered the game with a 7.04 ERA, provided the lone bright spot, retiring two batters to end the seventh and limit the damage.
"That's a guy we really need to get going," said Melvin. "Any time you have an opportunity like this to let him get some work in and get a good feeling about him, you have to take something out of games like this."
Jane Lee is a reporter for MLB.com. This story was not subject to the approval of Major League Baseball or its clubs.