Fully healthy, Colabello off to fast start
Outfielder goes 4-for-4 with a double, two runs scored, RBI vs. Yanks
TORONTO -- Chris Colabello has made quite the first impression in a Blue Jays uniform, and he believes a lot of his recent success has to do with finally being healthy after an injury plagued year in Minnesota.
Colabello, who went 4-for-4 to help the Blue Jays defeat the Yankees, 5-1, on Wednesday night, was one of the hottest hitters in baseball last March/April. He led the league in batting average for a decent stretch and finished the first month of the season hitting .295 with three homers, 27 RBIs and an .827 OPS in 24 games.
It was around that time that Colabello also started dealing with some nerve damage in his right thumb. He tried to play through the pain, but ultimately his results suffered and by the end of May, Colabello had been sent to the Minors.
The discomfort lingered, but as he continued battling for playing time, a stint on the disabled list was something he could not afford. It wasn't until the offseason when Colabello was finally able to get the proper treatment and rest to let his thumb fully heal.
"Every day when I was dealing with the thumb, it was more about going to the field and just figuring out a way to try and get hits, scramble," Colabello said. "It wasn't about going and taking care of my swing, focusing on the task at hand. It was about, 'How do I make my hand not hurt?'
"Being healthy is huge, I think anybody will tell you that. Obviously, you're going to have your nicks throughout the year, but that was something I had never dealt with and I didn't manage it that well."
It has been a different story this year. Colabello joined the Blue Jays during the offseason as a waiver claim, but he wasn't on the radar to crack a spot on the big league roster this spring. He began the season at Triple-A Buffalo and proceeded to win the International League Player of the Month for April.
Colabello hit .338 with five homers and 16 RBIs for the Bisons in 20 games in April. That was enough to earn a promotion to the big leagues. Now that he's here, there could be playing time available with Michael Saunders dealing with knee soreness and Jose Bautista still not able to play right field because of a strained shoulder.
That opened the door for Colabello, and through two games he has delivered. He had a pair of hits in his season debut on Tuesday, and he was back at it with four more hits against New York on Wednesday night. One of those included a key double to spark a rally in the second inning, while another was an RBI single in the fourth.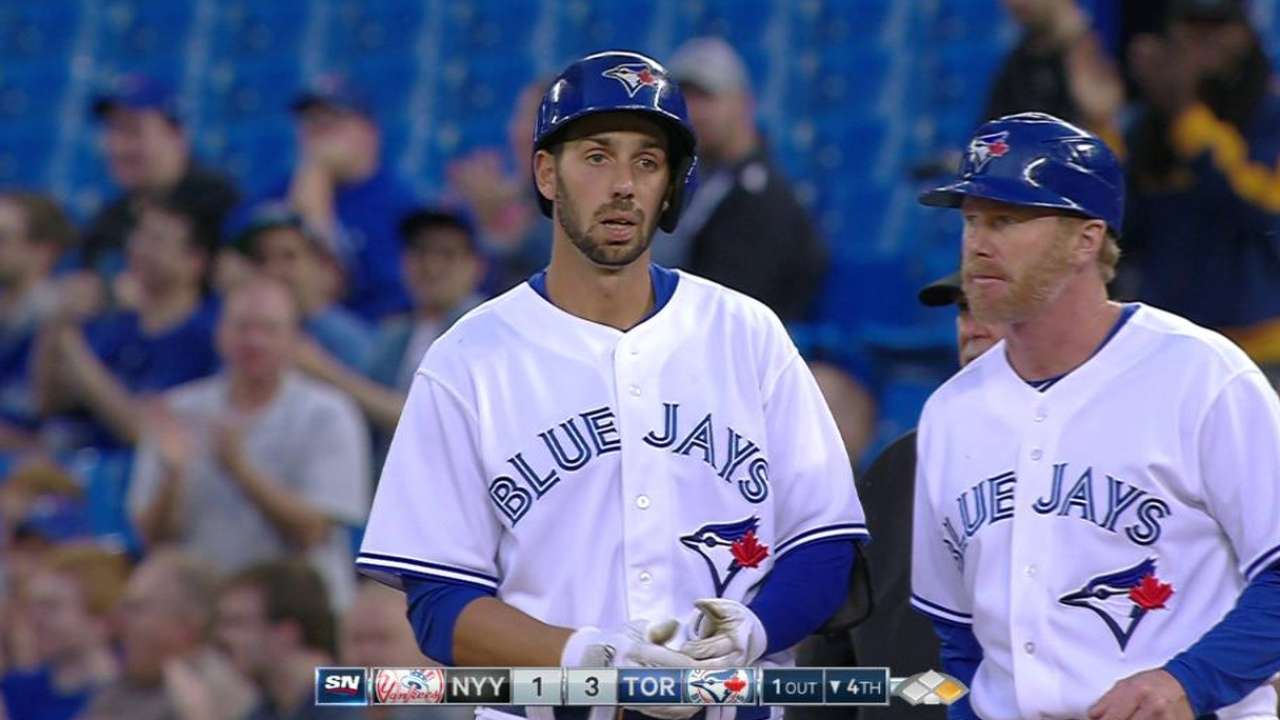 The results might surprise some people, but it's what Colabello expected of himself all along. It just goes back to health.
"When we got to the end of October and I was still feeling pain, I was really nervous," Colabello said. "It's really hard to find out with nerves whether they're torn or not, but finally when I got the EMG done and we found out there was no tear, [the hand specialist] was pretty confident it would start to heal on its own.
"Thankfully, it progressed and I remember the first time I went into the cage to hit, like Nov. 20, I was nervous. I was dripping sweat hitting off a tee being like, 'Please don't hurt, please don't hurt.' Thankfully, I had no pain and kind of been working with that ... so far, so good."
Gregor Chisholm is a reporter for MLB.com. Read his blog, North of the Border, and follow him on Twitter @gregorMLB. This story was not subject to the approval of Major League Baseball or its clubs.