Reed among Wednesday's top performers in Minors
Astros No. 12 prospect smacks three homers, knocks in nine runs for JetHawks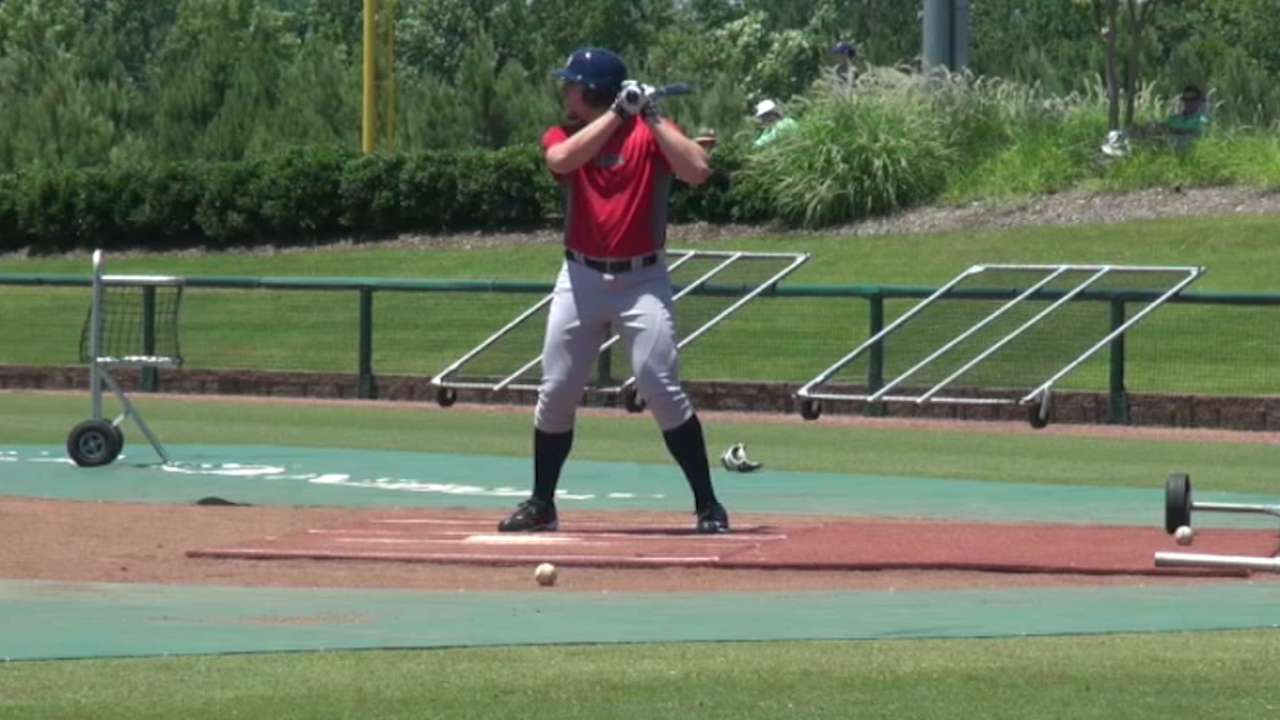 There are big nights at the plate, and then there was A.J. Reed's slugging clinic for Class A Advanced Lancaster on Wednesday night. The Astros No. 12 prospect went 3-for-4 with three home runs and nine RBIs in the JetHawks' 18-4 blowout of Stockton.
When the 2014 second-round pick hit his second homer of the night, it was significant as it was Reed's first career multi-home run game. But the 21-year-old was not done at the dish, and made it a home run hat trick in the ninth.
"It's exciting," Reed told MiLB.com after the game. "It's nice to feel comfortable at the plate. After the first two, that was my goal, to hit a third one, and I got a pitch I could drive and put a good swing on it. Bryce Harper had a three-homer game today and, after my second one, some of the guys and coaches in the dugout were talking about how he had three in a game and that I had to do it. It's cool to be the first guy to do that this year."
On the season, Reed now has eight homers (tied for third in the Minors) and 24 RBIs. In one game, he increased his line from .222/.345/.456 to .245/.371/.564, and either tied or set career highs in hits, homers, RBIs, and on-base appearances (five, with two walks).
More standout performances from Top 100 prospects on Wednesday night
• Rangers No. 1 prospect (No. 10 overall) Joey Gallo hit his first home run of the season for Double-A Frisco in a 9-1 loss to San Antonio. The third baseman went 1-for-4 with the solo shot, and is now hitting .333/.417/.571 with six RBIs on the year.
• Pirates No. 1 prospect (No. 13 overall) Tyler Glasnow had his worst start of the season before leaving Double-A Altoona's game with right ankle discomfort. His ERA jumped from 0.79 to 1.40 after the three-hit, three-run (two earned) performance.
• Blue Jays No. 1 prospect (No. 18 overall) Daniel Norris made his first Minor League appearance of the year after starting five games for Toronto in the big leagues. The southpaw went 5 2/3 innings for Triple-A Buffalo, giving up four hits and one run in a 1-0 loss to Durham.
• Phillies No. 1 prospect (No. 22 overall) J.P. Crawford returned to action with Class A Clearwater after opening the season on the disabled list with a strained left oblique. Crawford went 2-for-3 with a home run, three RBIs and a walk in a 7-3 win over Brevard County.
• Indians No. 2 prospect (No. 52 overall) Clint Frazier could not prevent Class A Advanced Lynchburg from dropping both doubleheader games to Carolina, but he still provided some timely offense. With Carolina pitcher Steve Janas two outs from a perfect game in the seventh inning, Frazier broke up the bid with a base hit. In the second game, he added his first home run of the season. Overall, the 20-year-old was 3-for-7 on the day, and his season line sits at .273/.342/.343.
• Royals No. 5 prospect (No. 82 overall) Miguel Almonte notched his second straight win for Double-A Northwest Arkansas with five innings of shutout ball. The Dominican righty is now 2-1 with a 3.91 ERA, which he's cut down from 6.23 over his past two outings.
Other notable performances from around the Minor Leagues
• Nationals No. 5 prospect Joe Ross kept his hot streak going on the mound, throwing six shutout innings in Double-A Harrisburg's 3-1 loss against New Britain. The righty still has not lost since April 15, and has only given up two earned runs in his past three starts (17 total innings).
• Athletics No. 6 prospect Kendall Graveman was lights out for Triple-A Nashville in a 6-0 win over Iowa. The righty gave up four hits in seven innings of shutout ball. Now with two Sounds starts under his belt, he sits at 1-1 with a 2.25 ERA.
• Cardinals No. 22 prospect Trey Nielsen tossed five innings of shutout ball for Advanced A Palm Beach in its 3-0 win over Port Lucie. In all, he had four strikeouts against one walk, and has surrendered just one earned run past three starts. Nielsen is 3-2 with a 2.73 ERA on the year.
• Royals No. 13 prospect Bubba Starling hit a home run for the second straight game. The Double-A Northwest Arkansas outfielder went 2-for-5 with the homer and two RBIs. Over the past three games, he's raised his average from .138 to .238.
• Brewers No. 4 prospect Clint Coulter continues to rake for Class A Advanced Brevard County. The outfielder went 2-for-4 with three RBIs and hit his seventh home run this year. He's 6-for-13 over the past four games, and sits at .333/.436/.626 with 22 RBIs this season.
• D-backs No. 7 prospect Peter O'Brien slugged his eighth homer of the year for Triple-A Reno on Wednesday. On the night, he was 2-for-3 with the dinger and three RBIs. The 24-year-old now has 26 RBIs on the year, and is hitting .367/.393/.714.
• Giants No. 17 prospect Adam Duvall also notched his eighth homer of the season. The Triple-A Sacramento first baseman went 2-for-4 with a double, home run and three RBIs in a 6-3 loss to Reno. His line now sits at .336/.368/.664 on the season.
• Rays No. 29 prospect Dylan Floro helped Triple-A Durham eke out a 1-0 win over Buffalo, giving up three hits and zero walks while striking out four in six innings of shutout work. The righty moved to 3-2 with a 3.82 ERA this year, and picked up his first "W" since April 14.
• Orioles No. 25 prospect Mitch Horacek gave up three earned runs for Class A Advanced Frederick on Wednesday, but he also struck out a career-high 11 batters before the game was suspended in the sixth inning. The contest will resume Thursday and Horacek will move into his rest pattern with a 2.83 ERA.
• Brewers No. 23 prospect Yadiel Rivera became the first Double-A Biloxi Shucker with a four-hit game, going 4-for-5 with two doubles and two RBIs in a 8-7 win over Mississippi. The shortstop has turned a corner after a 0-for-15 streak. Rivera is now 6-for-8 over the past two games, and sports a .341/.376/.489 line.
• Red Sox No. 15 prospect Sam Travis has now recorded a hit in 13 of his past 15 games and has eight multi-hit games during that stretch. He went 3-for-6 with four RBIs in two games for Class A Advanced Salem on Wednesday, and his 2-for-3 effort in the second game of the doubleheader pushed his batting average (.301) above .300 for the second time this season.
• Brewers No. 13 prospect Taylor Jungmann cut his ERA from 8.74 to 6.91 with a strong performance for Triple-A Colorado Springs. The righty gave up three hits in six shutout innings, and didn't allow a run for the first time this season.
• Rays No. 28 prospect Jaime Schultz got plenty of run support in Double-A Montgomery's 7-0 win over Birmingham, but he barely needed it. The 23-year-old gave up just two hits in 6 2/3 shutout innings of work, and notched his fourth straight win. He's now 4-0 with a 2.51 ERA on the year, and boasts a 41/14 strikeout-walk ratio.
• Padres No. 17 prospect Justin Hancock gave up Gallo's first home run of the season, but the Double-A San Antonio pitcher was otherwise impressive, allowing just one run in seven innings while striking out seven. He moved to 3-1 with a 3.00 ERA.
Alex M. Smith is a reporter for MLB.com. This story was not subject to the approval of Major League Baseball or its clubs.