Ground control: Leake continues efficiency
Reds starter throws eight scoreless innings for second straight game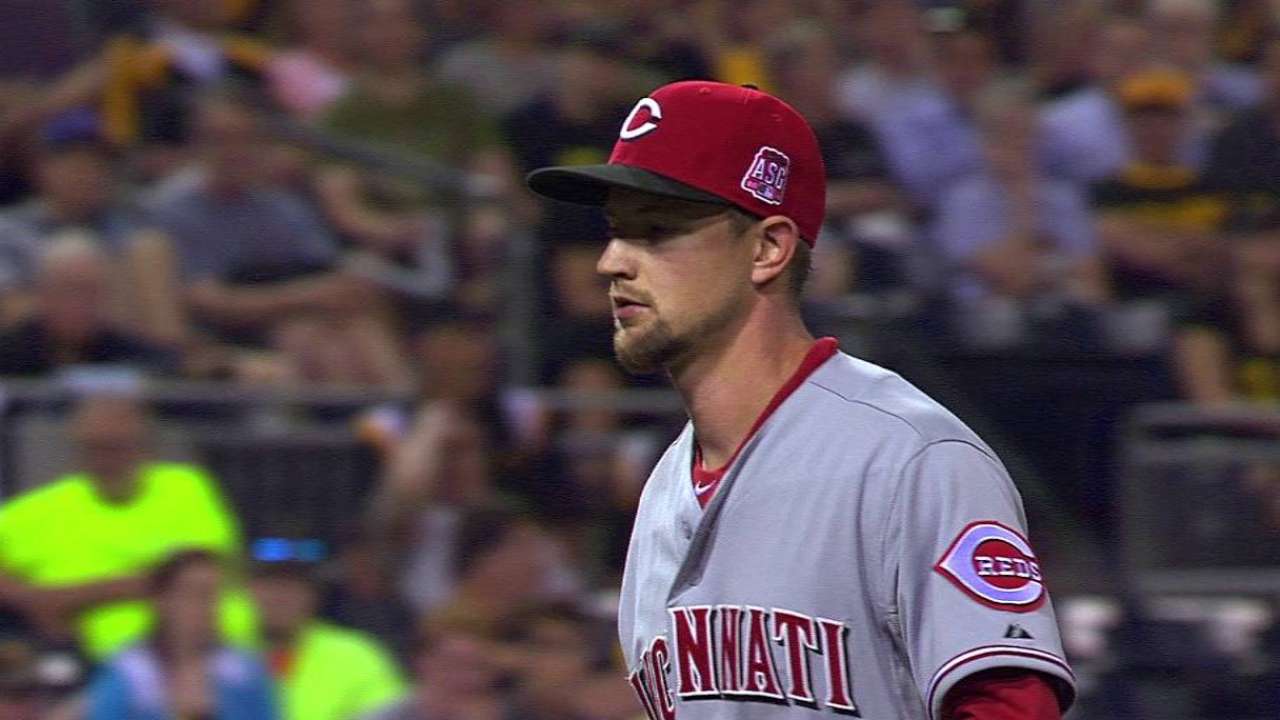 PITTSBURGH -- When Reds pitcher Mike Leake has a smooth start that appears effortless, it usually means his infield behind him has put in a lot of hard work fielding one ground ball after another.
That was certainly the case during the Reds' 3-0 victory over the Pirates on Wednesday. Leake turned in eight innings, allowing six hits, no walks and striking out two. Nineteen of his outs came via ground balls, including his inning-ending double play after his 105th and final pitch in the eighth. There were also two infield hits to third base and two fielding errors following grounders.
"That was probably him at his finest," Pirates second baseman Neil Walker said. "When you get through seven innings and he hasn't thrown many breaking balls -- or sliders, for that matter; he's basically throwing sinkers and changeups to both sides of the plate, and cutters -- you know he's got pretty good stuff."
Before Walker's sixth-inning single through the middle with one out, Pittsburgh had hit only one ball out of the infield -- Starling Marte's flyout to center field.
"I was just trying to make pitches, keep the ball down," said Leake, who also hit an RBI ground-rule double in the fourth inning. "If you're doing that, you have a pretty good probability of doing well."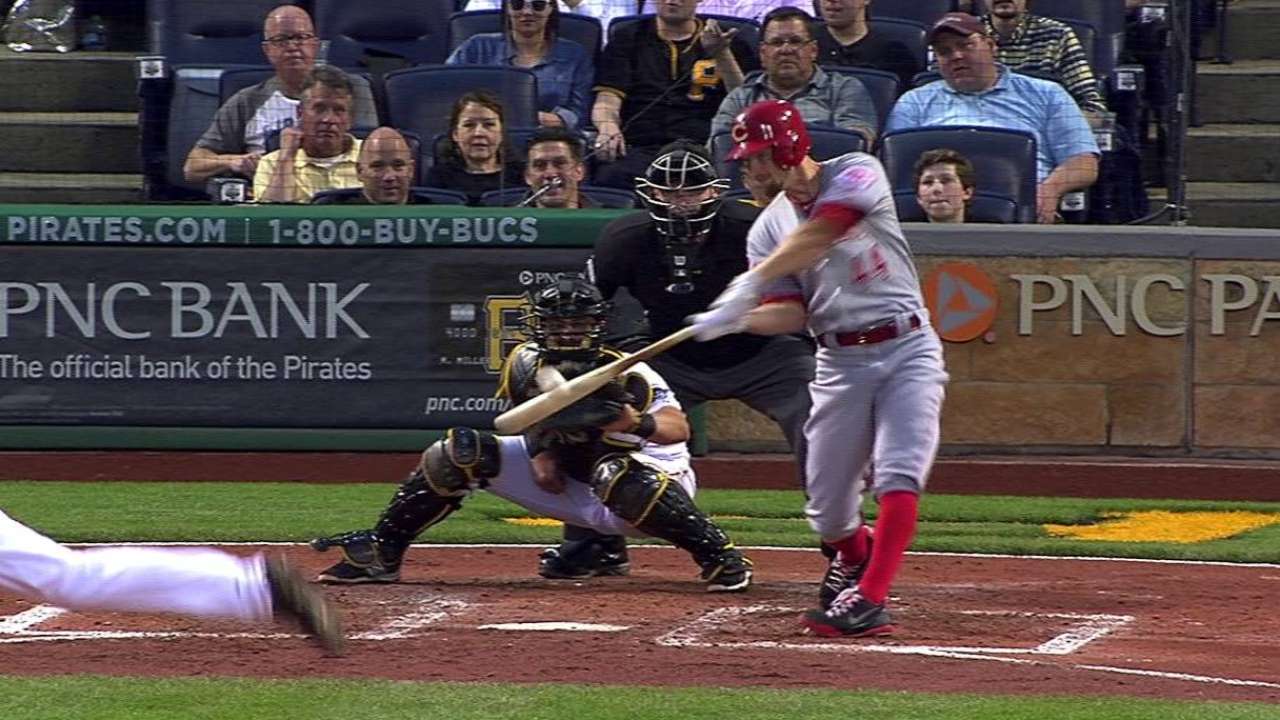 Leake's first jam came in the sixth, when a two-out error by third baseman Todd Frazier put runners on the corners. He escaped by getting a called strikeout against Pedro Alvarez.
In the seventh, Leake allowed a pair of two-out singles, but a run was prevented on an interference call. Gregory Polanco grounded a ball between the plate and first base, and after Leake fielded the ball, his throw hit Polanco in the back. Polanco was called out for obstruction.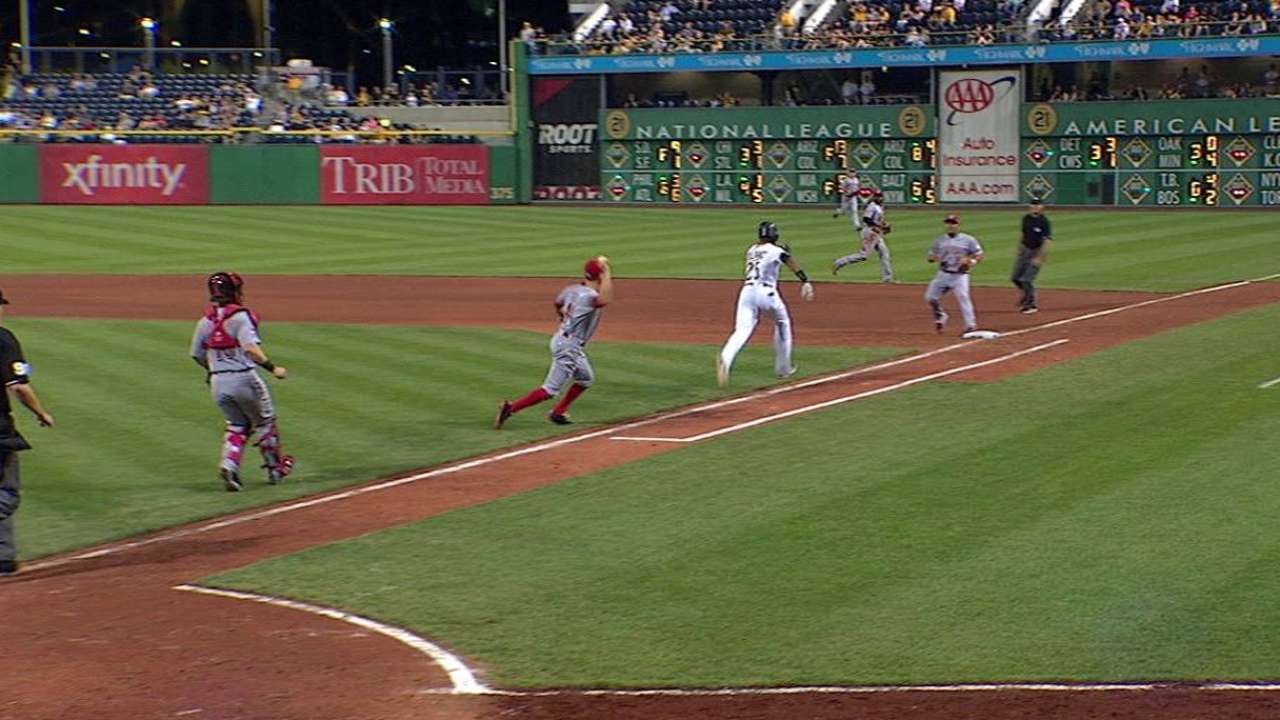 In six starts, Leake is 2-1 with a 2.47 ERA -- a nice beginning to his final year before he can become a free agent. He has pitched 16 scoreless innings over his last two starts.
"I didn't know we could top what we did in Atlanta [last Thursday], but I think he did it tonight," catcher Tucker Barnhart said. "He was commanding all his pitches, and he just got out of a couple of jams. It was very similar to what we did in Atlanta. We had a game plan, and we executed it."
Leake has worked eight innings in three of his last four starts and at least seven innings in his last five starts.
"I'm just trying to pitch," Leake said. "That's what I'm telling myself, just pitch. Just keep the ball down and mix it up and keep them guessing. I just have to keep that going."
Mark Sheldon is a reporter for MLB.com. Read his blog, Mark My Word, and follow him on Twitter @m_sheldon. This story was not subject to the approval of Major League Baseball or its clubs.