'A good run': Cole's 8-game win streak ended
Pirates starter gets no help from bats in five-inning outing; can't explain exchange with Votto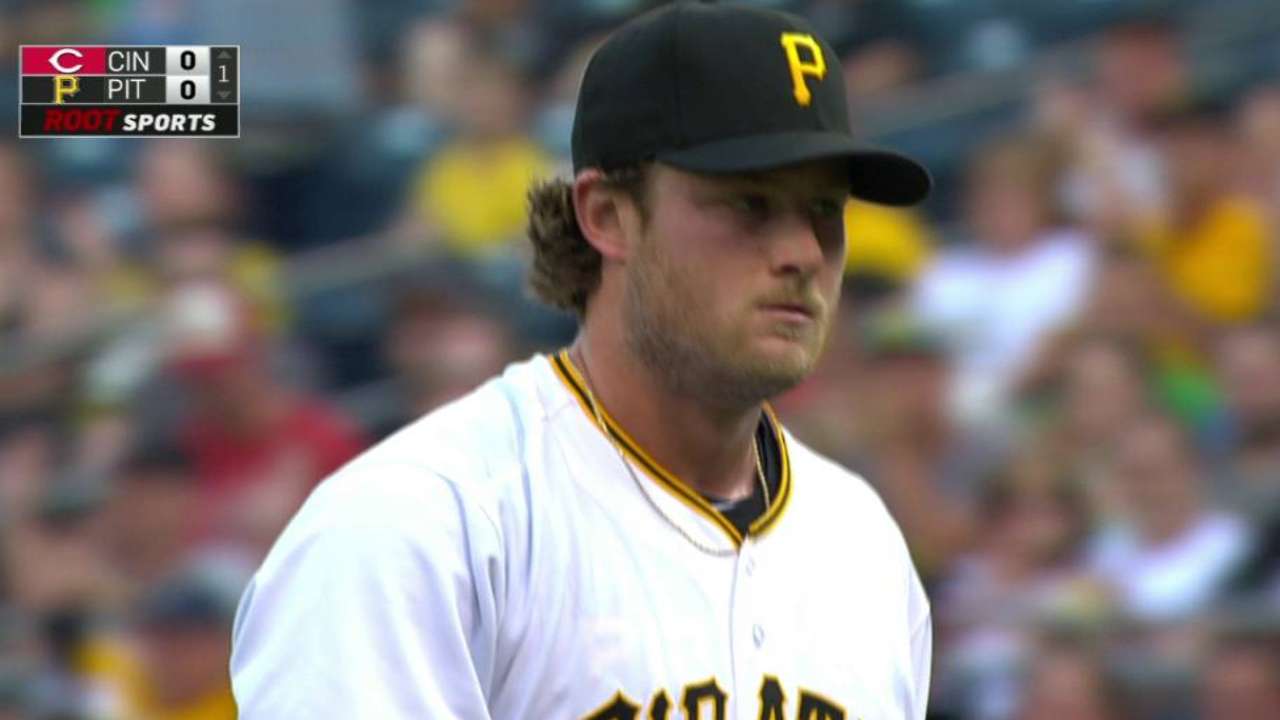 PITTSBURGH -- It was a helpless night for Gerrit Cole. He couldn't put an end to the Pirates' slide -- although to do that, he would've had to allow negative runs, which haven't yet been invented, since the Reds' Mike Leake put a 3-0 chokehold on them.
And Cole couldn't explain his possible role in the third-inning dust-up that got Reds first baseman Joey Votto so angry he wound up nearly head-butting an umpire.
"I don't really know what happened. I didn't see anything," Cole said of the aftermath of an inning-ending strikeout of Votto.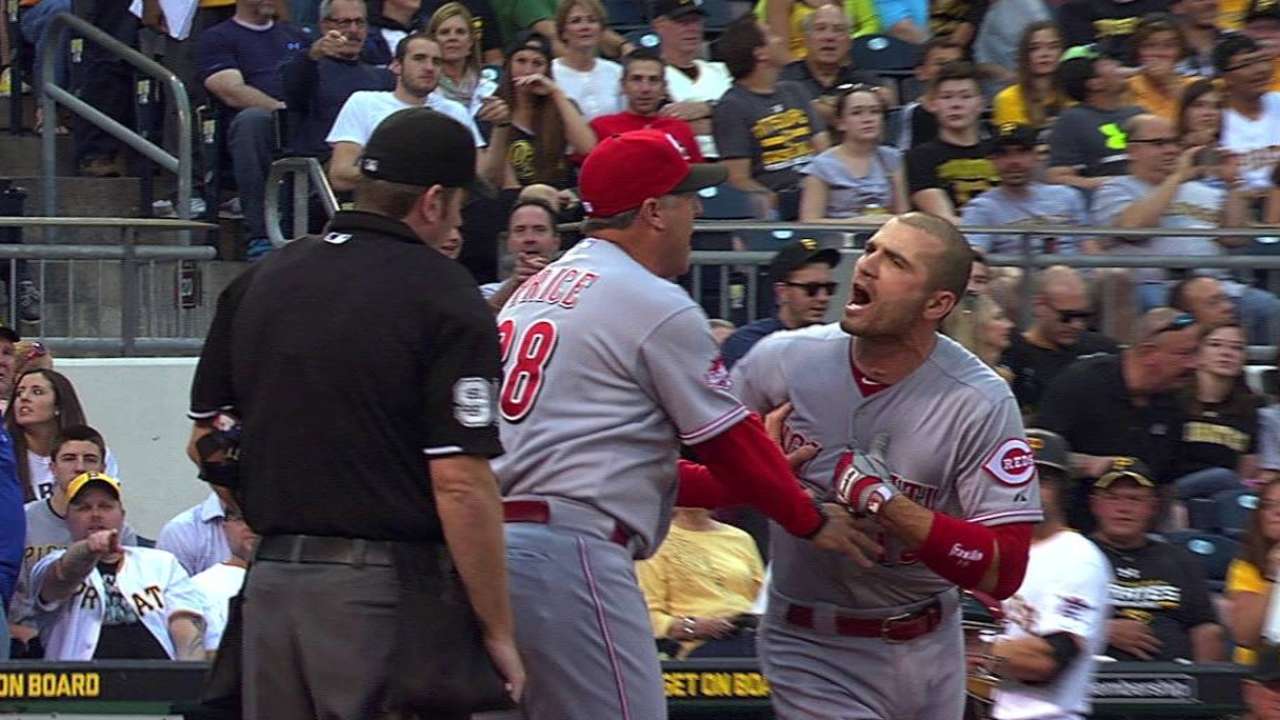 Walking away from home plate and toward his position, Votto slung his bat away and bounced his helmet off the ground. What at first seemed to be the routine frustration of a proud hitter soon evolved into something else as Votto appeared to call out over his shoulder to Cole, striding toward his dugout.
"I don't remember what he said," Cole said. "I don't know what happened, honestly. I wasn't really looking at him until I heard some ... I don't know."
Votto didn't realize he'd gotten ejected until told by Cincinnati first-base coach Billy Hatcher. That's when he charged plate umpire Chris Conroy, who at the moment already had Reds manager Bryan Price in his face.
When that storm quieted, the noise around Cole only picked up. A scoreless game was broken up by two Reds runs in the fourth, Marlon Byrd added a solo homer in the fifth, Cole was gone by the sixth.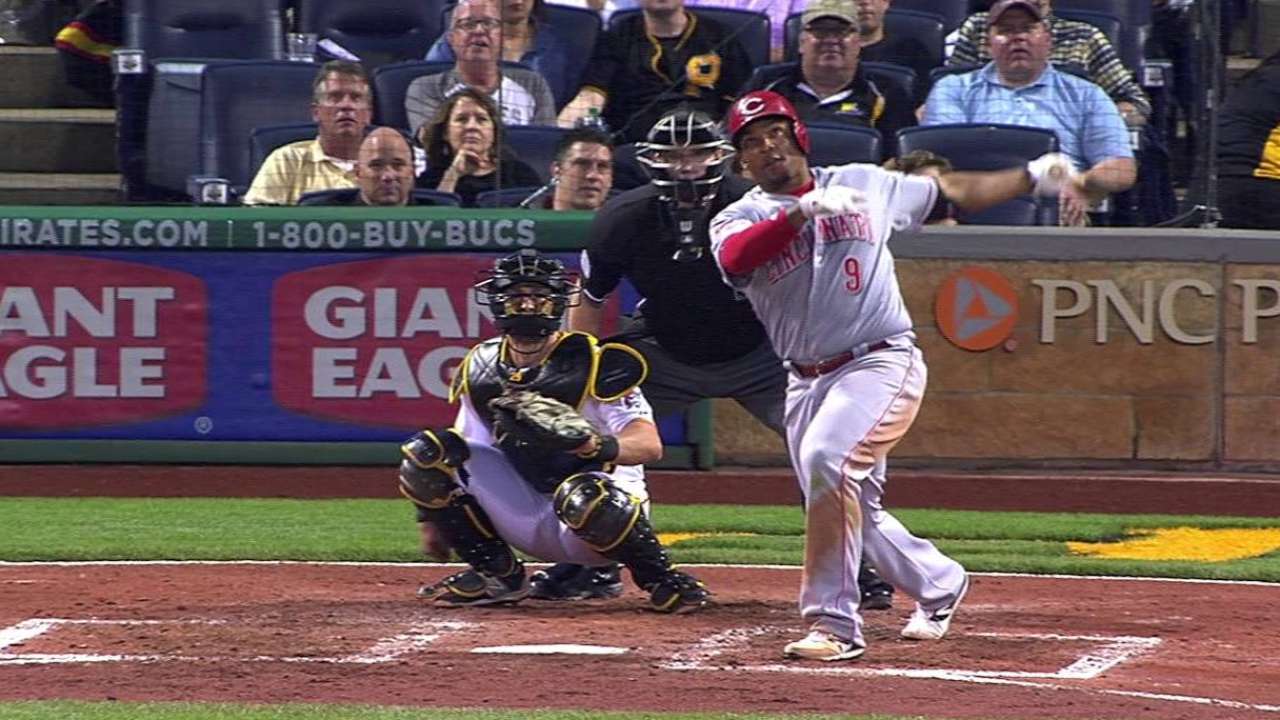 So was his eight-game winning streak, dating back to last season, half of which had earned him National League Pitcher of the Month for April honors.
"It was a good run," nodded Cole, who obviously wanted to keep it going, mostly because it would've meant an end to the Bucs' slide.
"It's unfortunate I wasn't able to do that tonight, They were on their game, hit good pitches and crushed mistakes. And Mike Leake does what he does," Cole said, shaking his head in peer admiration. "Twenty-some ground balls, man. And he can hit, he can run.
"So it's unfortunate how it played out. Good thing is, we got another one tomorrow."
"He pitched a good ballgame," manager Clint Hurdle said of Cole, who had won nine of his previous 10 decisions in PNC Park, a stretch that goes back to August 2013. "He got into a couple of tough spots. But there's no shame in what he did tonight. He battled and went after it, like he always does."
The Bucs are 12-15. Afer 27 games in 2014, they were 10-17, and still hadn't hit bottom (12-20). Last season didn't end in doom.
"It's not ideal," Cole said of the Bucs' predicament, "but it isn't something we can't get out of."
Tom Singer is a reporter for MLB.com and writes an MLBlog Change for a Nickel. Follow him on Twitter @Tom_Singer. This story was not subject to the approval of Major League Baseball or its clubs.