Interference call hurts Pirates, benefits Reds
Polanco ruled to have obstructed Leake's throw on play that would have put Bucs on board late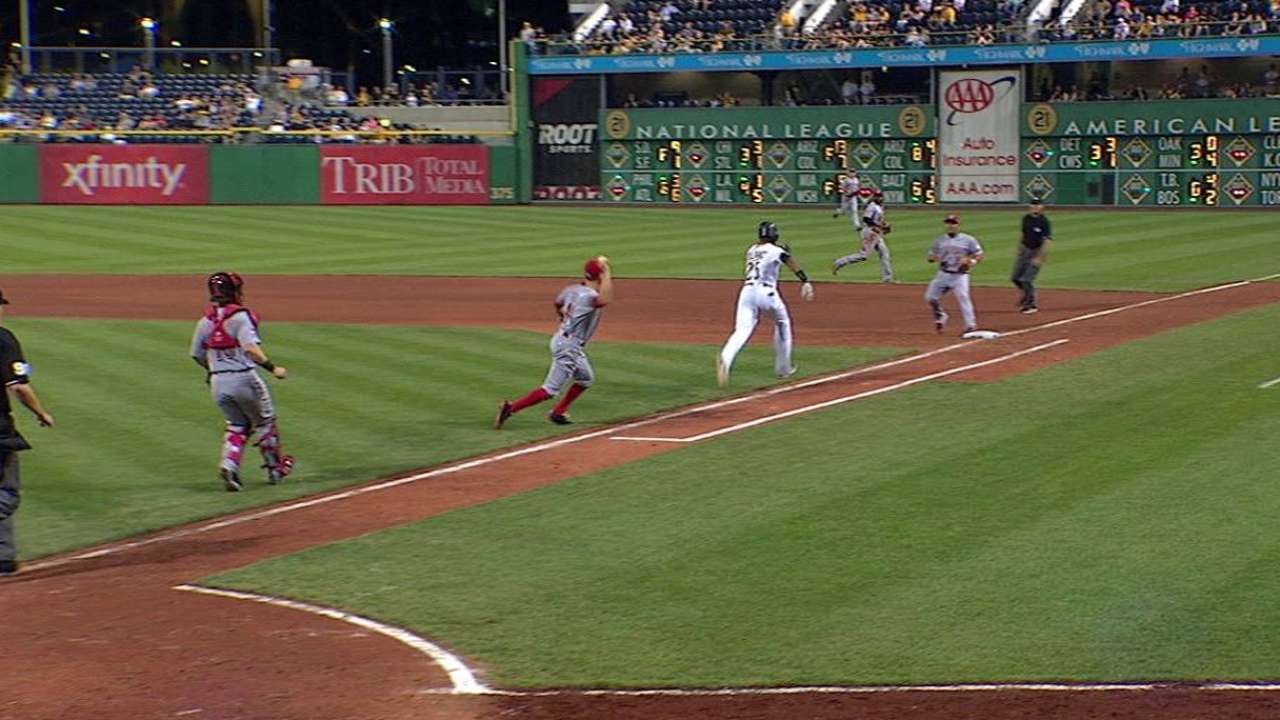 PITTSBURGH -- The Pirates didn't have many chances to score in Wednesday night's 3-0 loss to the Reds, but they saw one opportunity in the seventh inning abruptly end with an interference call.
With two runners on and two outs, Gregory Polanco tapped a ground ball toward first base and ran down the line. Reds pitcher Mike Leake fielded the ball and went for the force out at first base, but his throw hit Polanco in the back.
An infield single by Polanco would have scored catcher Francisco Cervelli from second base for the Bucs' first run of the night, cutting the Reds' lead to 3-1. Instead, home-plate umpire Chris Conroy called interference on Polanco, ending the inning.
"I was trying to throw it to [first baseman Brayan] Pena. I wasn't trying to hit him in the back," Leake said. "I guess it was just an errant throw. They saw it as an obstruction."
Replays showed Polanco sprinting directly toward the bag, not running outside the basepaths. Pirates manager Clint Hurdle came out to discuss the call with Conroy, to no avail.
"It's a tough play in general to get it over that runner. When you see the runner inside the line, you throw it off his back, by rule, he's out," Reds catcher Tucker Barnhart said. "It was a very heady play by Mike."
As Hurdle explained the rule, a baserunner needs to be in the box 45 feet down the first-base line to avoid such a situation. If he's not in that box when he's hit by a throw -- and Polanco wasn't, though he appeared to have at least one foot on the line -- then he's out.
"If you're running on the line, you put yourself in jeopardy if you're hit by the ball. It's just the rule," Hurdle said. "The only way we get that call is if there's a no-call instead of a called out, because it's also a non-reviewable play.
"You've got to be in the box. If you're in that box and you get hit with a ball, you're not out. If you're not in that box and you get hit with a ball, you can be called out."
As a result, the Pirates stranded two more runners to extend their offensive struggles. Shut out for the fifth time in 27 games this season, Pittsburgh went 0-for-6 with runners in scoring position and left eight men on base.
Over their last five games, the Pirates have gone 2-for-36 with runners in scoring position while stranding 54 runners.
Adam Berry is a reporter for MLB.com. Follow him on Twitter at @adamdberry. This story was not subject to the approval of Major League Baseball or its clubs.