Simmons showing he's more than just a defender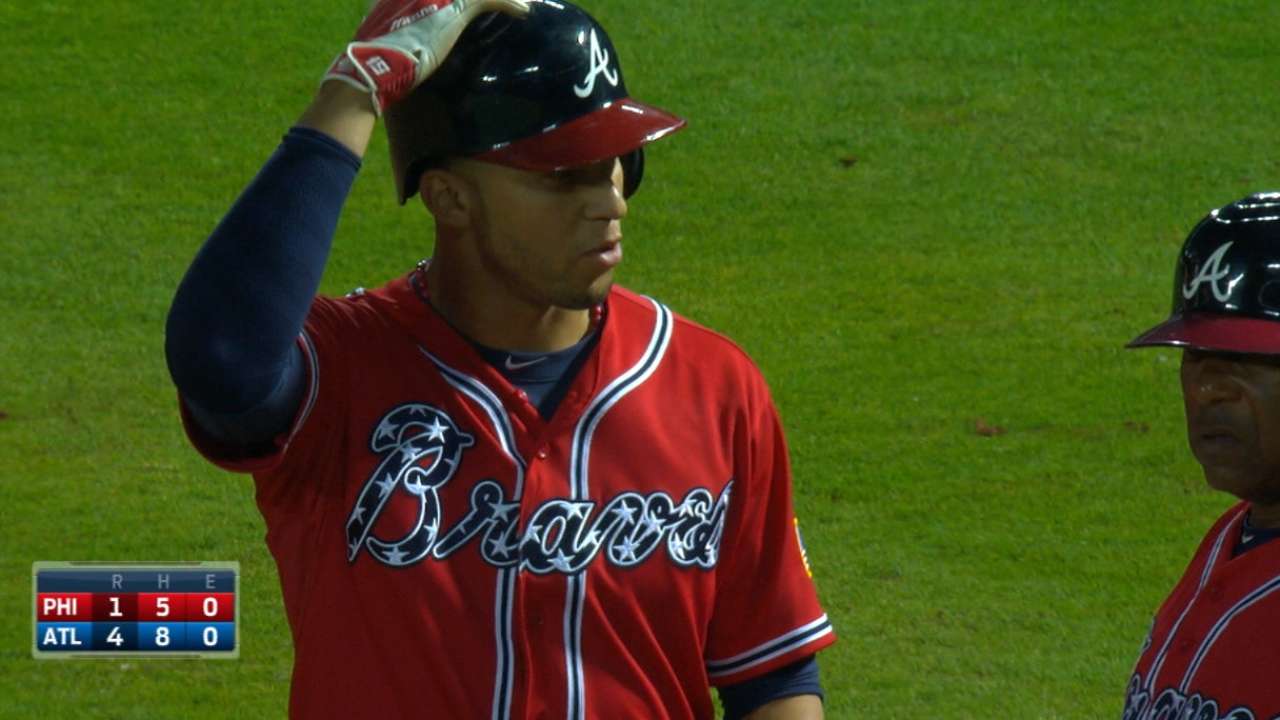 ATLANTA -- Over the first two-plus seasons of his career, Braves shortstop Andrelton Simmons' mantra might have been: "The best offense is a good defense."
Over the most recent homestand, however, Simmons may be ready to change that mantra, as he is showing that his best offense can be, well, his offense.
On Wednesday night, he singled, doubled and homered and was an integral part of three of the Braves' four scoring rallies in their 7-5 series-clinching win over the Philadelphia Phillies.
"You've got to score runs to win games," Simmons said, after putting together his second three-hit game of the season. "Being able to contribute, it's a big deal for me."
Simmons was a big deal, as he belted his sixth homer of the season in the first inning off starter Jerome Williams to give the Braves an early 1-0 lead. He followed that by doubling and eventually scoring to break a 1-1 tie in the fourth, then singling to add fuel to the decisive four-run fifth. A rally he capped off by plating the final run of the inning, which proved to be the game-winning run.
Simmons, who extended his hitting streak to six games, during which he's hitting .476 (10-for-21) has thrived by serving as the middleman in the 1-2-3 punch at the top of the batting order between right fielder Nick Markakis and first baseman Freddie Freeman. The trio went a combined 8-for-12 on Wednesday, scoring four runs and driving in six.
"You've got guys that are always on base or always drive you in," said Simmons, who hit .316 during the homestand, and .545 in the series with the Phillies. "So you're always scoring runs or you have an opportunity to drive a guy in. It's always nice hitting behind Nick and when I get on base I'm ready to run when Freddie's up."
And run he has. Of the 17 runs Simmons has scored this season, 14 of them came during the recent homestand, 10 of those coming over the last five games. That matches the 10 hits he has in that stretch.
Manager Fredi Gonzalez credits his shortstop's consistency at the plate to his sticking with a more consistent approach at the plate.
"This the longest I've seen him stay with an approach," said Gonzalez. "I think you've got to give a lot of credit to [hitting coach] Kevin [Seitzer] and [assistant hitting coach] Jose [Castro] for staying on him and also Andrelton. You've got to give the player a lot of the credit. I've seen his approach be consistent. I think this is the longest period I've seen him in almost three years, which is a good thing."
Simmons, who came a triple short of the cycle -- he can't recall ever hitting for the cycle, although he does remember coming close, missing only the double -- realizes things are going well for him, but didn't want to reflect too much on his manager's thoughts.
"I don't want to say that because whenever you say that that's when things go south," he said, with a laugh. "I've been feeling pretty good and I'm just trying to keep that same feeling every day."
Jon Cooper is an associate reporter for MLB.com This story was not subject to the approval of Major League Baseball or its clubs.