MLB.com Columnist
Richard Justice
Manfred offers vision of game's healthy future
Improving pace and marketing of superstars among Commissioner's goals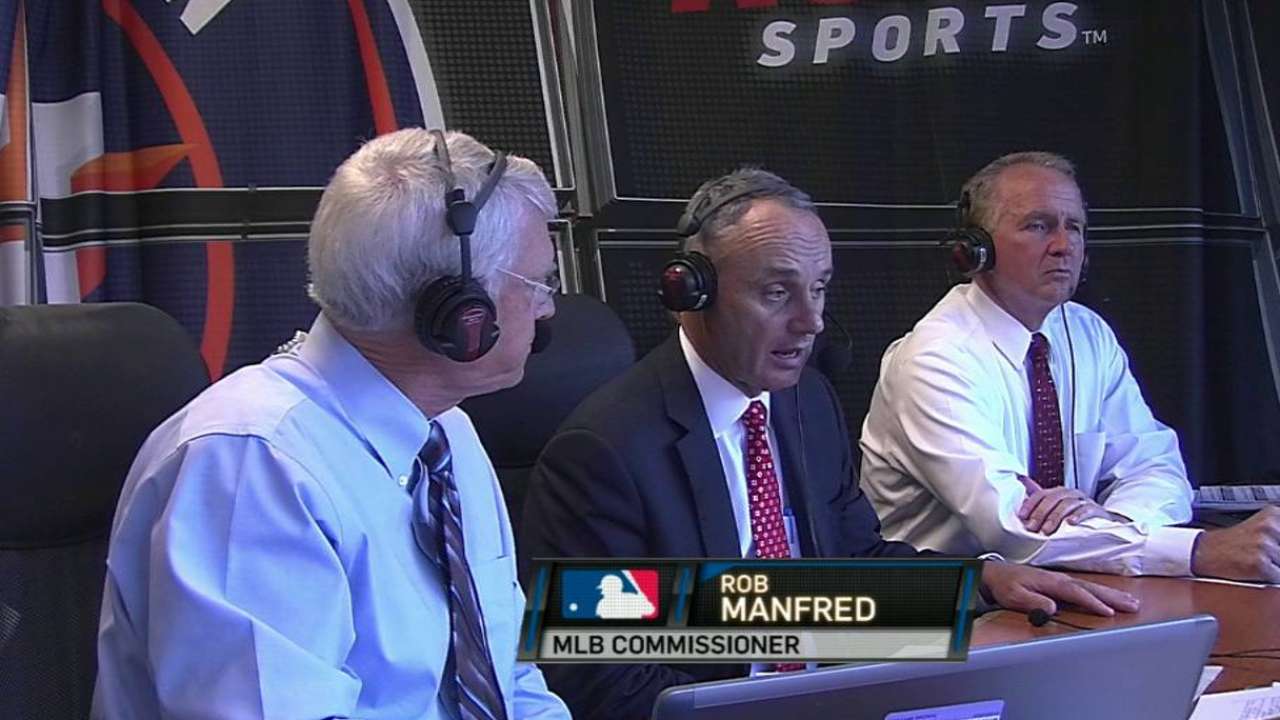 HOUSTON -- Commissioner Rob Manfred outlined his vision for the future of baseball in three meetings on Wednesday at Minute Maid Park. He took some questions, too, and made some small talk. All in all, a productive day.
"It was good," Rangers first baseman Prince Fielder said. "It's just good to see his face and hear him and start to get to know him."
Indeed, that's the goal.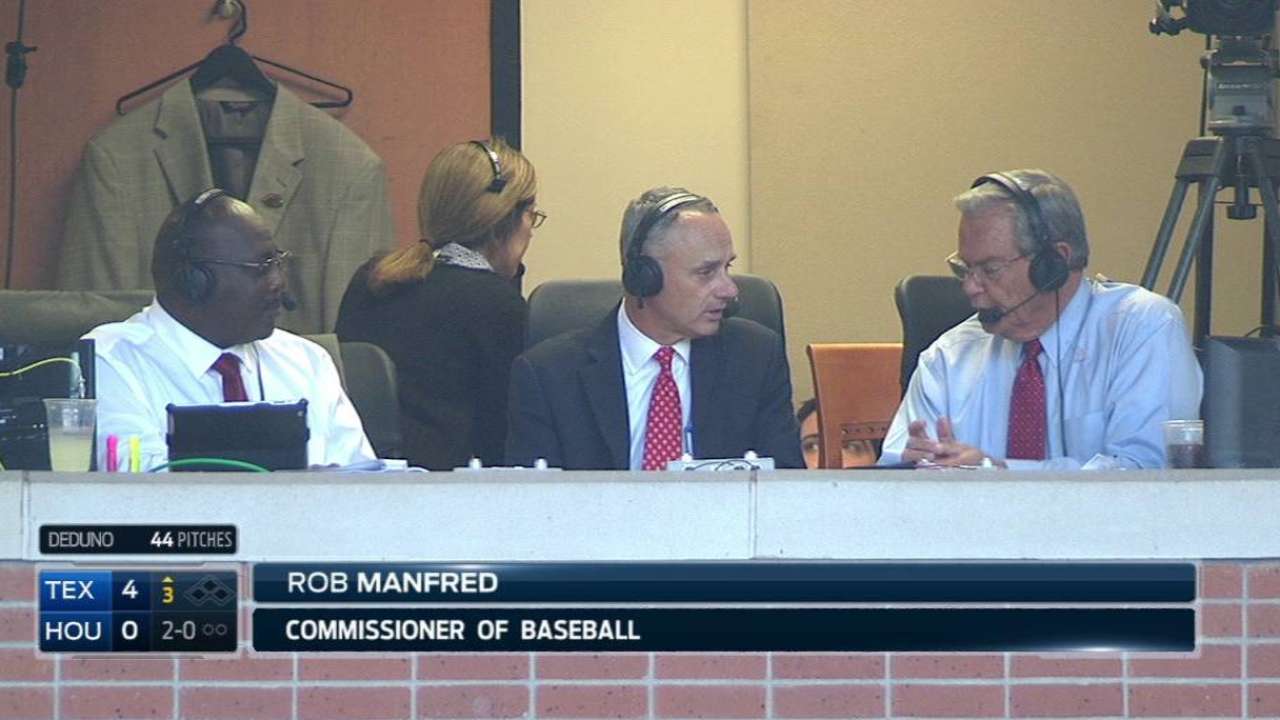 One of Manfred's objectives in these first few months as Major League Baseball's 10th Commissioner is to meet with players and front offices from all 30 teams to allow them to see him and hear him, and to start a process of working together.
The Rangers and Astros were the 20th and 21st clubs with which Manfred has met. During the day, the Commissioner also had a session with the Astros' front office.
"You know, our people are advocates of his now because they've heard it straight from the horse's mouth," Astros president of business operations Reid Ryan said. "It takes a lot of time to get out to every city, but it's important to hear from him, his vision. He's really looking at the game across a very wide spectrum."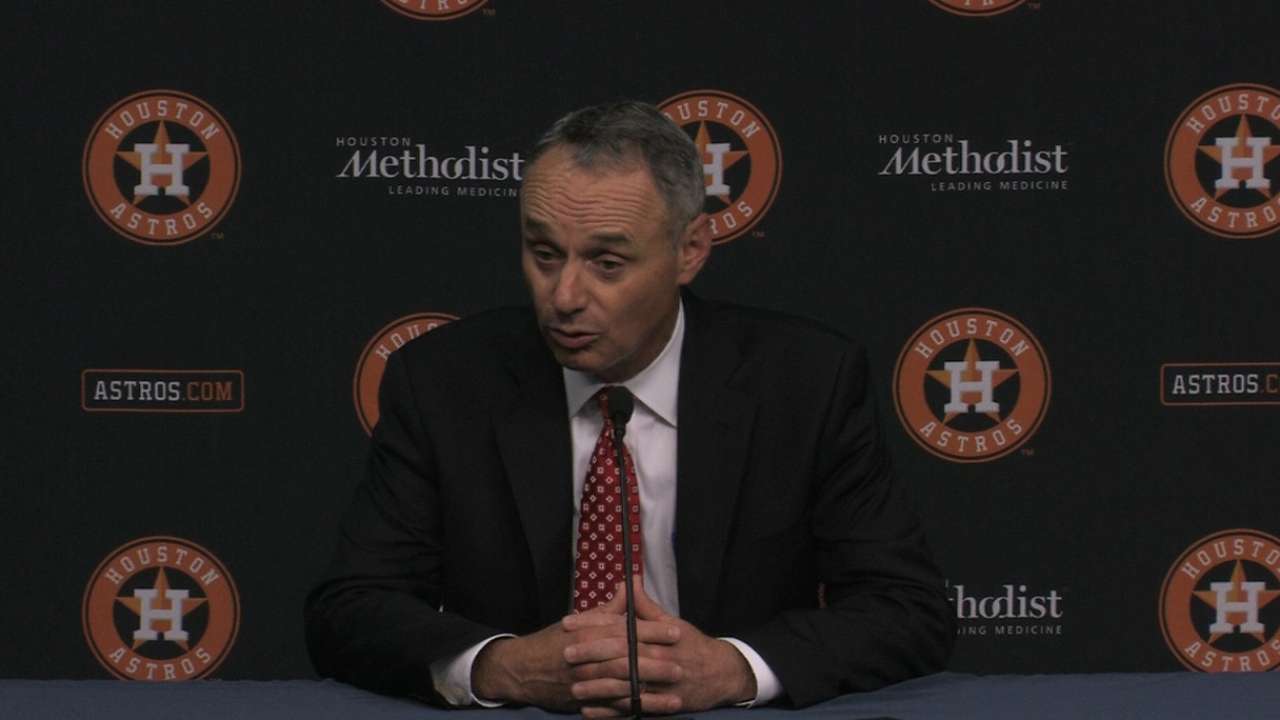 Manfred laid out a variety of goals including some that are already known, such as quickening the pace of play and creating an assortment of youth initiatives. He also told the players that an important part of his vision is spearheading more intense marketing of baseball's players, especially its stars.
"I try to give them a little feel about who I am and how I think about the game," Manfred said.
Manfred praised the players for their cooperation in this season's pace-of-play rule changes, saying: "One of the things I've said to the players is we have received great cooperation from the players on the [pace-of-play] initiatives. It's a positive on the field. It has yielded positive results, both in terms of the absolute length of the game but also -- and more importantly -- people's impression about how the games are moving along."
In the 3 1/2 months since he became Commissioner, Manfred says the job has lived up to every expectation he had, and then some.
"I am enjoying it," Manfred said. "I thought when I got elected that I had been given an opportunity to do the best job in the world, and I'm more convinced today than I was that day. It's been enjoyable, satisfying, great to be out talking to our players and visiting the clubs. I've had some great experiences with young people."
One of the lessons Manfred has learned -- or perhaps been reminded of -- is that everything he says has impact. He learned that right at the start of his tenure when a firestorm of debate was sparked by his comment that he would consider banning defensive alignments.
While such a ban isn't likely to be enacted any time soon, Manfred hoped to send a message that he was open to considering changes.
"I hope people know that baseball is always open to thinking about new ideas," Manfred said. "I hope that transparency people come to see as a positive."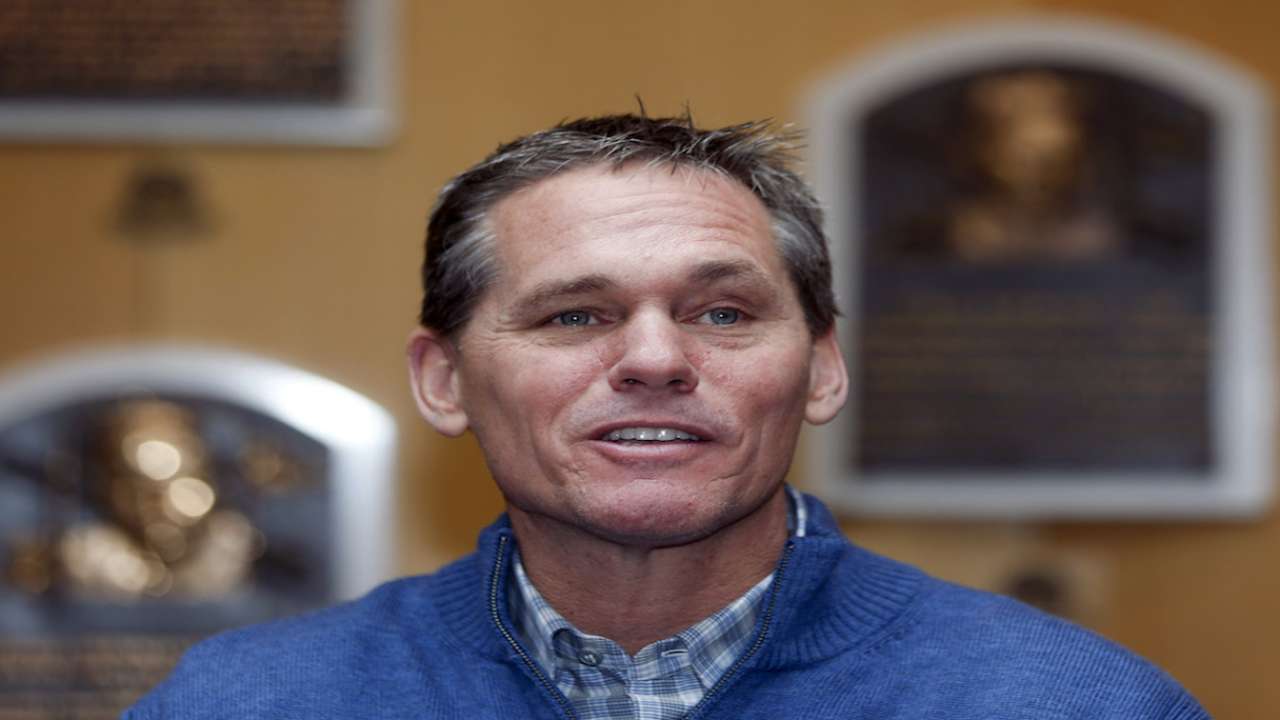 As for the marketing of players, Manfred said that one of the best things about baseball today is the new generation of players, including reigning MVP Award winners Mike Trout and Clayton Kershaw, among others.
"I think we have an amazing generation of young players coming along right now -- amazing in two respects," Manfred said. "Amazing in terms of their talent on the field, but amazing in terms of the kind of human beings they are. I actually said this to the Astros' front office. I was at the [Baseball Writers' Association of America Awards] dinner in New York in January. As an example, Clayton Kershaw's speech is a demonstration -- forget about the fact he was collecting both the [National League] Cy Young and MVP that night -- of the quality human being we have playing this game. I think it's a tremendous asset for us."
Manfred's meetings hit all of the correct buttons.
"He was very positive with where the game is and where he wants to take it," Astros manager A.J. Hinch said. "It's nice to have some face time with a generation of players that have known no other Commissioner other than Commissioner [Bud] Selig.
"I think [Manfred] is really proud of the cooperation with the players on [pace of play], instant replay and being good ambassadors of the game. It was very positive, very upbeat and needed at a time of change in the Commissioner's Office."
Among the other topics Manfred touched on during his news conference:
• On the possibility of a 154-game schedule: "Players have asked about 154," Manfred said. "I think 154 is a topic that is complicated. It has big competitive and economic ramifications. Having said that, I think in the 20-something years I've worked in the game, there's more conversation about it than there has been in a long time."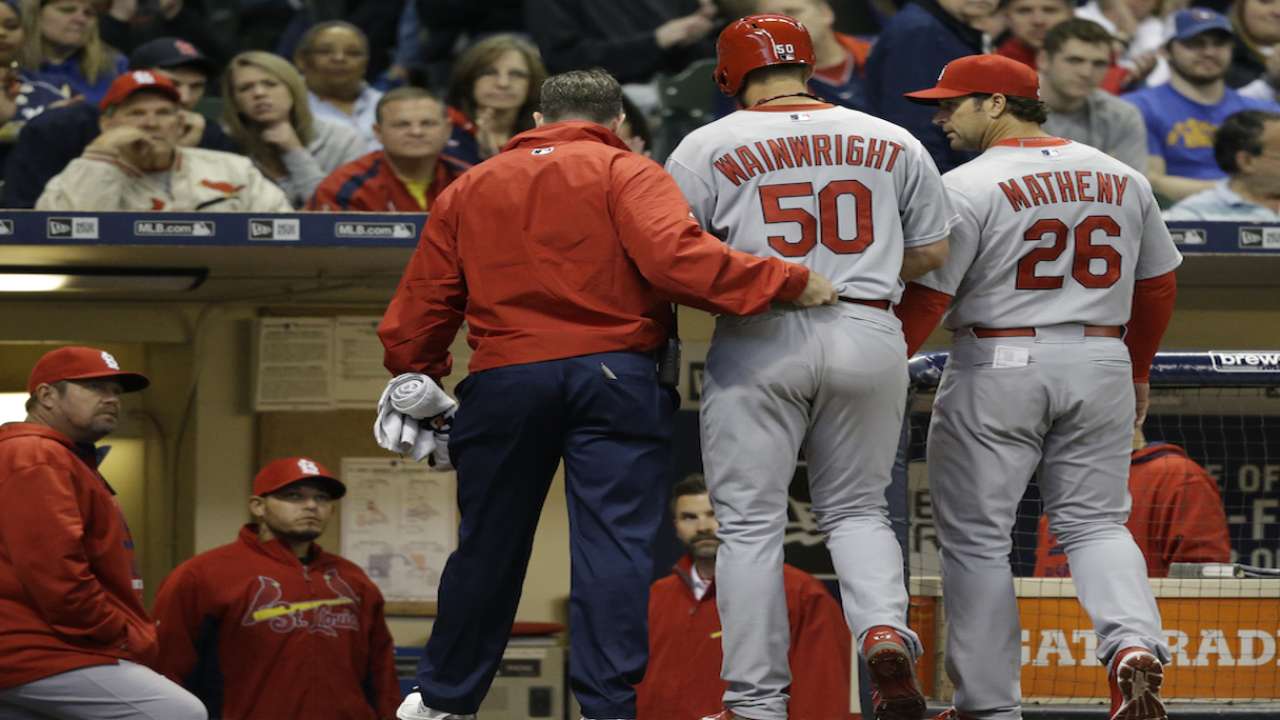 • On the chances of the NL adopting the designated hitter: "I'm a status-quo guy on the DH. I actually think it is a topic that causes people to talk about the game and debate the game. I believe that debate is a strength of our game and should be encouraged."
• On attendance: "We feel like we've got off to a great start, attendance-wise. We're up a little bit from last year. Obviously, it's early. I was particularly heartened by the really strong weekends. That bodes well. Obviously, your weekends are a big deal early in the season before the kids get out of school, and the strength of those early weekends will carry over into a very strong summer."
Richard Justice is a columnist for MLB.com. Read his blog, Justice4U. This story was not subject to the approval of Major League Baseball or its clubs.