Perez trying to get diabetic father stateside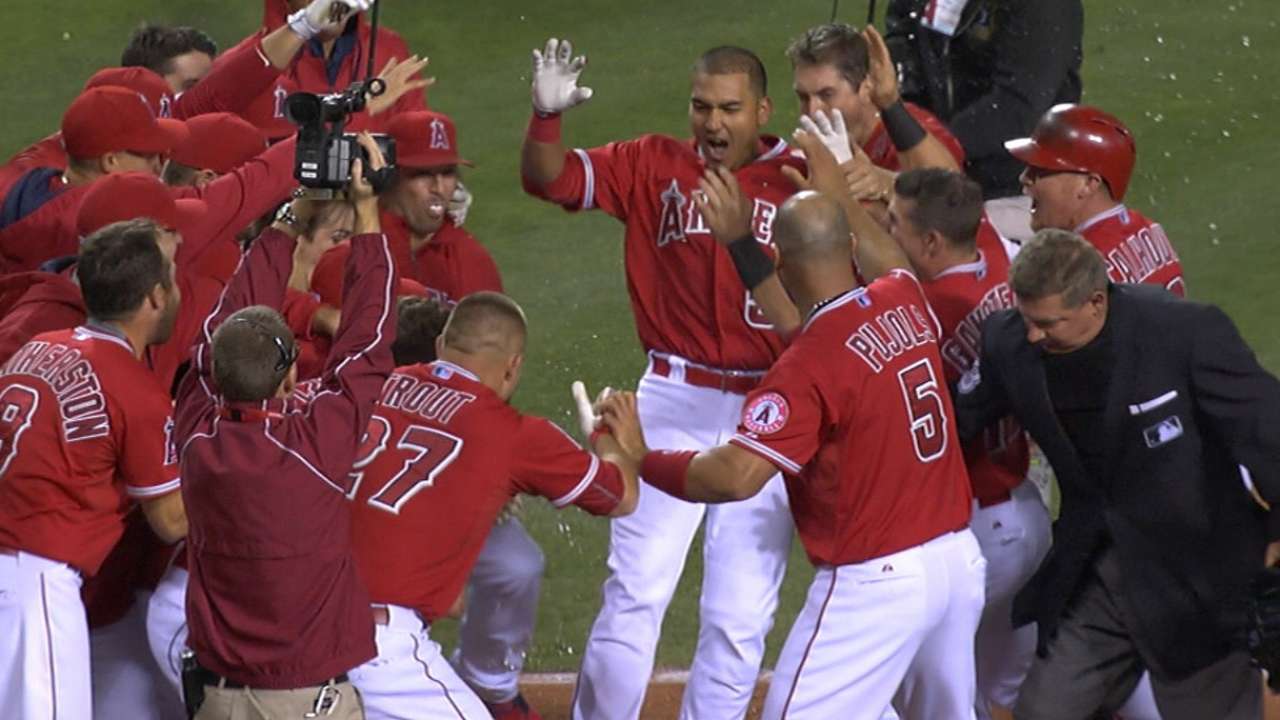 ANAHEIM -- Carlos Perez isn't sure how often he'll start behind the plate for the Angels this season, but based on his heroics on Tuesday, the lineup on Wednesday and the batting average associated with Chris Iannetta, he'll play often.
If only his loved ones could watch him do it.
Perez's entire family huddled around a laptop in Valencia, Venezuela, on Tuesday night to watch him become the fourth player in history to hit a walk-off home run in his Major League debut. But his family has yet to see him play live in the U.S. since he left his native country in 2008.
Perez's father can't leave Venezuela. He's a diabetic with kidney issues that require dialysis treatment every other day.
He and his wife -- and Perez's girlfriend, uncles, aunts, cousins and grandparents -- want to spend a couple of weeks in the U.S. watching the 24-year-old live out his dream in the Major Leagues, but they can't unless Perez figures out a way for his father to get the dialysis treatment he requires in the U.S.
Perez has reached out to his agent to try to set it up, and he's confident something can get done before the end of the season.
"He really wants to watch me play," Perez said. "I'm not sure when we're going to be able to get it done, but I'm pretty confident he's going to be able to come at some point this year."
Perez returned to the Angels' lineup Wednesday and indications are that he'll continue to get the majority of playing time at catcher if he continues to hold his own against Major League pitching.
Perez posted a .361/.418/.556 slash line to start the year at Triple-A Salt Lake, has a plus throwing arm and has impressed the Angels' coaching staff with his presence behind the plate since arriving in an offseason trade with the Astros. Iannetta started the season with just six hits in his first 64 at-bats, but from 2006-14, his .357 on-base percentage is tied for seventh among catchers with at least 2,500 plate appearances.
Angels manager Mike Scioscia doesn't want to let four bad weeks trump a nine-year track record, but he also has to ride the hot bat. And with Iannetta a free agent at season's end, part of him probably also wants to find out if Perez can handle the position long term.
"We're going to need them both," Scioscia said, "so whatever it turns out to be, it turns out to be. I think Carlos will probably take a little pressure off Chris in trying to go out there every day, and obviously when a guy plays well, you can earn more playing time."
Worth noting
• Left-handed-hitting outfielder Matt Joyce hit some balls hard in San Francisco last weekend and notched his first home run against Felix Hernandez on Monday, but he sat for a second straight game against a lefty on Wednesday. Scioscia said he wants to get the right-handed-hitting C.J. Cron and Collin Cowgill in against lefties to help jump-start a struggling offense.
• Albert Pujols, seven days removed from suffering tightness in his left hamstring, made his fourth start at designated hitter on Wednesday. Scioscia called it precautionary, saying: "He feels good, but you want to keep him as fresh as you can."
• Tyler Skaggs, nine months removed from Tommy John surgery and throwing in six-week intervals, hopes to be off a mound around the middle of July. But the 23-year-old left-hander reiterated Wednesday that he has little interest in pitching in Minor League games in August and September because he isn't returning to the Majors this season anyway.
"Why not just save it for Spring Training?" Skaggs asked. Told some teams do that as a confidence boost going into the offseason, Skaggs said: "I don't need the confidence boost. I'm really confident I'm going to come back feeling good. I feel strong right now. This is probably the best shape I've ever been in."
Alden Gonzalez is a reporter for MLB.com. Read his blog, Gonzo and "The Show", and follow him on Twitter @Alden_Gonzalez. This story was not subject to the approval of Major League Baseball or its clubs.