Kennedy continues upward ascent vs. Giants
Padres starter has second strong outing since rough return from DL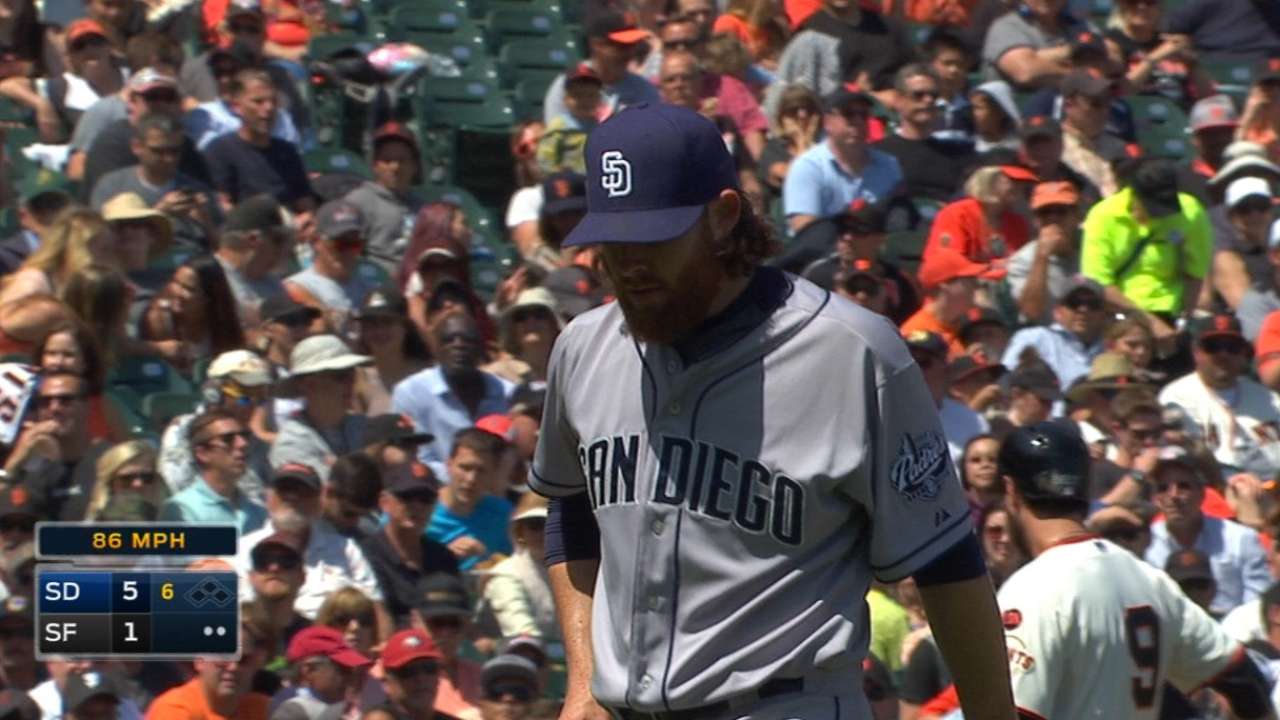 SAN FRANCISCO -- The last time Ian Kennedy faced the Giants, he felt a searing pain in his left hamstring, a strain that forced him from his first start of the season in the third inning.
On Wednesday, Kennedy proved a pain in the collective side of the Giants, as he limited San Francisco's hitters to one run in seven innings and the Padres ran away with a 9-1 victory at AT&T Park.
Kennedy (2-1) allowed six hits, didn't walk a batter and had five strikeouts. He even got his first hit of the season.
"I mixed a lot more today. The change was down, my slider came around and the curveball was OK. For the most part, it was fastball command," Kennedy said.
In his last two starts, Kennedy has allowed three earned runs in 13 innings, a sign that he might be on his way to rounding toward the form that saw him surpass the 200-strikeout and 200-inning marks last season.
"Ian has been a proven Major League starter as far as durability, so hopefully when we look up at the end of the year, at maybe 29, 30 starts, the numbers will be Ian Kennedy-like," said Padres manager Bud Black.
Kennedy's season got off to a bad start when in the home opener April 9 against these same Giants, he strained his hamstring in the second inning. He attempted to pitch through the pain the following inning but left the game.
Kennedy eventually landed on the 15-day disabled list.
When he returned, he was shelled by the Dodgers on April 25, allowing eight earned runs over 4 1/3 innings. But he noticed a flaw in his delivery that night and set out to fix it.
The last time out, Kennedy limited the Rockies to two earned runs in six innings Friday. On Wednesday, he was even better.
"I feel like to what I was at the end of Spring Training. After the Dodger start, I felt out of rhythm," he said. "Last two starts, I feel good. I feel I'm back on track to where I felt at the end of Spring Training."
Kennedy threw to rookie catcher Austin Hedges on Wednesday for the first time since Spring Training. This was Hedges' first big league start after being recalled from Triple-A El Paso on Monday.
Afterward, Kennedy praised Hedges for the game he called and how he handled himself.
"That shows the guy he is," Hedges said. "He took me under his wing a little bit, going over guys [Giants] between innings. He trusted me and I was just doing what I could to get him through it.
"I just let him do his thing. I'll throw suggestions out there. But it didn't really matter. I could put any finger down and he was going to execute it today."
Corey Brock is a reporter for MLB.com. Keep track of @FollowThePadres on Twitter. This story was not subject to the approval of Major League Baseball or its clubs.