LoMo borrows another 'boomstick' from Cruz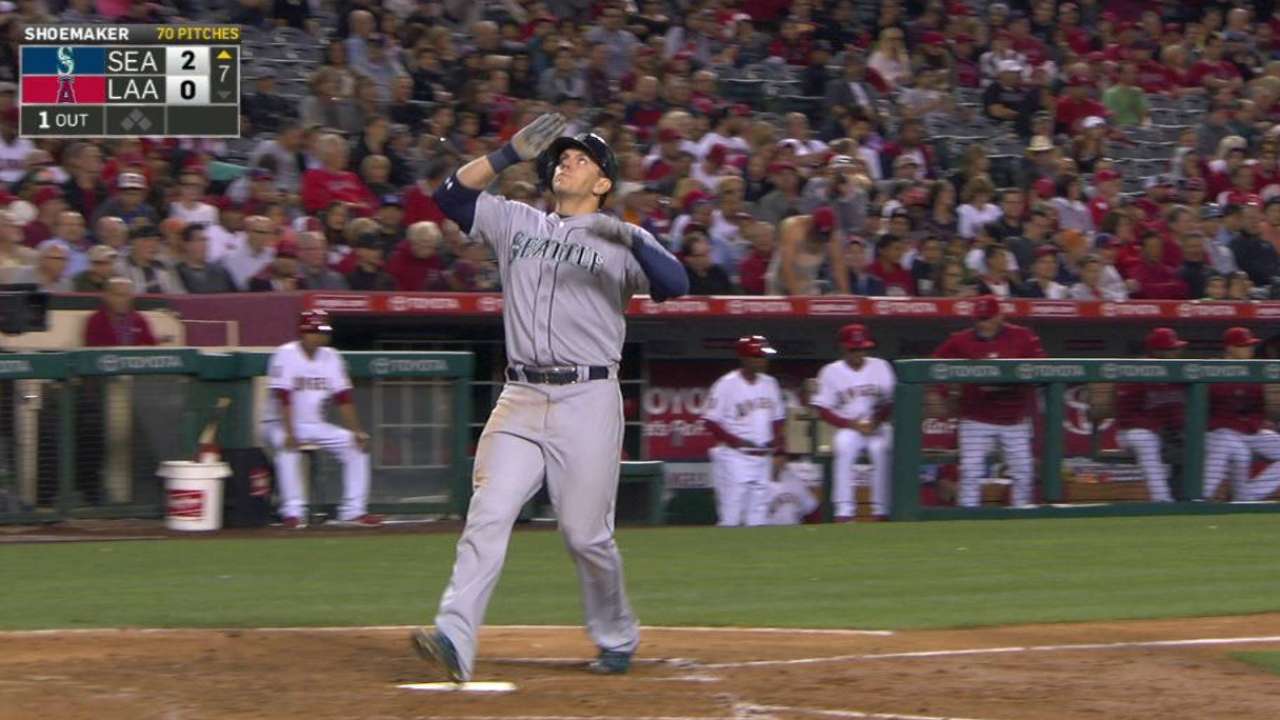 ANAHEIM -- Logan Morrison has been on a tear since borrowing one of Nelson Cruz's bats a week ago. And the story has gotten some attention as Cruz's impact on the Mariners has been impressive on all fronts.
Morrison, of course, is the one doing his hitting and deserves the credit for raising his batting average from .149 to .247 during a seven-game hitting streak in which he hit three homers, a triple and three doubles.
"I don't think it's the bat, necessarily," Morrison said with a smile prior to Wednesday's series finale with the Angels. "But I'll let you guys say whatever."
That said, after Morrison broke the borrowed bat on a double in Tuesday night's 5-4 loss, he went and asked for another one of Cruz's treasured "boomsticks."
"Yeah, I got a different one, but it still has Nelson's name on it," Morrison said, digging the well-worn lumber out of his locker. "It's got his signature on there. This is the biggest bat I've swung in my life. The other one was bigger. But this is a 35 [inch], 32 1/2 [ounce] and has a bigger knob than the one I broke that was a 35/33. I don't really know the difference. I just wanted to use something similar, so I picked this one."
Morrison said Cruz uses a bat that is an inch longer and two ounces heavier than what he previously swung. He thinks he's "staying behind the ball better" in the past week thanks to an adjustment with his footwork and hip rotation, but the larger bat could also be having a positive effect.
"I feel like if you do the work behind your body, with your body, that everything happens easy out front," Morrison said. "If my hips are running and my hands are staying back, it creates the rubber-band effect. And whenever I want to let it go, it snaps forward quicker because it's a heavier barrel."
Manager Lloyd McClendon has a simpler explanation for his first baseman's sudden improvement.
"Just positive results," McClendon said. "He swung the bat good before that. They were just making plays on him. It's amazing. When you get positive results, guys' results skyrocket. He's fine. He's swinging the bat good. He was swinging the bat good three weeks ago. He just wasn't getting results."
Morrison doesn't disagree.
"Success breeds success," he said. "I'm not worried about a first-pitch sinker on the outside corner. If he calls it a strike, I know I'm going to get a better pitch to hit and I'm not going to miss it. That's definitely good to have that kind of confidence."
And yeah, it doesn't hurt to be using a bat borrowed from a guy leading the Majors in home runs and RBIs in his first month with his new team.
Any reason the Mariners aren't all switching to Cruz's bats?
"I've already ordered them," McClendon said with a laugh.
Greg Johns is a reporter for MLB.com. Follow him on Twitter @GregJohnsMLB as well as his Mariners Musings blog. This story was not subject to the approval of Major League Baseball or its clubs.