MLB.com Columnist
Lyle Spencer
Potent Padres offense gets back on track
After two shutouts, San Diego cruises with five-run inning vs. Giants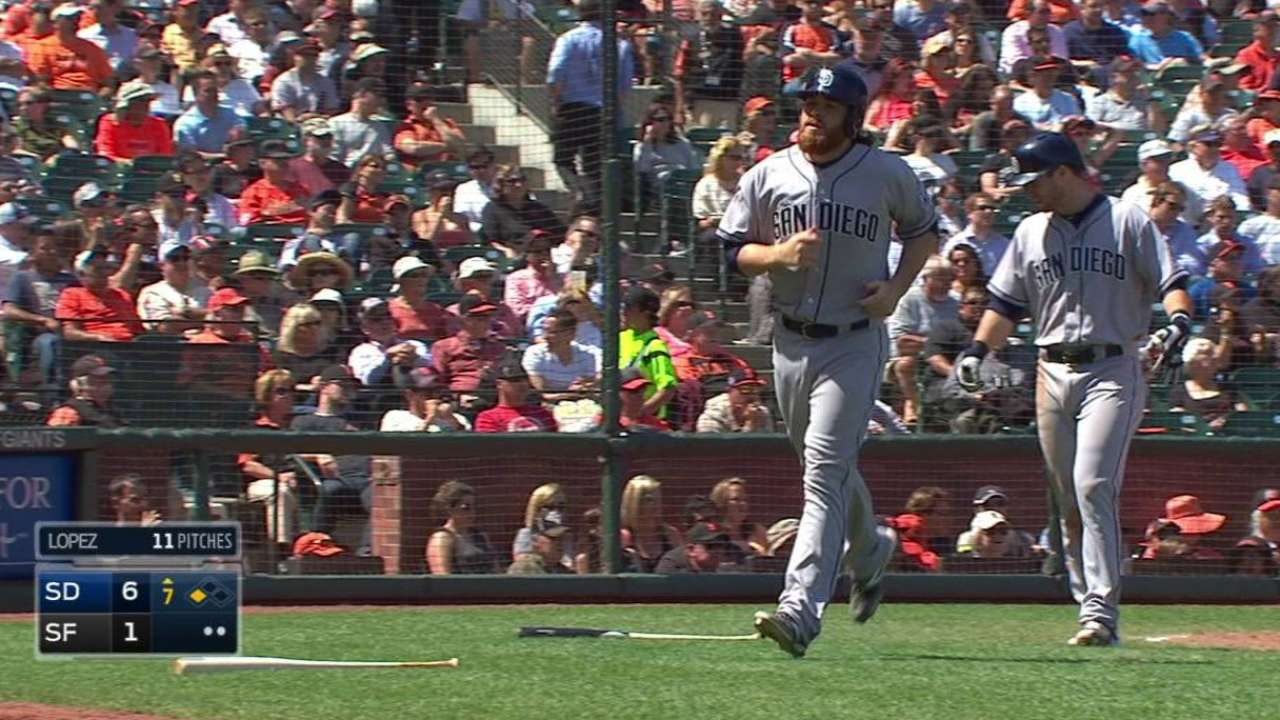 SAN FRANCISCO -- When the Padres had their most recent postseason adventure, in 2006, their manager was Bruce Bochy, their ace was Jake Peavy and the lineup featured Adrian Gonzalez, Mike Piazza and Mike Cameron behind leadoff catalyst Dave Roberts, who hit .293 with 49 steals and 13 triples.
"We had a good lineup," said Roberts, current bench coach for manager Bud Black, "but not as good as this one. These guys are more explosive than we were."
After Madison Bumgarner and Ryan Vogelsong held them scoreless on six hits in the first two games of the series, the new and improved Padres were back in business in Wednesday's matinee finale. They banged 16 hits, including three doubles and a triple, in a 9-1 victory behind Ian Kennedy that averted a Giants sweep.
"What we did at the plate today can really jump-start our offense again and get us back where we were before we lost those two," said leadoff man Wil Myers, who tripled and singled twice in six at-bats. "It was definitely good that we got our bats working."
San Diego struck against Chris Heston with hits by Myers and Cory Spangenberg out of the chute, but the rookie got away unscathed with a double-play sinker to Yonder Alonso. Two innings later, there was no escaping the wrath of the Pads, who rang up five runs with six hits.
"We were due," Black said. "We think we're going to hit, and we've shown we can hit. Our guys were a little disappointed the last couple nights. They came out with an edge. Everybody contributed along the line."
A stretch of six consecutive hits -- five singles and Matt Kemp's RBI double -- was interrupted only by Justin Upton's second of four walks.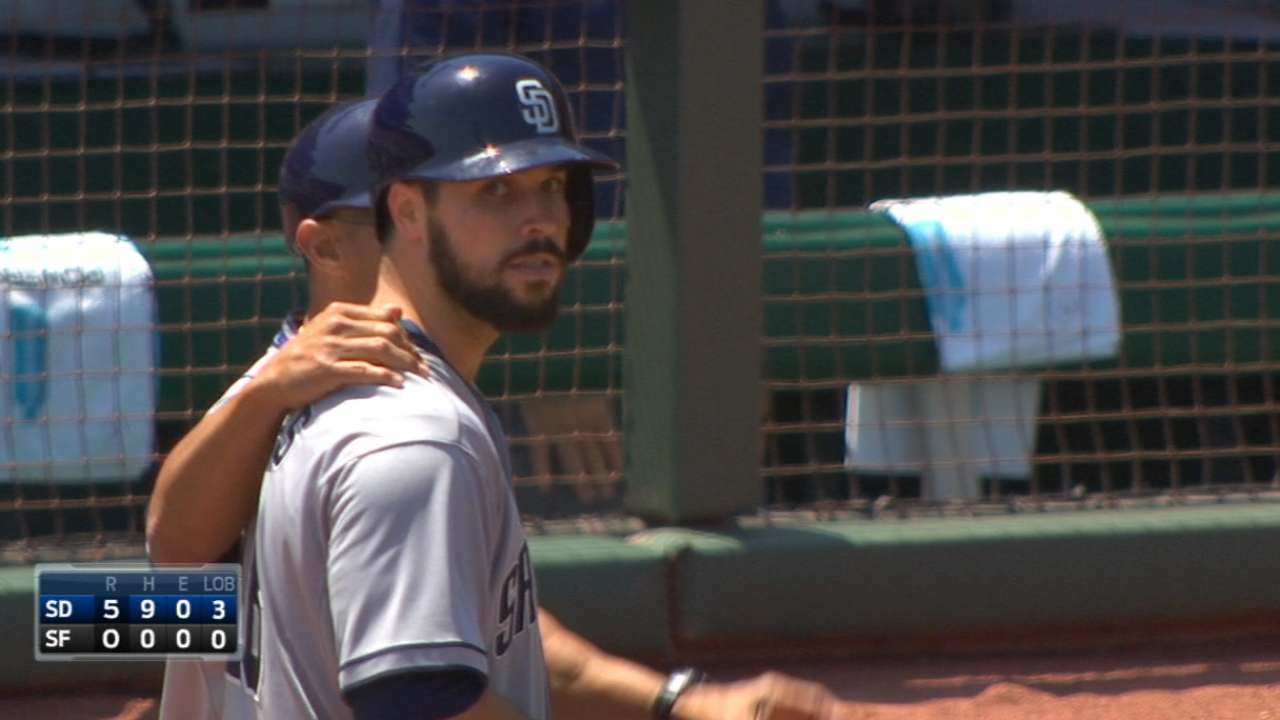 The Padres entered the series averaging a National League-best 5.04 runs, departing China Basin with that figure shaved to 4.83. The Dodgers, with more power production, are at 4.85 heading into their Wednesday night game in Milwaukee.
When it was pointed out to Bochy, the man with three World Series championship rings managing San Francisco, that this is shaping up as San Diego's most dangerous attack since his 1998 NL champions, he thought it over.
"I'd say that's a fair assessment," Bochy concluded. "In '05 and '06 [reaching the postseason both years], we had pretty good offenses, but we were more geared to pitching. They're a very solid offensive club -- some speed, some power. They're going to hit their home runs. You look at their lineup, they're geared to power."
The Padres did everything but go deep in the series wrap. Myers, Spangenberg and Alexi Amarista each had three hits, guaranteeing them starts, Black said, in Thursday night's series opener in Arizona. Alonso and Jedd Gyorko each had two hits, Gyorko driving in two runs, Alonso one. Reaching four times, Alonso lifted his on-base percentage to .430.
Austin Hedges, displaying advanced defensive skills behind the plate in his first Major League start, had two RBIs with a run-scoring single and a sacrifice fly. Upton, doing a Rickey Henderson impersonation, scored twice with his four free passes. Kennedy joined the fun with a single, scoring on Myers' triple.
A first-to-third sprint by Upton on Alonso's single to left in the third set a tone of aggression that impressed Black as much as Upton's fifth steal and thefts by Spangenberg and Amarista.
"Justin's running well, stealing bases," Black said. "That's a big play in that inning. Our guys have been playing hard all the way through -- running hard out of the blocks and on the bases. That's what you want to see as coaches and players."
Powered by Ken Caminiti, Greg Vaughn and the legendary Tony Gwynn, Bochy's '98 crew averaged 4.62 runs per game before getting swept by the dynastic Yankees in the World Series. The previous season, San Diego rang up a franchise high 4.9 runs per game but finished 10 games below .500.
The current band of mashers, drawn together in new general manager A.J. Preller's bold offseason overhaul, appears capable of eclipsing those powerhouses. Averaging 3.3 runs last season, the Padres had the franchise's most limited offense since the 1972 outfit averaged 3.18.
Along with ace James Shields and closer Craig Kimbrel, Preller upgraded the game's weakest offense with Kemp, Upton, Myers, Derek Norris, Will Middlebrooks and Clint Barmes.
Myers, a middle-third of the order hitter with the Rays, calls his new leadoff role "my favorite place to hit now." His mission, he said, is to score "as many runs as possible." With 25 through 29 games, Myers is on his way to triple digits.
"How many I score," Myers said, nodding toward Kemp and Upton, "is up to those guys. It's great playing with veterans like those guys. We're having a lot of fun."
Nine-run eruptions can do wonders for a team's morale.
Lyle Spencer is a national reporter and columnist for MLB.com. Follow him on Twitter @LyleMSpencer. This story was not subject to the approval of Major League Baseball or its clubs.