Cubs bring back Szczur to fill bench role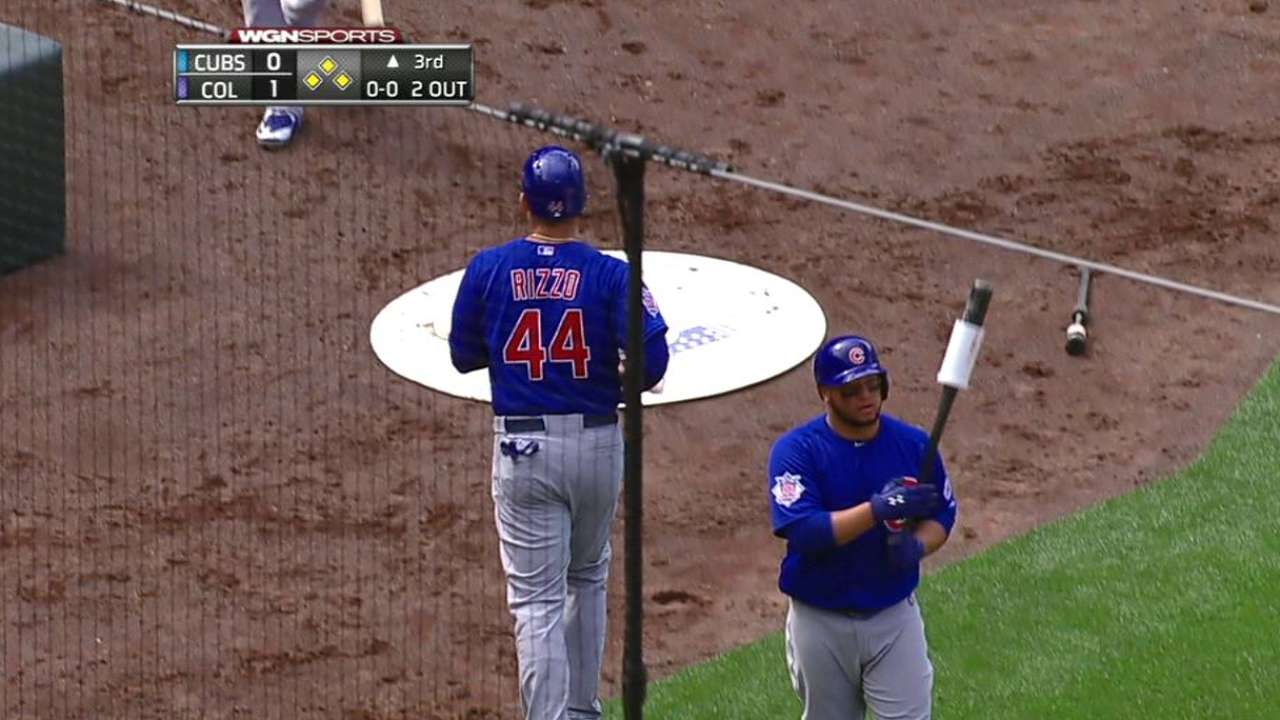 ST. LOUIS -- The Cubs recalled outfielder Matt Szczur from Triple-A Iowa and optioned Junior Lake to the Minor League team. It wasn't because of anything Lake did or didn't do, manager Joe Maddon said.
"We thought [Lake] needed to play more on a consistent basis than Szczur," Maddon said. "We feel Szczur is more apt or able to come off the bench and not be negatively impacted. They're both in developmental stages. We thought Junior needed more consistent play right now."
Lake, 25, was 4-for-14 with a double and one RBIs in four games with the Cubs. Szczur, 25, joins the Cubs for the second time this season. He made the Opening Day roster and went 2-for-10 with one double and one RBI in eight games before being optioned April 19. With Iowa, Szczur batted .262 (11-for-42) with two homers, a triple and seven RBIs in 11 games this season.
"Once I got into the swing of things, it was good to get at-bats," he said of his time with the Minor League team.
• Jorge Soler hasn't been as patient at the plate, so the outfielder was dropped to fifth in the batting order rather than hitting second or third. One thing that there is no doubt about is that Soler can hit the ball hard. Maddon can hear it, and it reminded him of his days as a Minor League hitting coordinator. When Maddon made his rounds, he would present a T-shirt to one player. It wasn't for the most hits, but said, "I Got Loud."
"Everybody wanted one," Maddon said. "I still run into guys who still have them from the late '80s. I've been an advocate of hitters who get loud -- who isn't?"
• Reliever Justin Grimm, activated from the disabled list Wednesday, watched Triple-A Iowa manager Marty Pevey and infielder Javy Baez both get ejected from Tuesday's game in Des Moines. Baez had hit a ball that was originally ruled a home run, but the umpires conferred and the second-base umpire overturned the call, saying it was a foul ball.
Pevey argued the call and was ejected. Baez then flew out to the warning track, and apparently said something as well, and was ejected.
Grimm said Baez was acting more out of frustration with the call.
"It was just the fact that [the second-base umpire] is not the umpire to make that call," Grimm said.
Apparently, Pevey put on a show.
"It's fun to watch Pevey," Grimm said, laughing.
Maddon didn't see a replay, but was instantly supportive of Pevey.
"The second-base ump? I'm getting kicked out, too," Maddon said. "How could this guy in the middle of the field discern it, especially if the ball was over the pole?"
Carrie Muskat is a reporter for MLB.com. She writes a blog, Muskat Ramblings, and you can follow her on Twitter @CarrieMuskat. This story was not subject to the approval of Major League Baseball or its clubs.