Votto remorseful over actions after ejection
Reds star bumps ump during argument following what Price believes to be a misunderstanding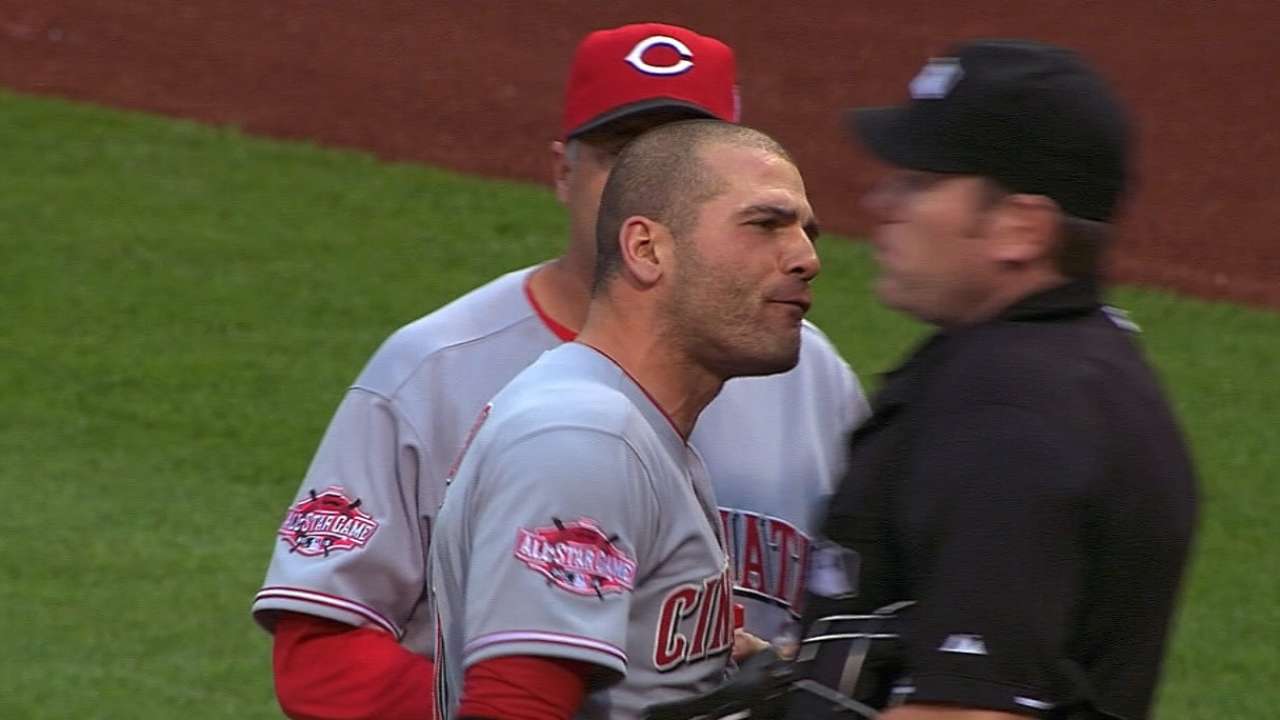 PITTSBURGH -- Reds first baseman Joey Votto was ejected from Wednesday's 3-0 victory over the Pirates and could be facing further discipline after bumping home-plate umpire Chris Conroy.
During a scoreless game, Votto struck out against Bucs starter Gerrit Cole to end the top of the third inning and was visibly upset, yelling and spiking his helmet as he walked away. Votto also appeared to say something toward Cole in the Pirates' third-base dugout before Conroy ejected him while Votto's back was turned.
Reds manager Bryan Price believed that Conroy misunderstood who Votto was yelling at, thinking the words were directed at the umpire.
"I saw the strikeout, and I knew Joey was upset with that," Price said. "I didn't see the ejection. When I found out he was ejected, the home-plate umpire felt like he was saying something to him. I don't think Joey was. I think he was having some back and forth with somebody on the team."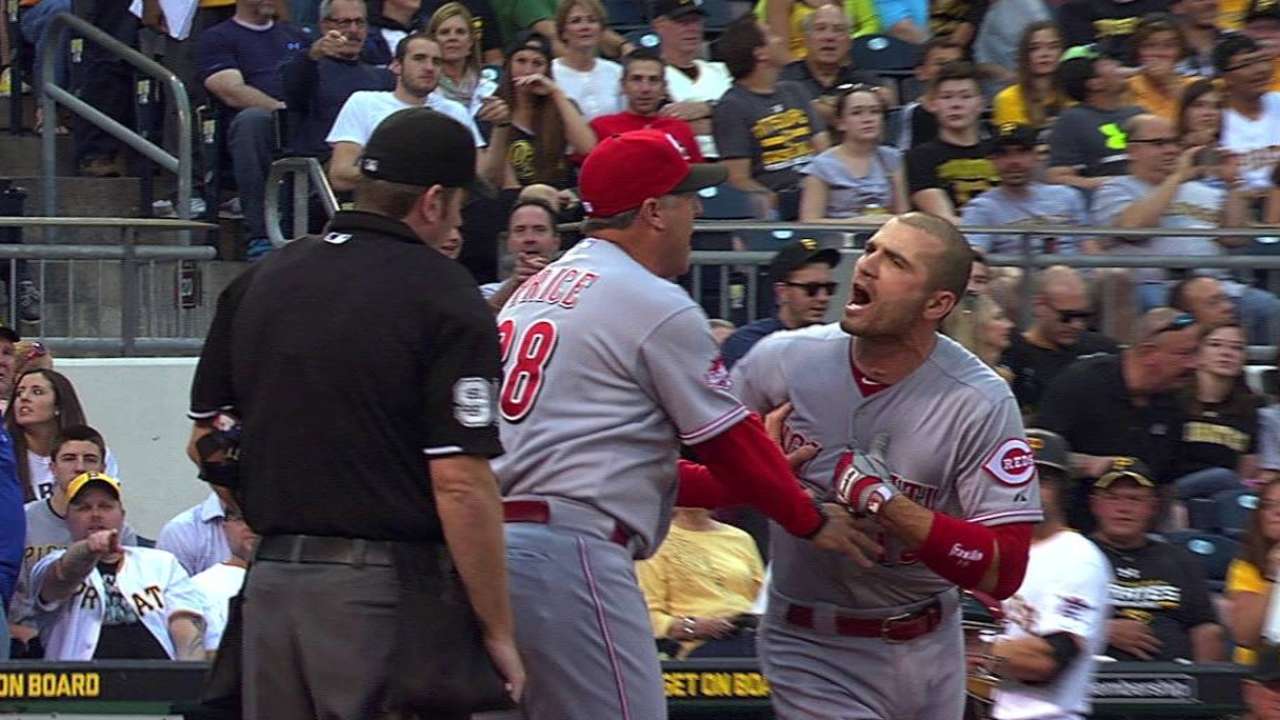 Not realizing he was thrown out of the game, Votto headed back to take his position defensively before being notified by coach Billy Hatcher that he was tossed. Votto charged at Conroy and made contact while arguing and had to be held back by Price.
Votto regretted his actions with Conroy.
"I feel like as a Major League player, I have a responsibility to be a good example for younger players," Votto said. "And making contact with an umpire is unacceptable. During this entire thing, that's the one thing I feel very remorseful for. I think it was something that just crossed the line. Just because I have a verbal disagreement with someone, doesn't make it OK to have physical contact with someone.
"In all of this, that's the thing I regret the most, and I'm not happy about it. As Major League players, we have a responsibility to keep everything ... we can push the limits as much as we want, but never cross that line."
Votto would not discuss what his gripe with Cole was over.
"You guys would have to go to video replay for that sort of thing. The stuff on the field I usually don't comment on," Votto said.
In the at-bat, Votto took a close pitch for a called strike, and his body language showed his displeasure with Conroy's call. After a swing and miss on the second pitch, Votto foul tipped Cole's third pitch into the catcher's mitt for strike three.
After slamming his helmet and yelling, Votto appeared to exchange looks with Cole. He could be seen on video yelling, "You pitch, I'll hit," before some obscenities. That was when Conroy ejected him.
For his part, Cole walked off the field without being seen on video saying anything to Votto.
"I don't really know what happened, honestly," Cole said.
Votto never learned exactly why he drew the ejection from Conroy.
"By the end of it, I was out of the game and not really certain exactly what happened," he said. "But my reaction was over the top. Being passionate or emphatic about something is one thing, verbally disagreeing. But I got too close and made contact with him."
Brayan Pena replaced Votto at first base. It was Votto's fifth career ejection and his first since 2010.
Any time lost by Votto from a suspension would be a blow for the Reds' lineup. He is batting .323/.427/.596 with seven home runs and 17 RBIs in 27 games this season. He is among National League leaders in numerous offensive categories.
"Where I'm standing right now, I feel like I need to be accountable for my actions," Votto said.
After the game, Votto appeared headed to the umpires' dressing room. He would not discuss what he was doing, however.
"No, I went to see what it was like sitting in one of the diamond seats behind home plate," Votto deadpanned.
Price was hoping that discipline against Votto would not be too severe.
"We'll see how it plays out," Price said. "The whole situation was unfortunate how it unfolded. There are times when players need to say they're upset. But I think Joey walked away and was ready to leave it alone. The aftermath didn't involve the home-plate umpire. He misconstrued it to involve him.
"Joey shouldn't have gone down there and made contact with the umpire. We know that. This was an avoidable situation."
Mark Sheldon is a reporter for MLB.com. Read his blog, Mark My Word, and follow him on Twitter @m_sheldon. This story was not subject to the approval of Major League Baseball or its clubs.