Yanks place Petit on DL, activate Pirela
Second baseman notches two hits in his first game of season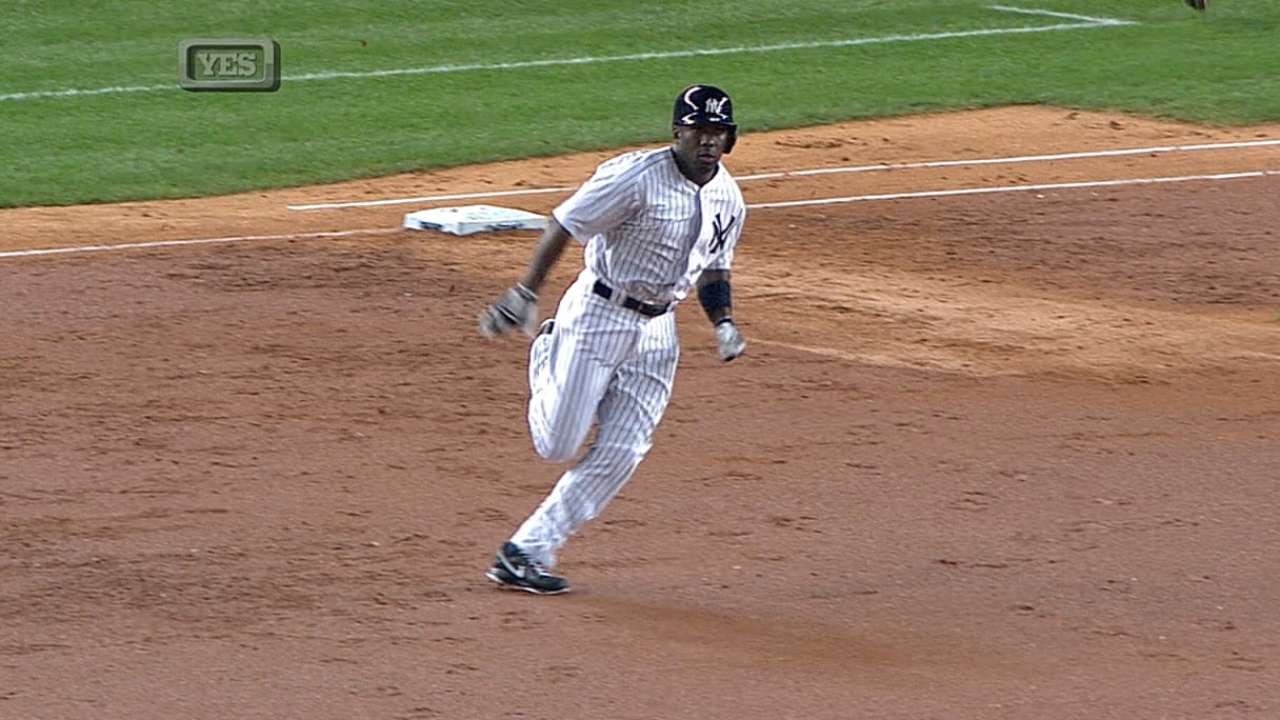 TORONTO -- The Yankees placed Gregorio Petit on the 15-day disabled list with a bruised right hand on Wednesday ahead of their series finale against the Blue Jays, and they activated Jose Pirela in a corresponding roster move.
Petit was hit on the hand with a fastball as he struck out swinging late in Tuesday's win.
"They did the X-ray last night, it was negative," Yankees manager Joe Girardi said. "He's pretty sore today. It'll be a few days before he could play, so we DL'd him."
Pirela, the Yankees' No. 24 prospect, rejoined the team from his rehab assignment on Tuesday, so a roster move was expected. He was in the lineup Wednesday with lefty Mark Buehrle on the mound, hitting ninth and playing second base. Pirela went 2-for-4 with a double in the Yankees' 5-1 loss to the Blue Jays.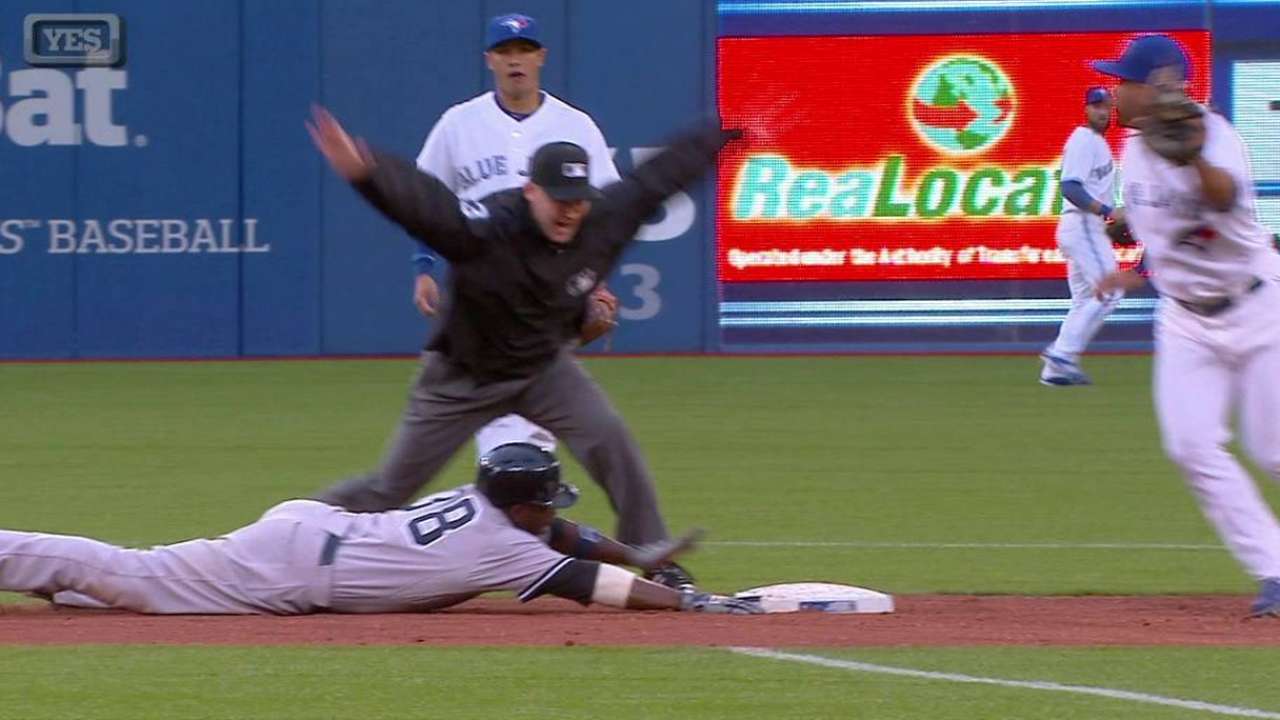 "He's going to play against lefties, and we'll see how it goes," Girardi said of Pirela's role going forward. "I didn't make any promises to anyone."
Pirela, who suffered a concussion in Grapefruit League action after crashing into the center-field wall, appeared in a total of eight rehab games, including four with Triple-A Scranton/Wilkes-Barre. He was 10-for-15 with five runs, three doubles and a homer in his last three contests with the RailRiders.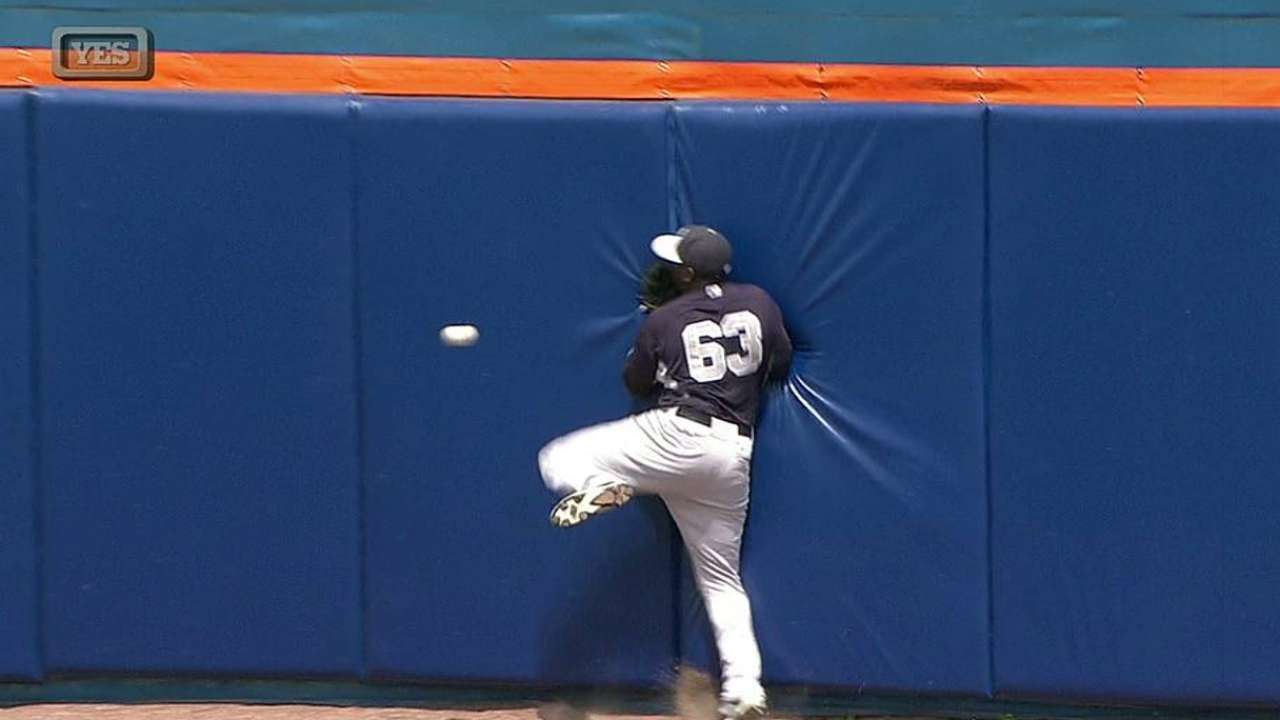 Yankees outfielder Brett Gardner hurt his neck when sliding headfirst on Tuesday in the first inning, and he was not in the lineup on Wednesday.
Girardi wasn't concerned about the injury, which he said was a stiff neck.
"My plans were to play him today, and when he came in, he couldn't turn his head, so there's a little kink in it," Girardi said.
He said Gardner, who was experiencing spasms around his trapezius muscle and his neck, would receive treatment throughout Wednesday night.
Jamie Ross is an associate reporter for MLB.com. This story was not subject to the approval of Major League Baseball or its clubs.