History swings momentum against Koehler
Previous success against Harper fades with three long home runs
WASHINGTON -- Here's the thing about baseball statistics. Those interesting numbers can serve as a guide to those trying to project the future. Some are stronger indicators than others, yet they are not infallible. There is a reason why the phrase, "That's why they play the game," was first muttered.
For example, Marlins starter Tom Koehler enjoyed tremendous success against Nationals outfielder Bryce Harper entering Wednesday's matinee that doubled as the rubber match for the three-game series. The right-hander held the lefty-swinging slugger to 2-for-15 (.133) with three strikeouts in their previous meetings.
Three powerful swings, taking advantage of three location mistakes, shredded the prior data.
Koehler surrendered three home runs to Harper in three at-bats as the Marlins fell 7-5.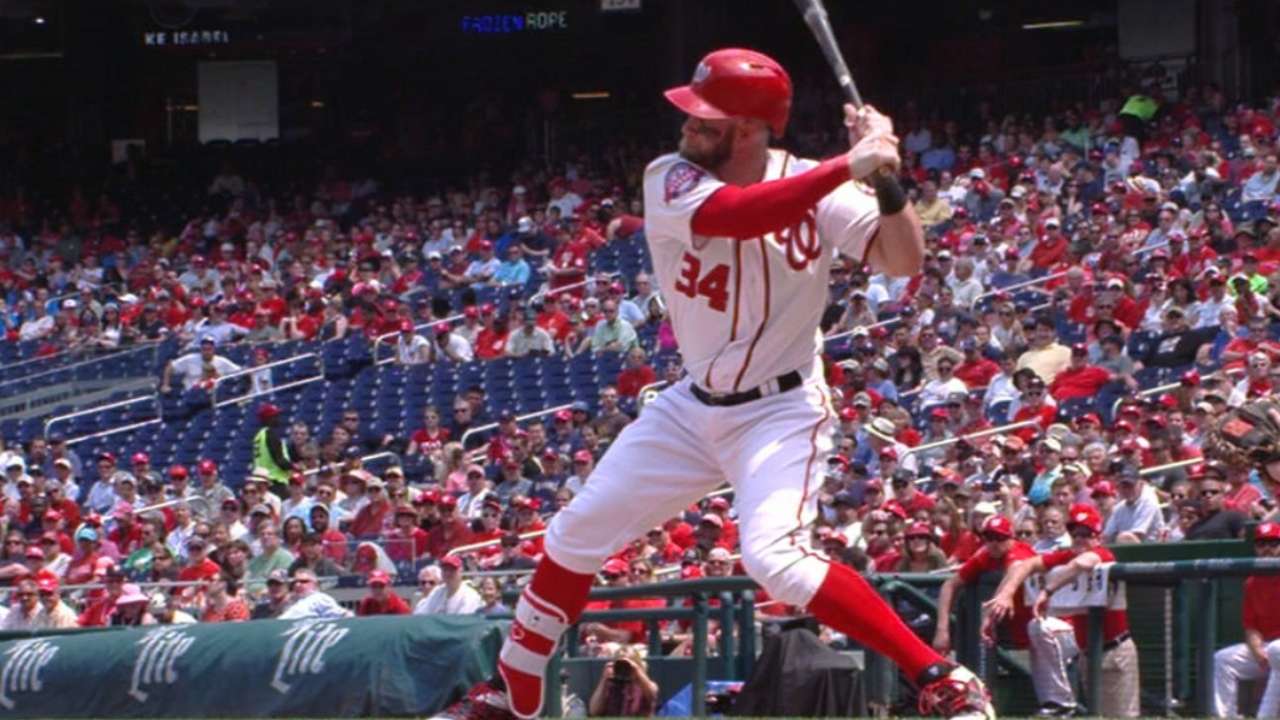 Marlins manager Mike Redmond knew the head-to-head stats were in his pitcher's favor. All he could do postgame was shrug about Harper's exploits.
"Yeah, he got a couple of big hits off of him," Redmond said. "I give Tom some credit. He kept trying to beat him with that fastball. It didn't work out so good."
Staked to an early 2-0 lead, Koehler gave one back in the second as Harper's first homer flew over the left-center-field wall. Washington scored three runs in the third, with Harper's second bomb driving in two. His third titanic blast put the Nationals up 5-2 in the fifth. Harper's last two homers, both rocked so hard the outfielders didn't bother moving, landed in the upper deck in right-center.
"I made three mistakes against him, and he hit the ball three times for homers," Koehler said. "Two were up. One was a slider that didn't slide. It spun right there in the middle of the plate."
The Marlins entered Washington having won 9 of 11 games. Yet, despite that rate of success, Miami left the nation's capital having lost two of three and three of four overall.
Despite the setbacks, Redmond hasn't lost faith.
Miami twice let leads slip away in Monday's opener. Mat Latos shut down the Nationals for a 2-1 win Tuesday. Even with Harper's barrage, the Marlins nearly rallied in the final innings Wednesday. Giancarlo Stanton's three-run homer made the score 7-5 in the eighth, and the Marlins had the potential tying runs on base in the ninth.
"I'm pretty pleased with the way we're playing, except for the fact that we had two leads in the first game of the series and couldn't get outs. Yesterday was a great game, and we had our chances today," the manager stated.
Koehler (2-3), who allowed five runs and seven hits with five strikeouts in six innings, certainly wasn't pleased with his outing. He wasn't displeased with his stuff either.
"It's tough. I felt like I threw the ball really well today," he said. "That's why baseball is such a crazy game. You can throw the ball really well and get stuck with a five-spot on you."
You can also have the stats on your side and still wind up on the losing end.
Ben Standig is a contributor to MLB.com. This story was not subject to the approval of Major League Baseball or its clubs.