Lack of command stings Matzek in brief start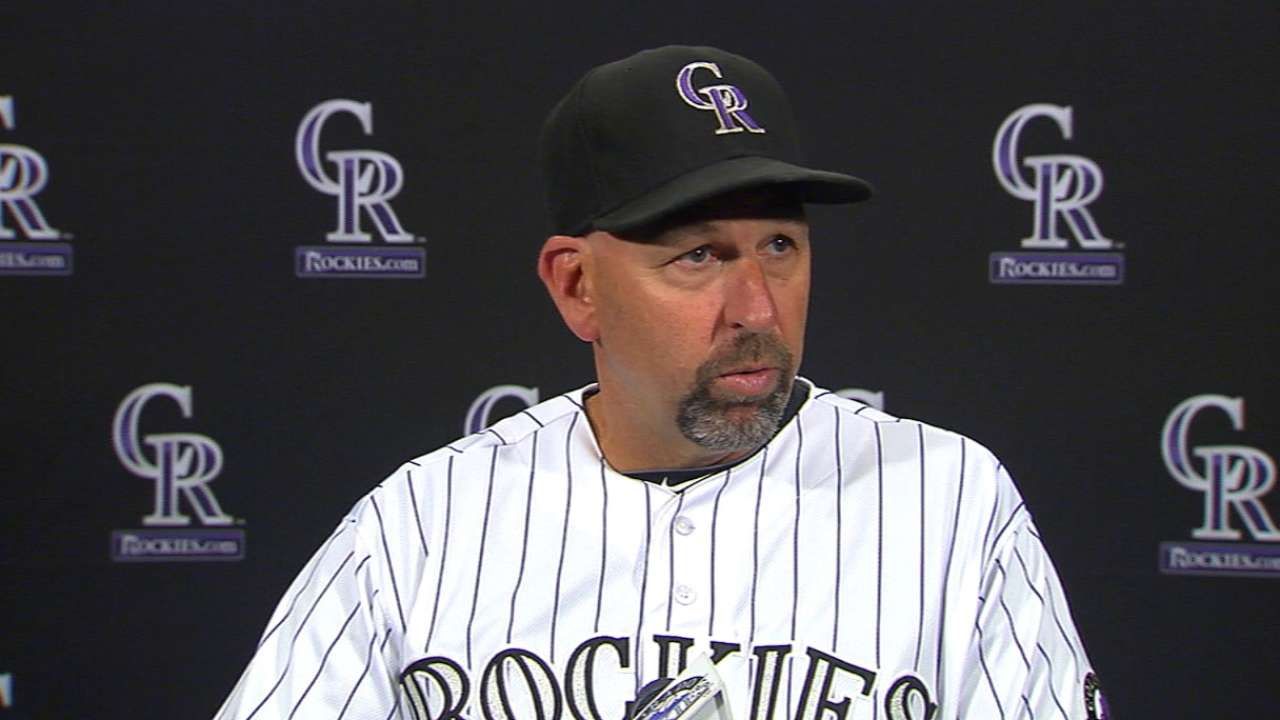 DENVER -- Tyler Matzek's wildness caught up with him Wednesday, when he walked six and lasted just two-plus innings of a 13-7 loss to the D-backs in Game 1 of a doubleheader at Coors Field.
Matzek walked 13 in 20 innings over his previous four starts but managed to skate through those unbeaten, while the team went 3-1. But as manager Walt Weiss noted, Wednesday was "a little different than it's been. Today, the command really got away from him. He struggled to throw strikes."
Matzek (2-1) managed just 20 strikes on 58 pitches for 34.5 percent strikes -- the lowest such figure since 2000 for a start of at least 50 pitches. Matzek's six walks tied a career high he set on April 21 at home against the Padres, when he received a no-decision in a 7-6 Rockies loss.
"I was disappointed I let my team down," Matzek said. "We had to go to the bullpen early, which is terrible on a day we've got a doubleheader.
"I've gotten away with it a couple of times, just battling, kind of dealing with it. Eventually, they're going to come around and start hitting the ball. I just need to get the fastball command back to where it was. Once I do that, it's going to get a lot easier."
Matzek walked Mark Trumbo, Paul Goldschmidt and A.J. Pollock with one out in the first, but escaped with a strikeout of Yasmany Tomas and an Aaron Hill lineout.
Matzek nearly wiggled out of two walks to open the second when D-backs pitcher Josh Collmenter bunted into a double play. But Ender Inciarte delivered an RBI single and Trumbo homered for a 3-0 lead. A leadoff walk to Pollock and a Tomas single in the third sent the left-hander to the dugout.
Because of a left hamstring cramp during his previous start, a win at Arizona, and rainouts Monday and Tuesday, Matzek hadn't pitched in eight days when he took the mound Wednesday.
"The hamstring wasn't a factor at all," Matzek said. "I don't want to blame anything, but with a couple days off, I didn't get a good round of catch in. You lose that feel a little bit. But that's something they [the D-backs] have to deal with, too, and every single pitcher and player has to deal with it. I obviously didn't deal with it very well."
Thomas Harding is a reporter for MLB.com. Follow him on Twitter @harding_at_mlb, and like his Facebook page. This story was not subject to the approval of Major League Baseball or its clubs.