Collmenter answers bell in twin-bill opener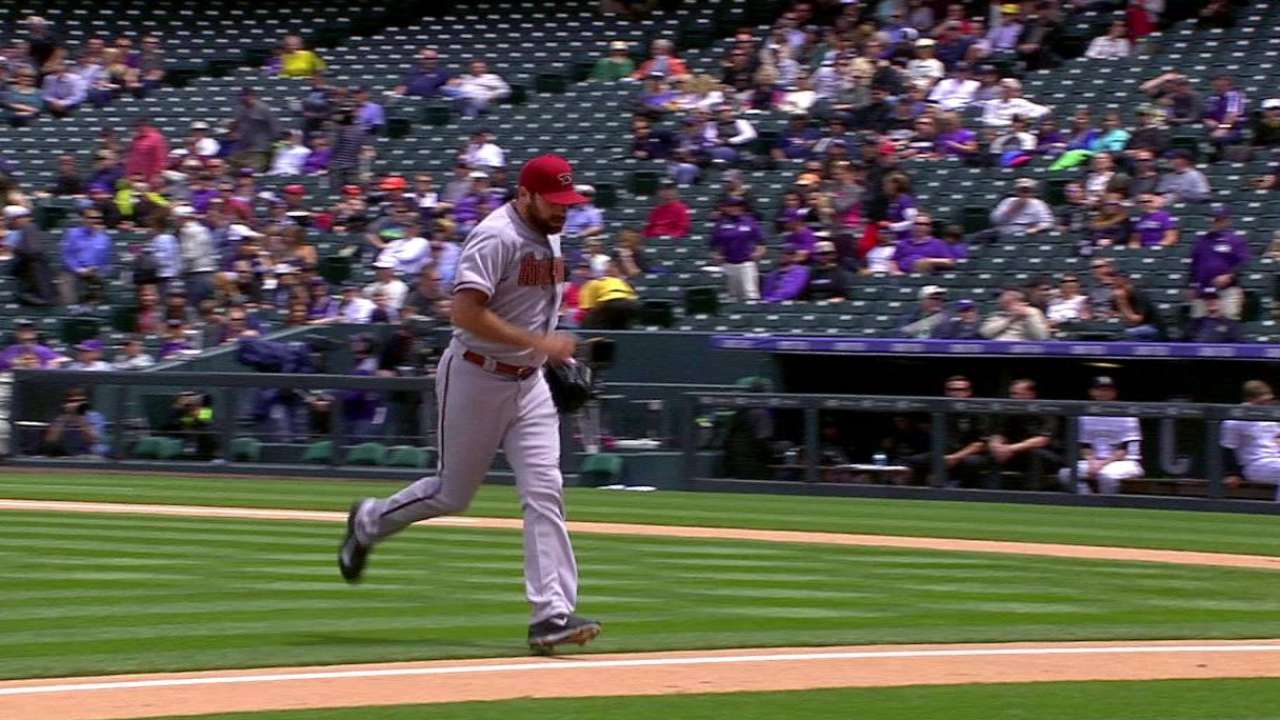 DENVER -- And on the third day, Josh Collmenter finally pitched.
Collmenter initially was scheduled to start for the D-backs on Monday, but rain postponed that game, so he was ready to go Tuesday. Rain once again caused a postponement and it was not until Wednesday afternoon's first game of a doubleheader that the right-hander actually got to take the mound.
"I did the same routine both days," Collmenter said. "And I threw a little bit yesterday just to make sure I played catch a little bit and moved around. So tried to keep it as close to normal as possible."
If there was any rust, it was not apparent early on as Collmenter tossed four scoreless innings to open the game while the D-backs' offense got cranking en route to a 13-7 win over the Rockies.
Collmenter (3-3) would eventually yield five runs, but most importantly for the D-backs was the fact that he was able to pitch into the eighth inning, which helped keep the bullpen arms fresh.
"This team, any time they're down they can be really aggressive," Collmenter said of the Rockies. "They're not trying to look for walks, they're trying to do damage and hit balls out of the park -- especially in this park. I was able to take advantage of that. Just wanted to pitch deep into the game. Even though we had two days off, you want to save your bullpen as much as you can for a doubleheader."
The Rockies began to get to Collmenter as the game wore on. He allowed a pair of runs in the fifth, one in the seventh and two in the eighth before departing.
"I moved my fastball around pretty good," Collmenter said. "Offspeed pitches were all pretty bad, and that's what I gave up a lot of the damage on. I just have to be better with those."
The D-backs failed to cash in a bases-loaded one-out situation in the first, but they got three runs in the second, one in the third and five in the fourth to give Collmenter a cushion.
"They did a great job of keeping their foot on the gas," Collmenter said. "Anything can happen in this park. No lead is ever safe. So it was fun to see them to keep having good at-bats and continue to put runs up."
Steve Gilbert is a reporter for MLB.com. Read his blog, Inside the D-backs, and follow him on Twitter @SteveGilbertMLB. This story was not subject to the approval of Major League Baseball or its clubs.