Araujo's MLB debut caps off wild week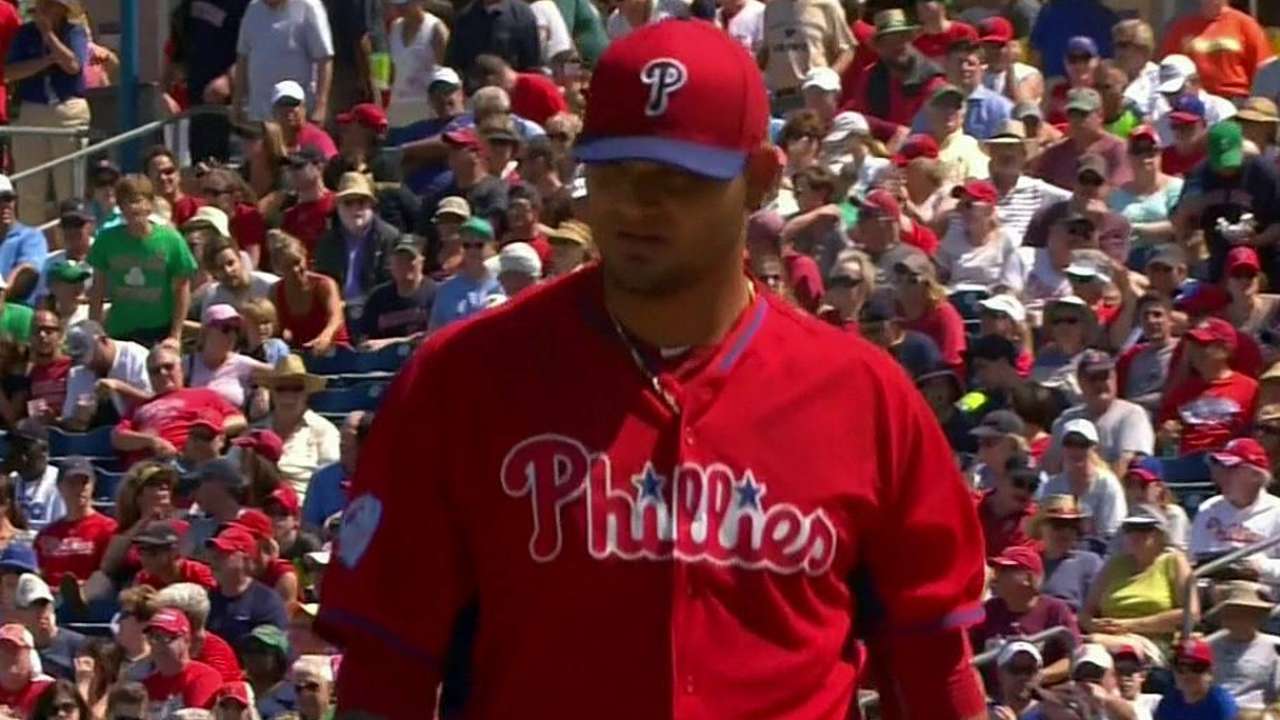 ATLANTA -- Phillies left-hander Elvis Araujo has had quite a week.
He pitched two scoreless innings April 29 with Double-A Reading and three days later Reading manager Dusty Wathan called him into his office for a talk. Araujo thought he might be in trouble when Wathan asked him to take a seat, but instead he asked the pitcher if he had been in the big leagues before.
"No," Araujo said.
Wathan then broke the news. Araujo had been promoted to the Phillies. Araujo made his big league debut Tuesday in a 9-0 loss to the Braves at Turner Field. He allowed hits to the first two batters he faced before striking out a pair of batters to pitch a scoreless inning.
"I told [Reading teammate Nefi] Ogando," Araujo said, recalling the moment he learned about his promotion. "He's my roommate. We go everywhere together. He started jumping and screaming. He couldn't control his emotions. He started hugging me and almost kissed me."
It was an emotional moment. The Phillies signed Araujo to a Major League contract in November, despite the fact he had never pitched higher than Double-A.
But the Phillies loved the arm that accompanied his size (6-foot-6, 280 pounds) and believed they could harness his potential. Then when it came time to add a pitcher to the bullpen they chose Araujo, despite the fact he had 7.45 ERA in seven appearances.
The Phillies need another left-hander to complement lefty Jake Diekman.
Araujo acknowledged he felt a little nervous entering the game Tuesday, and his nervousness grew once the first two batters reached base. He recovered nicely.
"I don't believe it," he said. "I don't believe that I'm here. I'm just trying to do the same work I did in the Minor Leagues. Just keep the same routine. Keep calm."
Todd Zolecki is a reporter for MLB.com. Read his Phillies blog The Zo Zone. Follow him on Twitter. This story was not subject to the approval of Major League Baseball or its clubs.