Defenses countering Hamilton's bunting game
Reds outfielder looking to stay positive, make adjustments to maintain vital threat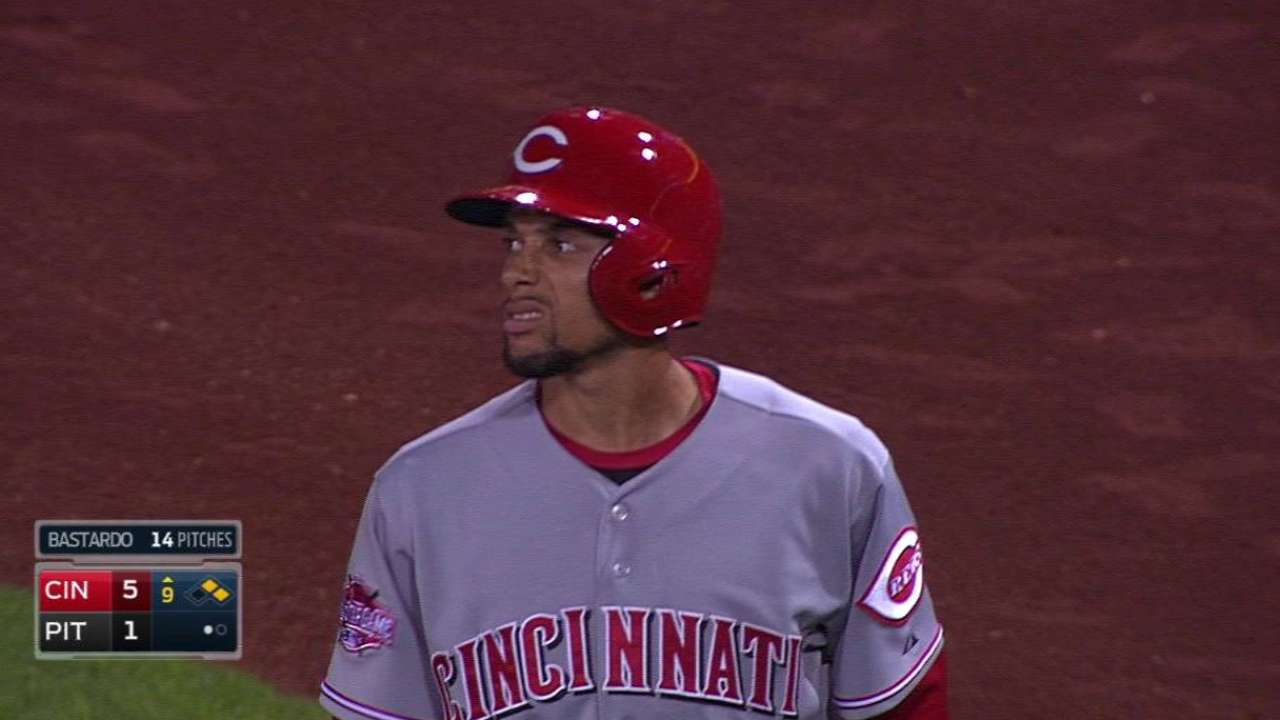 PITTSBURGH -- The bunt was not only a weapon in Billy Hamilton's arsenal during his rookie season, but an effective one. In the early going of this season, the Reds' speedy leadoff hitter and center fielder has struggled to get bunts down for hits.
In 2014, Hamilton was 15-for-44 (.341) when he bunted for hits. Entering Wednesday, he was 0-for-6 this season. It's not for a lack of effort or attention to the skill -- Hamilton does early bunting work just about every day. Some credit goes to opposing defenses for neutralizing him.
"They're going to be [playing] in, no matter what the situation is. It's got to be on me to take on the advantage to even think about putting the bunt down," Hamilton said before Wednesday's game. "It discourages me when the defense gets right there on you. It takes it away in my mind up there, but it's something I have to get over. It's not about what their plan is, it's where you put the bunt."
During the Reds' 7-1 win over the Pirates on Tuesday, Hamilton led off the game against pitcher Jeff Locke with a bunt attempt. After he took a first pitch for a strike, he bunted on the second pitch and popped out to the first baseman playing in.
Corner infielders usually shift back to normal depth the deeper the count because they're less worried about bunts.
"It just doesn't really happen with Billy," Reds manager Bryan Price said. "[They] still have to respect, not just the intentional bunt, but the swinging bunt and the chopper because of his speed. It's doable, but it's a challenge to continue to be a good bunter under the scrutiny that he gets defensively. Certainly, [former All-Star] Brett Butler did it, but you're talking about a small handful of people that have done it to that Brett Butler level. ... It's a really special craft. He's working on it. He's not quite there yet, but he's working on it hard."
With Hamilton's blazing speed, getting to first base is paramount to not only score more runs but also to disrupt pitchers and defenses for hitters that follow. Price believes that Hamilton's bunting process is evolving.
"I'm sure it's frustrating. Every time you're bunting, you pop it up or a guy comes in and makes a nice play, I'm sure it gets discouraging to want to continue to bunt," Price said. "The speed asset is something he has to continue to work on to be able to utilize it to the maximum."
Mark Sheldon is a reporter for MLB.com. Read his blog, Mark My Word, and follow him on Twitter @m_sheldon. This story was not subject to the approval of Major League Baseball or its clubs.