MLB.com Columnist
Paul Hagen
Harper appears ready to carry Nationals
Young slugger maturing into team leader for Washington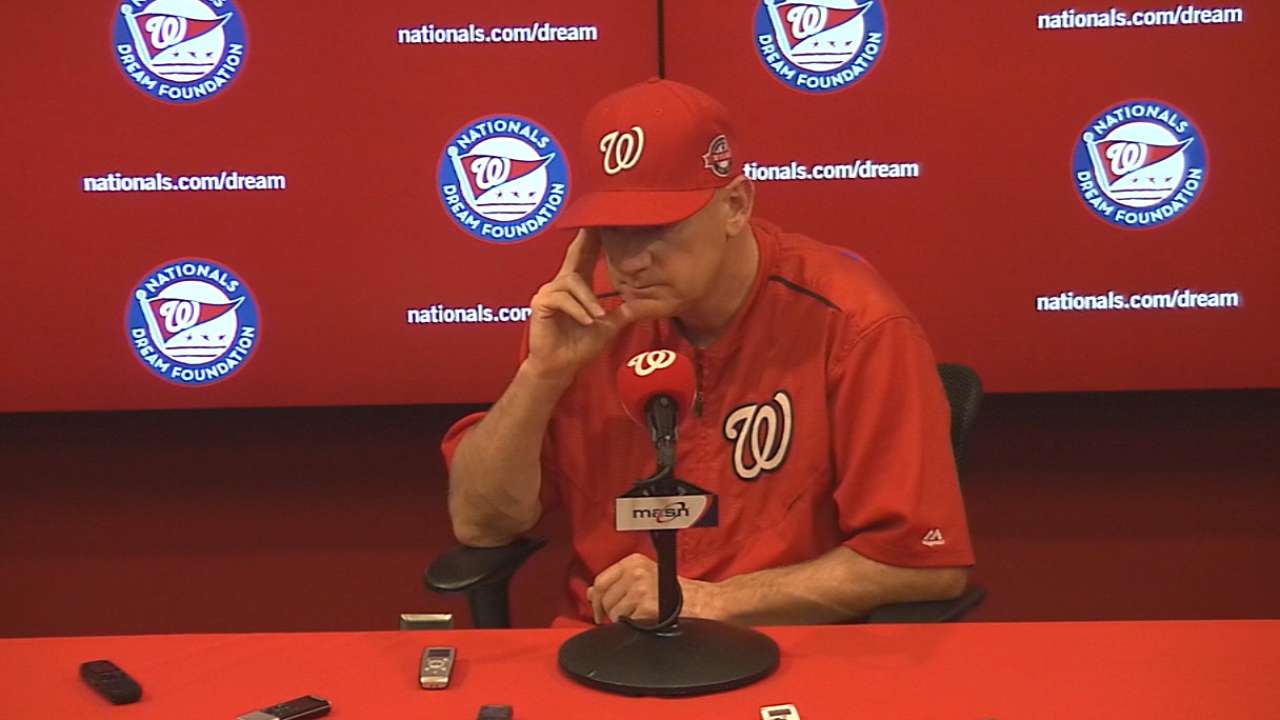 WASHINGTON -- Hiccups and haywires, Matt Williams said. That's how the Nationals manager refers to what's gone wrong for his team so far this season, the seemingly endless string of buzzard's luck that has afflicted a team many expected to run away with the National League East this season.
Left fielder Jayson Werth, coming off right shoulder surgery, missed his 10th game of the season Wednesday afternoon against the Marlins at Nationals Park. Center fielder Denard Span came back from core surgery two weeks into the season, missed a couple games and has now played four straight. Third baseman Anthony Rendon has yet to appear as he recovers from a sprained left knee. He was on a rehab assignment, pulled his oblique and has been shut down.
That's potentially the Nos. 1-3 hitters in the lineup, three of the best four hitters the Curly Ws employ. And right-hander Stephen Strasburg left Tuesday night's game with irritation beneath his right shoulder blade. Hiccups and haywires, indeed.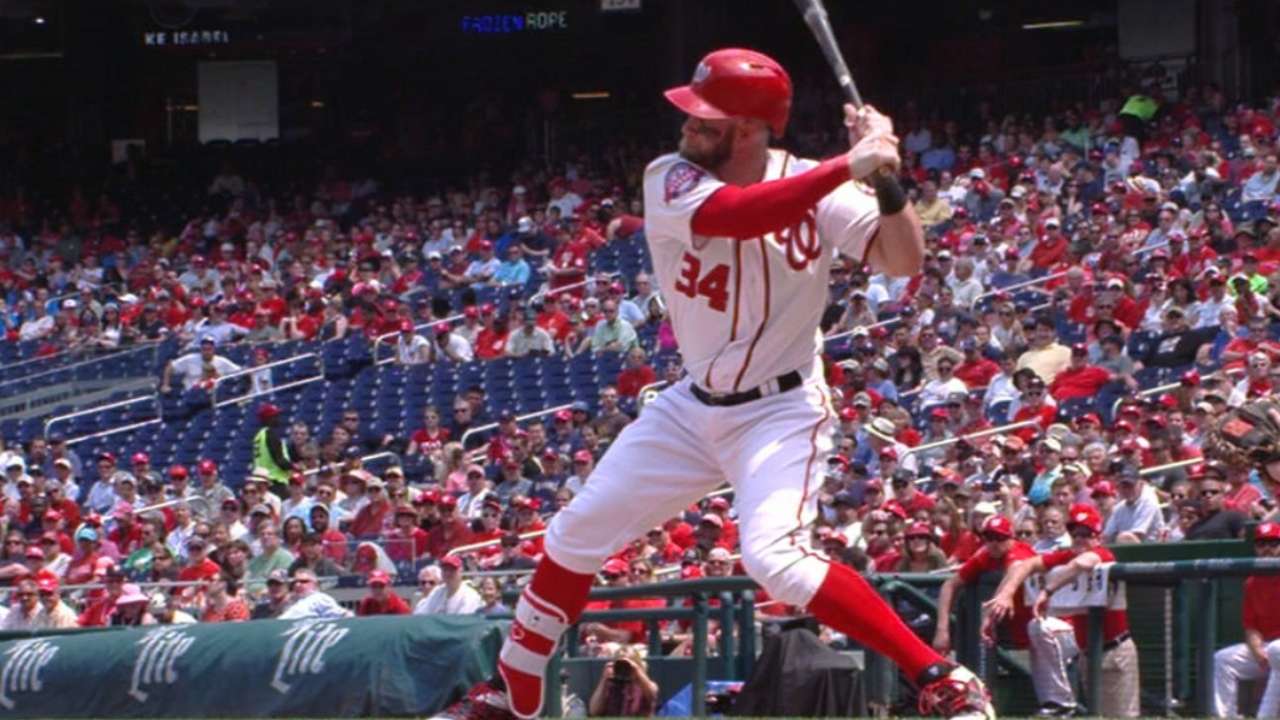 None of the above mattered in the 7-5 matinee win over the Marlins. It didn't matter because Bryce Harper, playing the role he's been groomed for ever since the Nats made him the first pick in the 2010 First-Year Player Draft, hit three home runs and drove in five runs. Each was more magnificent than the last, with the final one crash-landing in the upper deck.
Harper is supposed to be The Guy Who Makes Things Happen. And Wednesday's barrage created the tantalizing possibility that he could be about to go on a tear, the kind of blazing hot streak that can carry a team for days or even weeks.
That would be really good news for a team that has now won seven of its past nine, all against division opponents, to pull to within a game of .500 at 14-15.
More good news is the tangible signs that Harper is continuing to mature. He is still just 22 years old. That's easy to overlook sometimes. Harper is one of just a dozen players to hit at least 55 homers before his age-22 season. On Wednesday, he became the youngest player with three homers in a game since Joe Lahoud for the Red Sox against the Twins on June 11, 1969.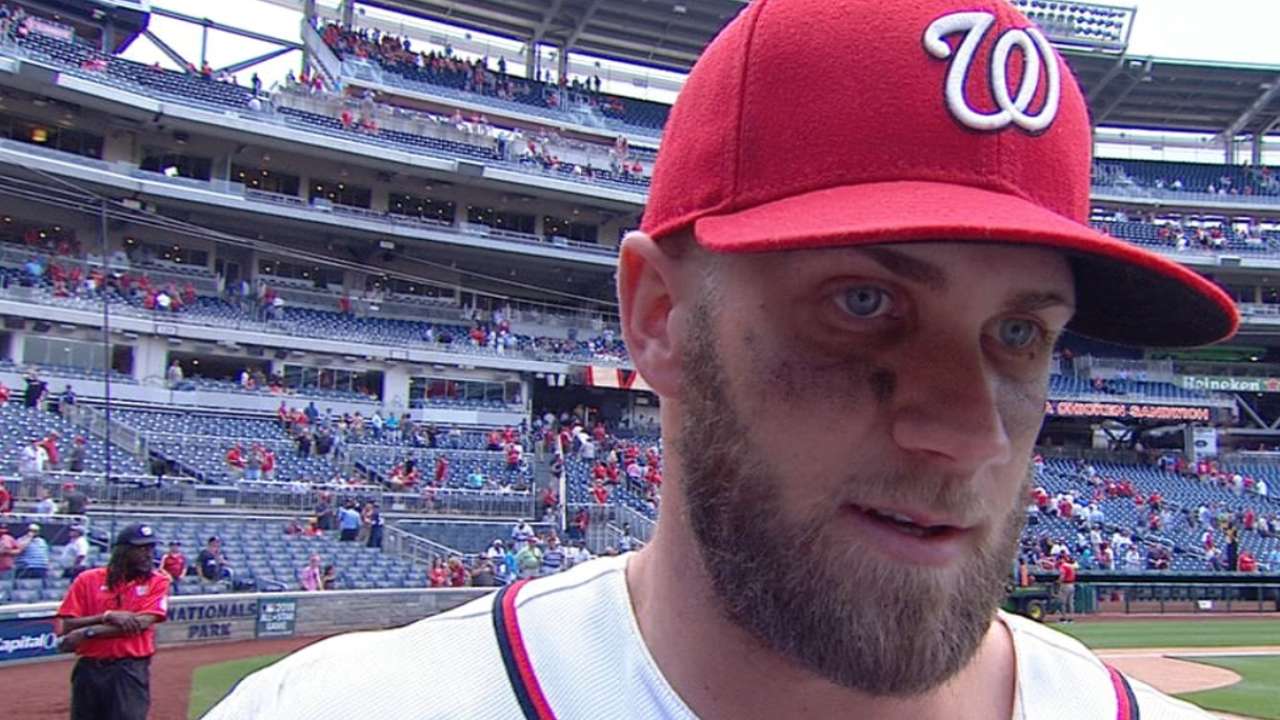 Before this season, Harper said he wanted to assume more of a leadership role.
"The biggest way you become a leader of your team is by doing stuff like he did in this game," Williams said. "Being ready to play every day. Just because you hit a home run doesn't make you a leader, but the way you go about it does.
"The way he's led thus far is he's taking his walks. He's providing opportunities for anybody who hits behind him. He's playing exceptional defense. All of those things are qualities of a true leader. Without having to open his mouth. That's the ultimate leader."
Nobody asks more of Harper than he asks from himself.
"That's how it should be, plain and simple," he said when asked about his big day. "That's how it should be. That's how I expect myself to play, if it's hitting homers or hitting doubles. That's what I need to do, and that's what I expect from myself.
"Of course, you're not going to do that every single day. But that's the type of player I need to be."
As impressive as the home runs were, the fourth at-bat may have offered even more insight into the type of hitter Harper has become. There were runners on first and third and nobody out in the seventh. Naturally, he was thinking of hitting a fourth homer. But Harper took what he was given and hit the ball to the right side, driving in his fifth run of the game.
That continued a trend. Harper came into the game leading the Major Leagues with 26 walks. That's been a result of being disciplined enough to take what he's given, to swing at his pitch, to not give in.
"I think when you're walking, you're a better hitter," Harper said. "When you're getting walks, you're seeing the ball well. You're getting into counts that make the pitcher think about it. When you're talking pitches on the inner half that are one to two inches off and they're called a ball, it makes the pitcher freak out a little bit."
Harper is becoming the kind of hitter who can single-handedly help a team weather the rough patches that come with every season. Three home runs were thrilling. What it means as the season unfolds could be even more significant.
"We've got a great lineup. We're missing a couple guys," Harper said. "Once we get those guys back, it's going to be stupid."
In other words, when that happens, it might be the other teams that start experiencing hiccups and haywires.
Paul Hagen is a columnist for MLB.com. This story was not subject to the approval of Major League Baseball or its clubs.