Dyson indebted to mother's selflessness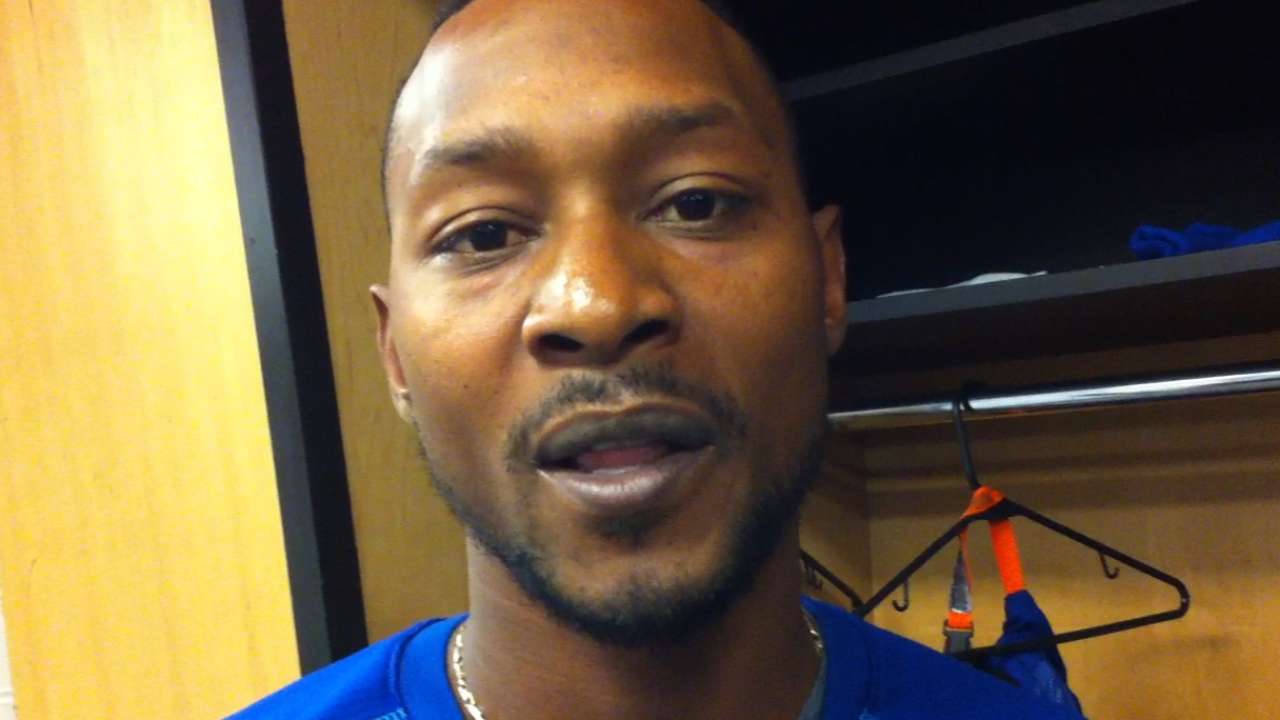 KANSAS CITY -- Royals outfielder Jarrod Dyson never forgets Mother's Day.
Dyson can't, he says, because he owes his mother, Cecilia, everything.
"I can't ever pay her back for all she did for me," Dyson said.
Dyson grew up in the projects of McComb, Miss., in a complex known as "The Bricks," named because as Dyson described it, "You had to be tough to survive there."
"There wasn't much gun shooting but it was more about fighting and drugs," Dyson said. "My mom, she did a great job to raise five of us, four boys and a daughter.
"We lived in a small apartment, basically just doubling up in each room. My sister basically slept with my mom -- three bedrooms, two in each room.
"But my mom made it work. When she got enough money to move us out, she moved us out to a nice brick house with four bedrooms. She did a great job. I can't ever pay her back."
Cecilia made it happen with hard work.
"She actually worked at a place where did sewing," Dyson said. "She sewed all the time. But that's actually hurting her now. Now she's got arthritis.
"When I got older I helped out, hustling some lawn mowing jobs, making money on the side. I was able to pay for my own stuff going through school. I thought at the time that I would rather have her worry about my sister than worry about me."
But in between all her hard work and raising five children, Cecilia always found time to support Dyson's baseball career.
"She was there every game cheering me on," Dyson said. "That was amazing."
Cecilia knew early on that Jarrod had a special love for sports.
"When he was 2 or 3, he always used to sit in front of the TV and watch sports," Cecilia said. " I would say 'Boy, you don't even know what you're watching.' But if I tried to turn the channel, he would get mad, so I always had to turn it back."
Dyson eventually excelled at most sports, played baseball at Southwest Mississippi Community College, and was drafted in the 50th round by the Royals.
And now Dyson is an integral part of the Royals, as he was last year when the Royals rode a magical season all the way to the World Series.
"I am very proud of him," Cecilia said. "I have to pinch myself every day to make sure it's all real."
Her favorite part of watching her son play?
"I love seeing him steal bases," she said. "That's my favorite thing. He gets on base, and I'm always just waiting for him to break for second base."
Dyson is just happy that he and his mother have such a close relationship.
"I like that she can go around town and talk good about her son," Dyson said, smiling. "I want to keep that going."
Dyson also is grateful he can help his mother financially.
"That's why I'm grinding, man," he said. "Hopefully she won't have to worry about money anymore."
Dyson also shows his appreciation every Mother's Day.
"He always sends me a box of chocolates and some roses," Cecilia said. "I really like that."
Jeffrey Flanagan is a reporter for MLB.com. Follow him on Twitter at @FlannyMLB. This story was not subject to the approval of Major League Baseball or its clubs.