Hedges impressive in first start for Padres
Prospect gets first big league hit and RBI, works well with Kennedy
SAN FRANCISCO -- If you know anything about Padres rookie catcher Austin Hedges, you might not be at all surprised to know he was willing to pass on talking about his first Major League hit Wednesday for a topic more near and dear to him -- his defense.
"All I cared about going into the game was that [starting pitcher Ian Kennedy] and I were on the same page and we go out and followed the game plan," Hedges said. "He made my job easy. He executed all his pitches."
On a sunny afternoon at AT&T Park, the 22-year-old Hedges wore the brightest smile, as he got his first big league hit -- an RBI single in the third inning -- and deftly handled Kennedy and two relievers as the Padres rolled to a 9-1 victory over the Giants.
"I thought he handled himself great," said Padres manager Bud Black of Hedges' first Major League start. "I had a good sense for today early this morning when Austin was in the clubhouse. He had a good look in the eye. I thought he and Ian were great."
Hedges, who was promoted Monday from Triple-A El Paso to serve as the backup to Derek Norris, got a start in the final game of the series, a day game after a night game.
He went 1-for-4 with two RBIs and struck out twice. More importantly, to him at least, he had absolutely no issues catching Kennedy, who had his best start of the season, allowing one run in seven innings.
"He was great. But with game calling, if I shook [Hedges off], he knew the next pitch I was throwing. As I told him, if I shake, don't worry about it," Kennedy said. "We talked about everything between innings. He was awesome to work with."
The Giants didn't test Hedges on the bases, but he still got to show off his arm.
In the third inning, Nori Aoki singled in a run as the throw from center fielder Wil Myers sailed home. Aoki, thinking he might be able to advance to second base on the throw, was instead pegged off first base by a Hedges throw.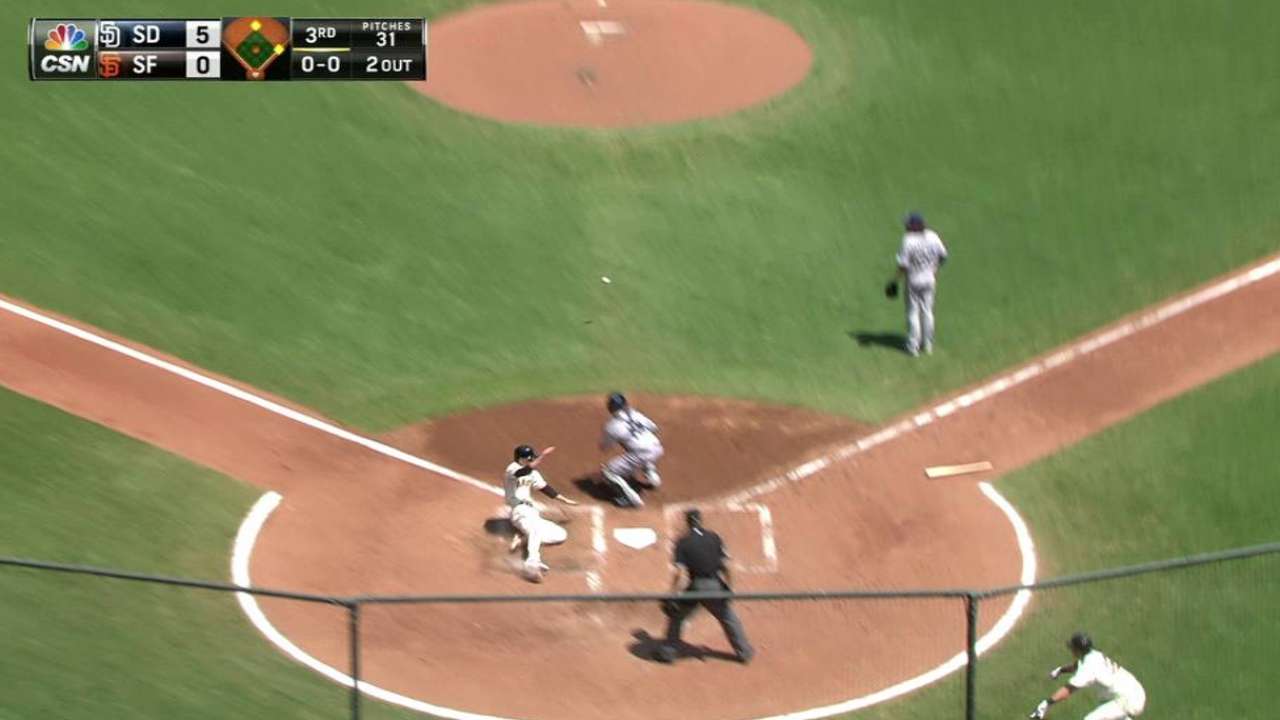 As for his first hit, Hedges rolled a single up the middle as part of the Padres' five-run third inning to keep the frame rolling along.
"He [Giants pitcher Chris Heston] left a little fastball over the middle of the plate and I was able to sneak it up the middle," he said.
To be sure, Hedges impressed in his first Major League game. He said his manager, pitching coach and teammates did well to prepare him.
"I think going over the hitters with him [Kennedy] last night and again today with him and [pitching coach Darren Balsley], they're two of the best at what they do," Hedges said.
Corey Brock is a reporter for MLB.com. Keep track of @FollowThePadres on Twitter. This story was not subject to the approval of Major League Baseball or its clubs.