Blackmon showcasing pop in leadoff spot
Rockies summon left-hander Rusin as 26th player for doubleheader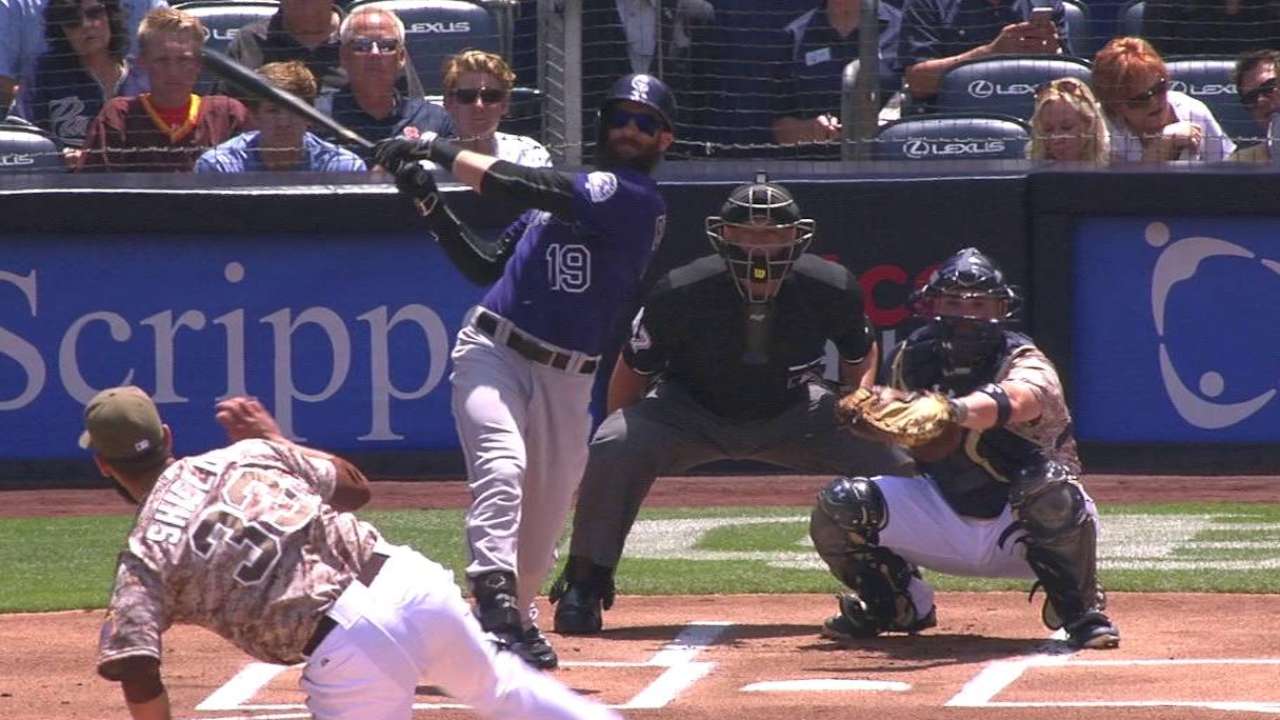 DENVER -- Charlie Blackmon's batting average isn't otherworldly like it was at this time last year, and his bushy beard and clever social-media accounts aren't new to Rockies fans. But he entered Wednesday's doubleheader with the D-backs batting .316 and having hit three homers in the previous two games, so the outfielder is still cool.
Blackmon ranked among the top 10 in the National League in slugging percentage (.579) and OPS (.944). Manager Walt Weiss says Blackmon has "embraced the leadoff role and is really evolving, but he's put in the work to do that."
Blackmon's is one of many cases in which one can't judge his approach to work by his playful off-field image. Blackmon studies video intensely, and can be seen writing information for study -- skills that helped him complete his degree in business administration with a concentration in finance from Georgia Tech in 2011, when he was rehabbing a foot injury. His plan is to internalize the information so that his mind doesn't get in the way of his athletic ability during the game.
One result is he is seeing 3.94 pitches per at-bat -- fewer than many leadoff men but still a career high. When he is aggressive, it pays -- his five homers lead NL leadoff hitters.
"You see his goofy side once in a while, but there's a lot of intelligence behind that goofiness, and tremendous work ethic," Weiss said.
Rusin gets call as extra man for twin bill
Lefty Chris Rusin, called up from Triple-A Albuquerque for Wednesday's second game as the 26th allotted player, is in familiar territory. Last year with the Cubs, he made his first appearance under the same circumstances, when he threw five innings (one run, three hits) in a 10-4 loss to the Cardinals during a doubleheader.
Rusin was up three times and appeared in four games. The first three were under, "Hey-we-need-you-now" circumstances.
"I'd pitch in the ballgame the night before and the Cubs would say, 'Hey, we need bullpen help,'" Rusin said. "Most of the time it was a really early flight for a day game, which was tough because I hadn't had that much sleep and you go right from the airport to the ballpark and get there right before the game started. I was 2-for-2 or 3-for-3 the first two or three times -- I'd show up and pitch that same day. I'm used to it."
This time around, Rusin was in town in plenty of time. He said he received the call at 9:30 p.m. MT, got a good night's sleep and was at the ballpark early.
• Shortstop Trevor Story, a supplemental first-round pick in the 2011 MLB First-Year Player Draft, was named the Double-A Eastern League Player of the Month after batting .361 with a .460 on-base percentage, four doubles, two triples, four home runs, 20 RBIs, 15 runs scored and four steals.
• Righty Carlos Polanco was named the Class A South Atlantic League Pitcher of the Week (April 27-May 3) after tying a career high with 10 strikeouts for Asheville in a 4-1 victory over Lexington on Friday.
Thomas Harding is a reporter for MLB.com. Follow him on Twitter @harding_at_mlb, and like his Facebook page. This story was not subject to the approval of Major League Baseball or its clubs.