Bucs put Lambo on DL, call up Lombardozzi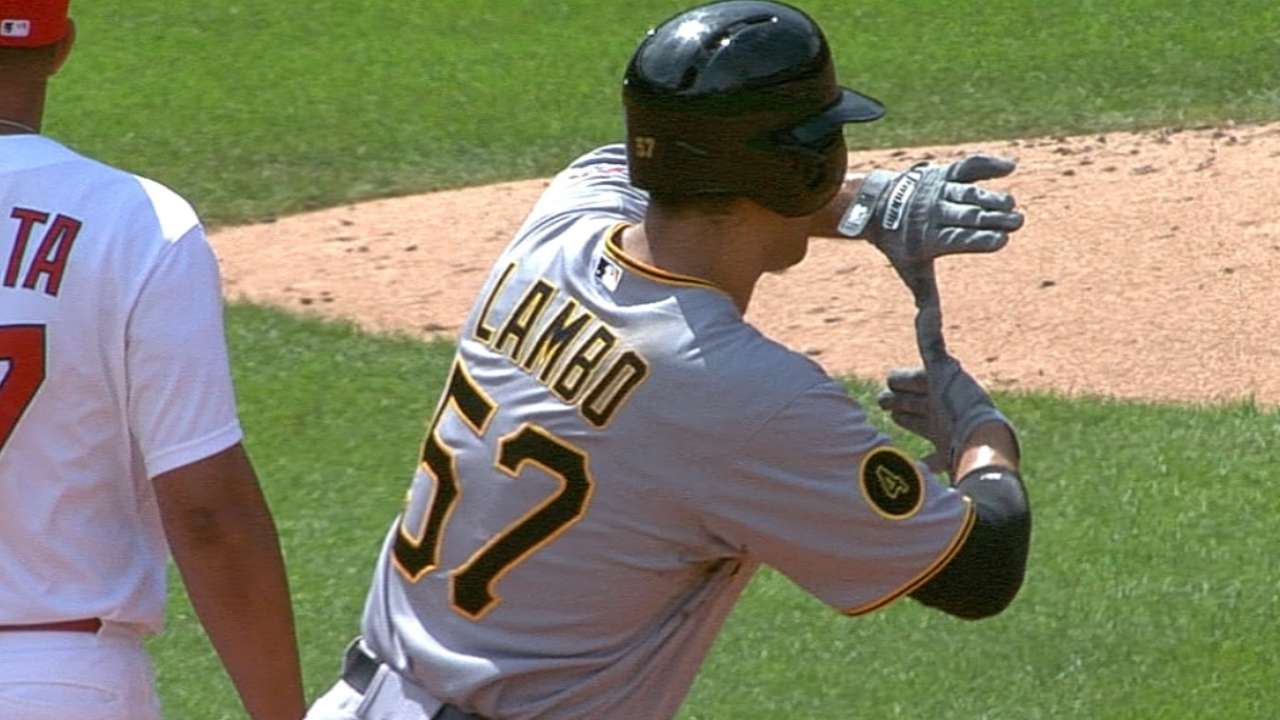 PITTSBURGH -- A nagging case of plantar fasciitis in his left foot sent Pirates outfielder Andrew Lambo to the disabled list on Wednesday, and the club called up utility man Steve Lombardozzi to take his spot on the roster.
Lambo, who's gone 1-for-25 at the plate this season, was placed on the 15-day DL, retroactive to Monday. Lambo said the injury has actually been bothering him since mid-March, but it just recently reached a point where it affected his workouts and performance.
"As we continued to play on it, it didn't get any better. It was getting worse," said Lambo, who was wearing a walking boot on his left foot. "Toward the end here, it felt like it was starting to dictate some of the at-bats and the way we were going about the business."
Lambo has mostly been used as a pinch-hitter, making only three starts this season. He's the 19th-ranked prospect in the Pirates' farm system.
Pirates manager Clint Hurdle acknowledged that it's hard to project a return date for Lambo given the nature of the injury. Lambo described himself as day to day.
"I had to sit there and say, 'Is this good right now or should we continue to push this more and more?'" Lambo said. "[It] felt like it was in the best interest to take it easy a little bit and stay off it and get as healthy as we can here for June, July, August, September, October."
The switch-hitting Lombardozzi, who reported to Pirate City this spring as a non-roster invitee, put together a .379/.460/.483 batting line with 13 RBIs and four steals in 100 plate appearances over 24 games for Triple-A Indianapolis.
Lombardozzi, 26, ranked second in the International League in batting average and had hit safely in 10 of his past 11 games.
"The reports are very positive. It's been the same player we saw in Spring Training," Hurdle said. "He's got Major League experience. He has defensive versatility. He played in the dirt. He played in the outfield. His at-bats have been very, very good from both sides."
Primarily used as a second baseman in the Majors, Lombardozzi has spent most of his time in Indianapolis playing the outfield, making eight appearances in right field and seven in left. He's also spent time at second, third and shortstop.
Lombardozzi profiles as a better hitter from the left side of the plate, Hurdle said, so he fits the bill as a replacement for Lambo, who had been the only left-handed bench bat on the Pirates' active roster.
"We're looking for him to supplement and add off the bench," Hurdle said. "If there comes a position in time where he stays in the game, he stays in the game. Right now, our challenge is performance; it's not really personnel."
Adam Berry is a reporter for MLB.com. Follow him on Twitter at @adamdberry. This story was not subject to the approval of Major League Baseball or its clubs.