Red Sox's defense dials it up a notch
Pedroia shows off range, Mujica makes slick behind-the-back grab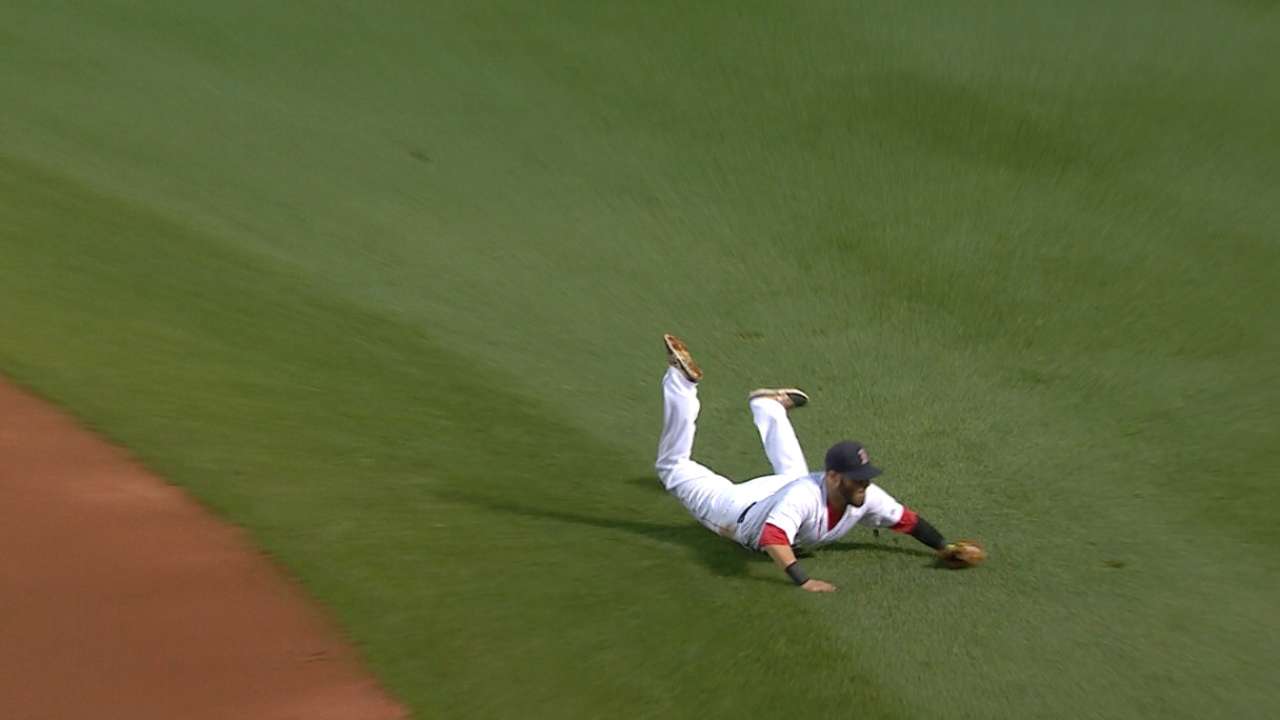 BOSTON -- Red Sox starter Justin Masterson received plenty of help from his infield defense during Wednesday night's 5-3 loss to the Rays, but at no point was that more apparent than in the third inning.
With Tampa Bay runners on first and second, James Loney swatted a first-pitch fastball hard toward right field. Much to Masterson's delight, second baseman Dustin Pedroia was there to save a run with a sweet diving stop, extending his body to field the chopper before firing to first base to end the frame.
"Pedey making beautiful plays," said Masterson, who also turned double plays in the first and second innings with Pedroia's help. "Made some double plays early on."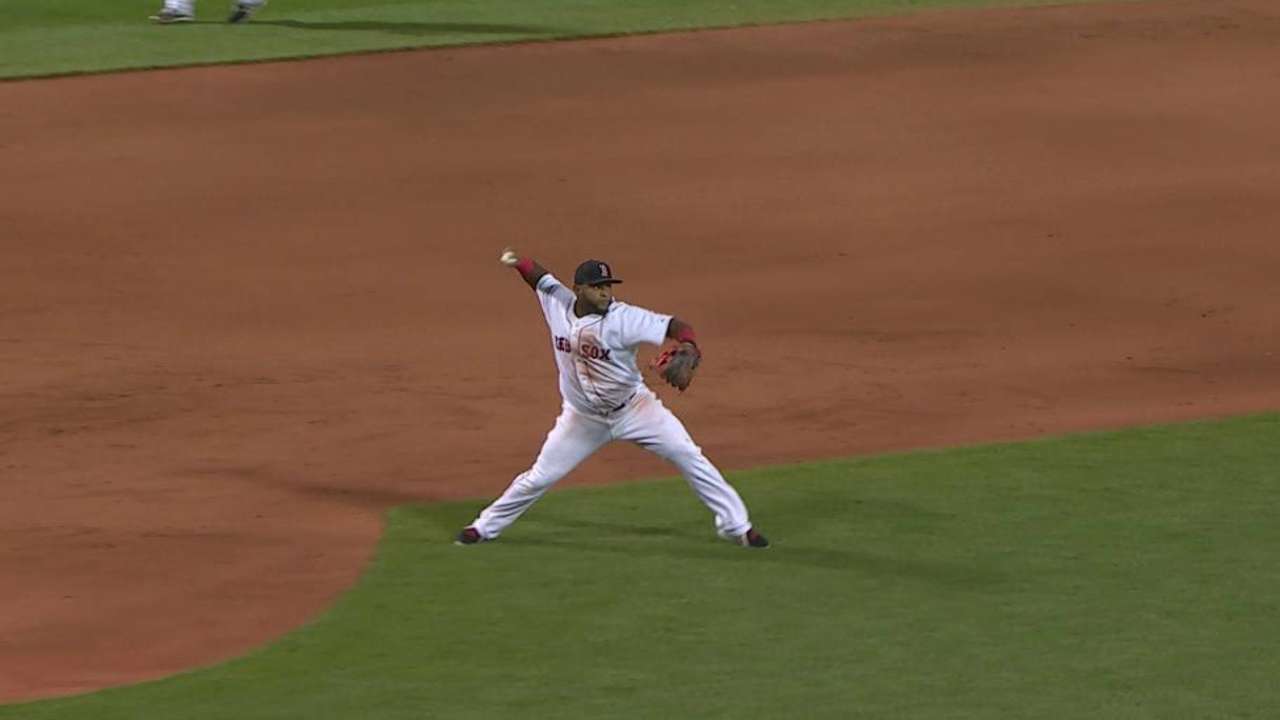 Despite the team's shortcomings in the series finale, Pedroia's play highlighted an all-around impressive defensive display by the Red Sox. In the seventh inning, Allen Craig made a diving catch in left field to rob rookie Joey Butler of a hit, likely preventing the Rays from adding onto their two-run lead. Third baseman Pablo Sandoval also made a couple of quality plays in the early going.
"Pablo was diving at everything, just missing a lot of balls," Masterson said.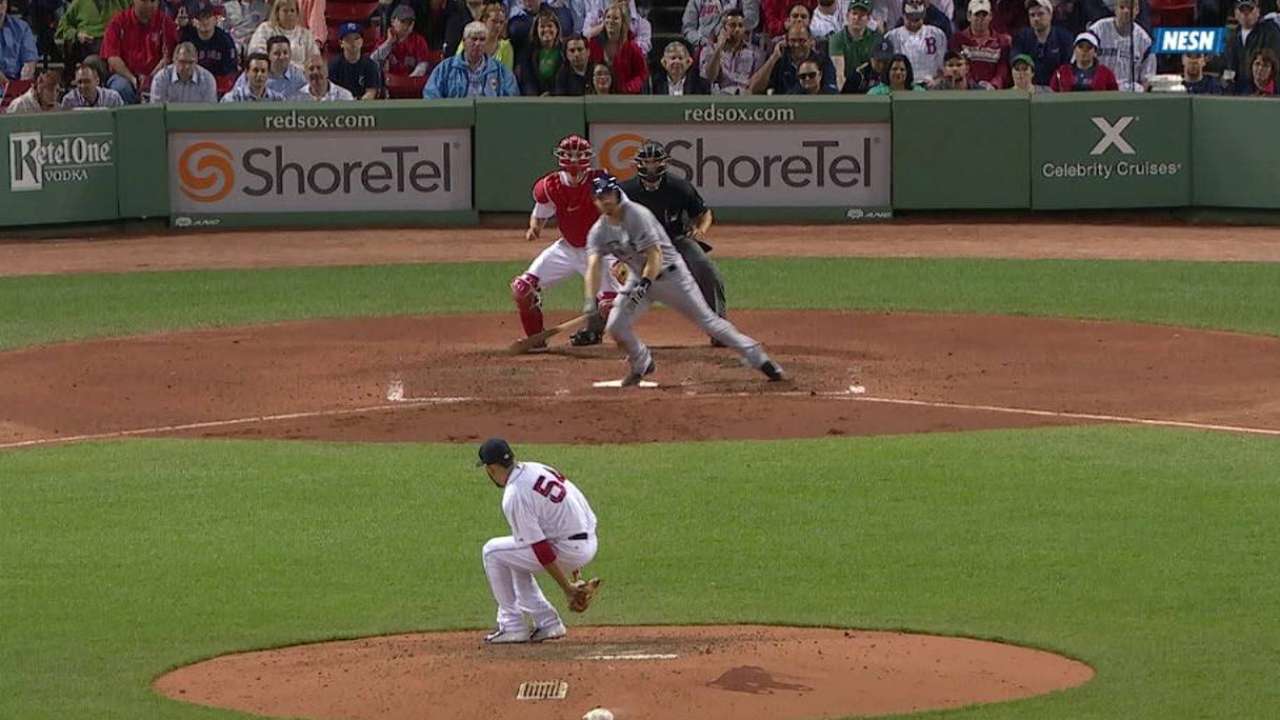 Reliever Edward Mujica threw his hat into the Boston highlight contest in the sixth inning with a slick behind-the-back grab on a comebacker. He tossed it back to catcher Blake Swihart in time to tag Rene Rivera out at home plate.
Had Mujica ever made that type of play before?
"Never," he said. "It was my first time. That was good."
The Red Sox have only committed 15 errors in 28 games this season, which is tied for seventh best in the Majors.
"It was a tight game for us the whole way," Craig said. "We made some key plays on defense to keep the game close. I thought that Mujica's play was huge, just to get the out right there."
Alec Shirkey is an associate reporter for MLB.com. This story was not subject to the approval of Major League Baseball or its clubs.