Martin grateful for mom's constant support, guidance
ATLANTA -- Debbie Martin was overwhelmed with excitement when she saw her son Cody Martin come out of the Braves bullpen to make his Major League debut on April 7. But she was even prouder of the manner in which he composed a Facebook post to thank the many friends and family members who had helped him realize his childhood dream.
"When he thanked everybody, I thought, 'Oh, my gosh, I did raise a good son, because he said exactly what I wanted him to say from my heart to all of the people,'" the proud mother said. "He told me, 'Mom, I am grateful. I remember everybody who got me to this point.' I knew I had a great son, but that solidified it for me."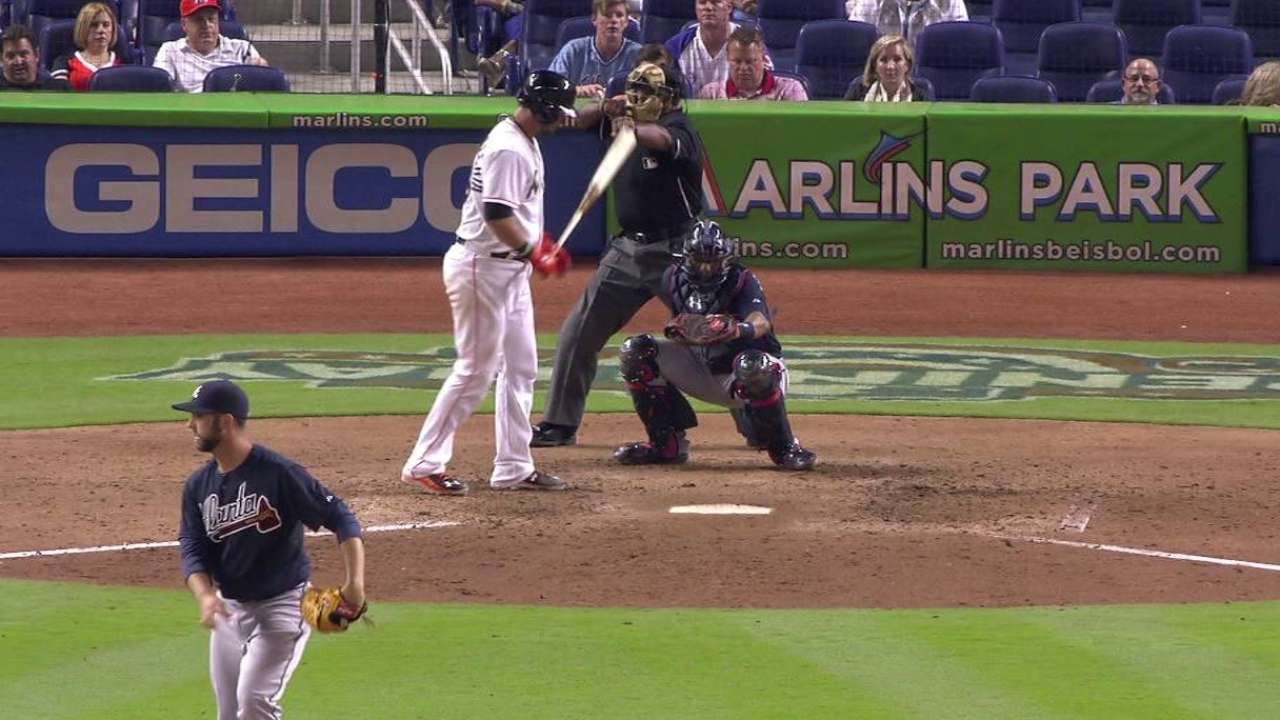 While being raised in Dos Palos, a rural northern California town that includes one stoplight and approximately 5,000 residents, Martin developed an early attraction to baseball through his interactions with his father, Chuck, a former Braves farmhand who counts Tom Glavine, Mark Lemke and Ron Gant among his former teammates.
But when it came time for Cody to begin playing on travel teams based near San Francisco, it was Debbie who would shuffle away from her role as an elementary school teacher and drive nearly three hours so that her son could attend the weekday practices.
"She has always been a positive influence by letting me know that I should do what I need to do and just enjoy the process," Martin said. "My parents always wanted me to play baseball. My dad played, and my mom saw the other side of It from a wife's perspective and how much the players had to grind it out in the Minor Leagues."
While experiencing the second of her husband's two professional seasons in 1985, Debbie, who was 23 years old at the time, served as somewhat of a motherly figure to the younger Minor Leaguers. She supplemented their $600-a-month family income by working at a video store and at one of the ticket windows for the Class A Sumter Braves.
With some of her free time, Debbie cooked for some Latin American players, who expressed their gratitude, but informed her that they did not like barbecue. She had better luck appeasing a 19-year-old Glavine, who was among the Sumter Braves who came to her for haircuts that summer.
The Martins were reunited with Glavine when they traveled to Atlanta to watch the Braves' first homestand this season.
"Having them here is really hard to describe because it was just such a different," Cody Martin said. "When they would come to one of the Minor League cities where I was playing, it was not where I wanted to be."
Though her maternal instincts influenced some of the stress she felt after realizing Cody was preparing to get married after making just $12,000 during his fourth Minor League season last year, Debbie never allowed her son to give up on his dream, even after he was disheartened by the Braves' decision to leave him off the 40-man roster this past winter.
"I said the one thing you can't do is give up your dream because of money," Debbie said. "So, if I have to fully finance you, I will because you can't stop until you know it's right in your heart."
Motivated by what transpired this past winter, Martin came to Spring Training in better shape than the previous few years and impressed the Braves enough to earn an Opening Day roster spot and the chance to get his first taste of the Major League level.
"The day he called to tell us he was on the roster was just the greatest day of my life," Cody's mother said. "I was driving down the road and I had to pull over because I was bawling."
Since wiping away her tears of joy, she has resumed her maternal duties. During the Martins' recent visit to Atlanta, Debbie demanded that Cody use his padded bank account to upgrade his wardrobe with a few suits.
"When I made it to [the Majors], my mom said, 'What are you going to call me for now, you're getting married and you now you actually have a job that pays you decent money," Cody said. "I was like, 'I will still call you 'mom.'"
Mark Bowman is a reporter for MLB.com. This story was not subject to the approval of Major League Baseball or its clubs.