MLB.com Columnist
Lyle Spencer
Crawford, Panik developing into an elite tandem
SAN FRANCISCO -- One of Brandon Crawford's personal initiatives coming into his fifth Major League season was to convince Giants manager Bruce Bochy that he's something more than a No. 8 hitter in the lineup of the reigning World Series champions.
Elevated to the No. 5 slot on Tuesday night against the Padres' Andrew Cashner, Crawford -- the team leader in homers (five) and RBIs (15) -- responded with a convincing argument for staying in that neighborhood with a double, two singles and a walk. He scored twice and drove in a run in a 6-0 victory crafted by starter Ryan Vogelsong.
Crawford let middle-infield buddy Joe Panik handle the muscle with a solo homer in a fifth straight win against Southern California guests, lifting San Francisco above .500 into second place -- a notch ahead of San Diego and 3 1/2 behind Los Angeles -- in the National League West. Scoreless in the series, the Padres have collected a total of six hits across 18 innings.
The heart of the Giants' infield, Crawford and Panik are delivering as many hits as they're stealing, giving Bochy production with the leather and in the batter's box.
With hits in nine of his past 20 at-bats, Crawford has a .262/.374/.512 slash line, while Panik is at .292/.350/.438. Crawford has 13 runs scored, sharing the club lead with Nori Aoki. Panik has scored 11 times while driving in nine.
"Craw looks determined to fight his way out of that [No.] 8 hole," Bochy observed. "He does such a good job in that 8 spot. We had to adjust the lineup tonight with [Angel] Pagan out. Craw certainly did a good job in the 5 hole for us."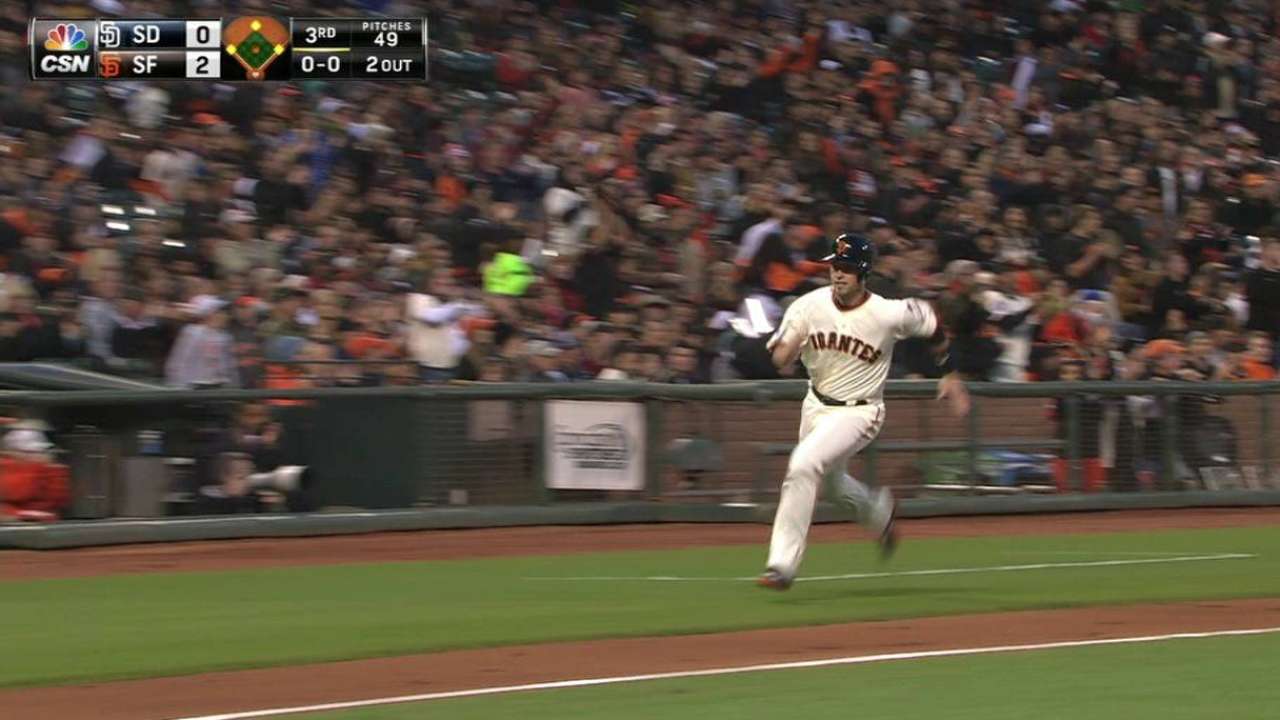 The NL houses some stellar middle-infield partnerships, notably the Cardinals' Jhonny Peralta and Kolten Wong, the Rockies' Troy Tulowitzki and DJ LeMahieu, the Reds' Zack Cozart and Brandon Phillips, the Marlins' Dee Gordon and Adeiny Hechavarria and the Dodgers' Jimmy Rollins and Howie Kendrick.
Crawford and Panik are right there in the conversation.
"It's fun to watch those two go, how they work together," Bochy said. "Craw is so gifted, and Joe Panik has made so much improvement defensively. They're so solid out there, offensively and defensively. They make the routine plays, and when you need a double play, they turn it as well as anybody."
Their lockers side by side in the home clubhouse at AT&T Park, Crawford and Panik generally don't draw a whole lot of media attention. The big names here are Buster Posey and the starting pitchers, with Madison Bumgarner having now assumed the lead role. These Giants, for three-time World Series champions, don't carry especially high profiles -- and it suits them just fine.
What distinguishes Bochy's troupe is its poise and a cool confidence that barely registers on the ego meter.
Crawford, a 28-year-old Californian who grew up about a half-hour from his home park in Pleasanton, has assumed something of a big brother role with Panik, the second-year athlete from New York. Mature beyond his 24 years, Panik has looked to Crawford's relaxed demeanor as a model of behavior.
"We have a great relationship," Panik said. "He makes my job easier -- just a great guy to play with. When you first get called up, a lot of emotions are running through you, the typical butterflies. The game tends to beat up on you. Then you look over at Brandon, and everything's fine.
"It goes all the way around, to everybody, when you have guys like Brandon and Buster, behind the plate. You trust them to know what to do -- especially when you get to the playoffs. You're going to have ups and downs, but you need guys with that kind of quiet confidence -- that it's business as usual."
Crawford has made dazzling plays with regularity for two championship clubs, but he remains beneath the national radar, vastly underrated. He's fine with that as long as the wins and paychecks keep coming.
"It's nice to hear," Crawford said when told of Panik's complimentary words. "That is how I try to be. I try not to get too excited or too anxious in any situation. I try to stay even keel. It's great if that can help a teammate."
In the spring of 2014, Crawford's mission was to convince Bochy not to platoon him. Focusing on opposing southpaws, he showed he could hurt them with his left-handed stroke.
Crawford produced a .484 slugging percentage vs. lefties last season, compared to .346 against righties. Panik also pounded lefties with a .373/.381/.458 line, his .839 OPS substantially better than his .655 production vs. righties.
"I've always been able to hit lefties well," Panik said, "no matter what level I've been on."
A team within the team, there's very little these two guys can't do.
Lyle Spencer is a national reporter and columnist for MLB.com. Follow him on Twitter @LyleMSpencer. This story was not subject to the approval of Major League Baseball or its clubs.