Mariners waiting to fire on all cylinders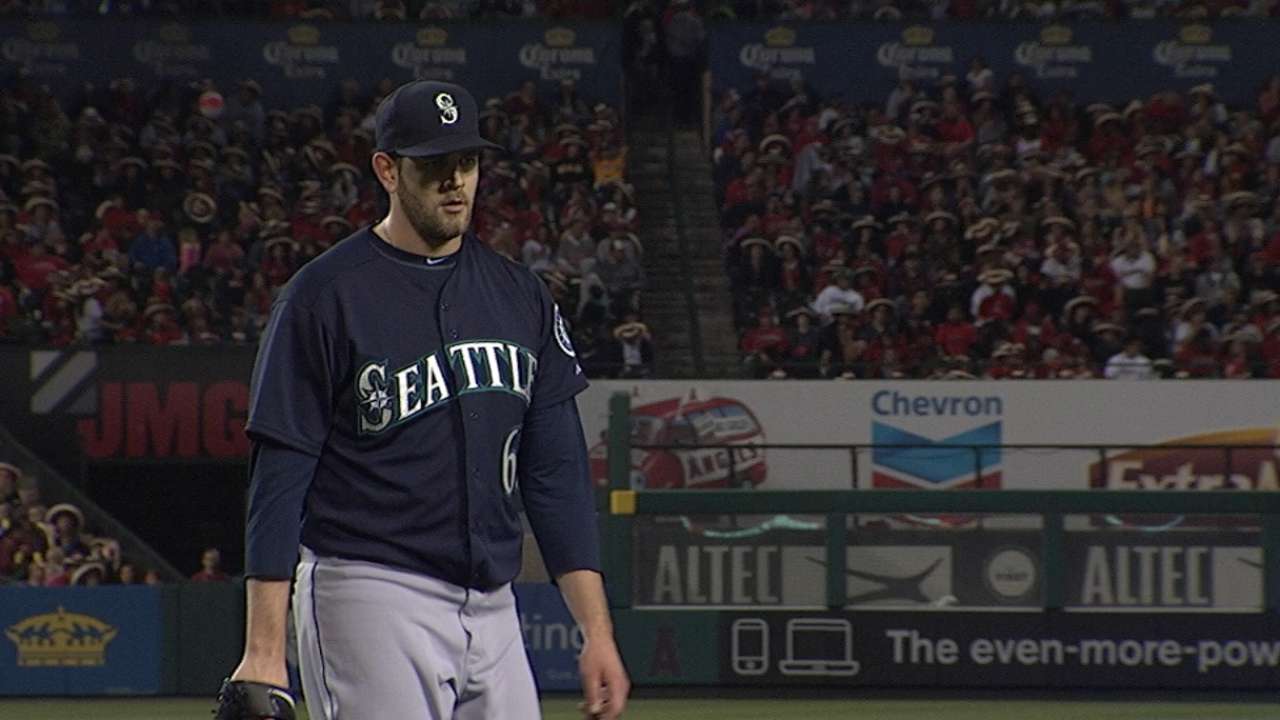 ANAHEIM -- It's been that kind of start to the season for the Mariners. When the offense has come through, the pitching has struggled. When the pitching has improved, the offense has scuffled. And sometimes, as was the case in Tuesday night's 5-4 loss to the Angels, when the starting pitching has come through, the once-reliable bullpen has faltered.
After a strong seven-inning start from southpaw James Paxton and a three-run eighth-inning rally had Seattle up, 4-2, reliever Danny Farquhar forfeited that advantage by giving up a pair of runs in the eighth and then Dominic Leone surrendered a walk-off homer to Angels catcher Carlos Perez in his Major League debut.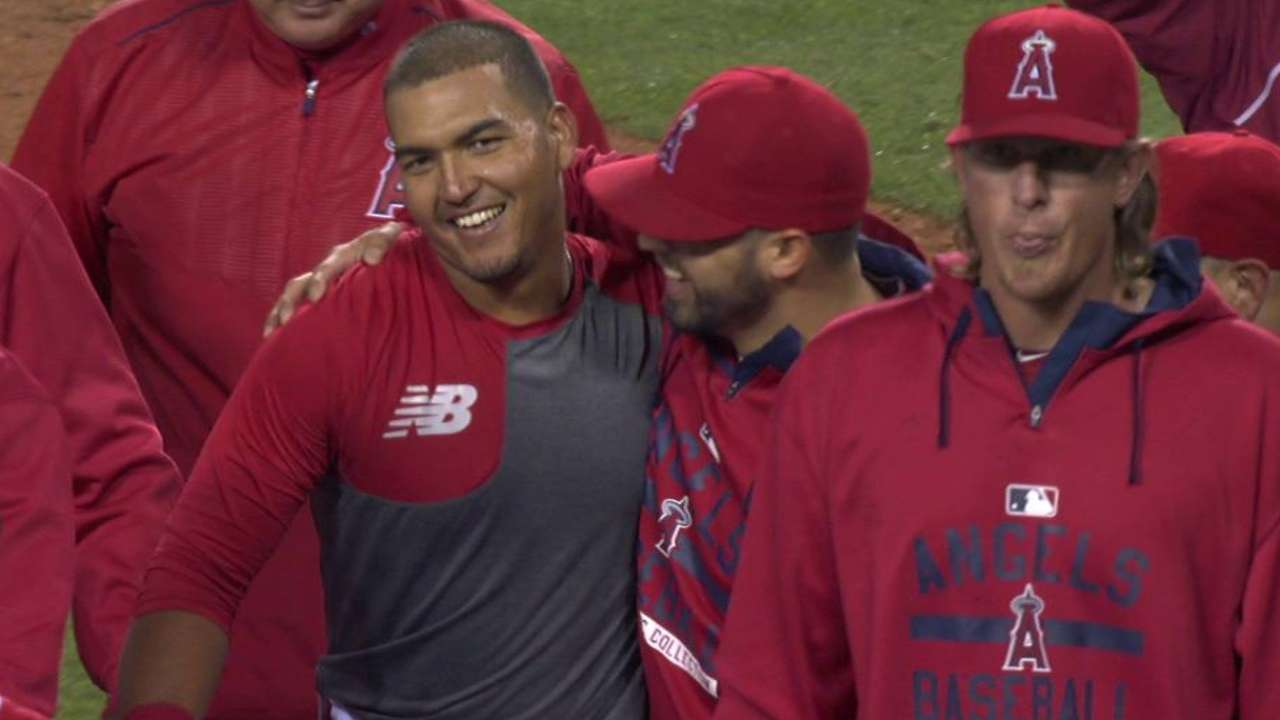 "Sometimes I feel like we're taking a step forward and then taking two back," catcher Mike Zunino said after the Mariners fell to 11-16. "We really have to get this thing rolling. I thought Paxton did a great job. He gave up two in the first, then really shut the door the rest of the game.
"Once you pull the lead out like that, usually it was lights out last year. This year we're just making a couple mistakes. Walks will always come back and kill you. We just made one mistake and Perez put a good swing on a ball."
The one mistake came on a bad pitch on an 0-1 count from Leone, who endured his second straight walk-off loss. Jose Altuve singled off the left-field wall in the bottom of the 10th on Thursday to beat Leone in Houston, and this time it was Perez putting the hurt on a hanging slider.
"Just coming out, it didn't feel like the one I really wanted to let go up there," said Leone. "And as I've seen a couple times already this year, hitters make good swings on mistakes. And unfortunately, they've both been in tight spots and both been in late-game situations where we need a zero up there on the board. Right now I'm not pitching to where I want to be and where the team needs me to be."
A year ago, Leone went 8-2 with a 2.17 ERA as a rookie for a bullpen that had the lowest ERA in the American League. This season he's 0-3 with a 5.40 ERA in his first eight outings and searching for answers.
Farquhar is another who has struggled early, with a 5.02 ERA after posting a 2.66 mark last year.
"I've got to get it rolling," he said. "I know it's still May, but every game counts."
This one hurt more because Paxton pitched well after a two-run homer to Albert Pujols in the first. But despite seven innings of four-hit, two-run ball, Paxton is still looking for his first victory of the season. Manager Lloyd McClendon chose to pull Paxton after seven even though he was only at 91 pitches and had allowed just a lone single and two walks in the last five frames.
"The thought process was to get him out of the game," McClendon said. "He pitched a heck of a ballgame. We have to remember, we have two young kids, with [Taijuan] Walker and Paxton in that rotation. At some point, we have to start managing their innings. Better sooner than later. So you have to be conscious of that and you also have to watch your pitch count with young pitchers. I thought he battled all night. We put him in a position to win a ballgame and we went to our bullpen."
But on this night, this season, that formula didn't pay off.
"We showed a lot of fight in that eighth inning and a lot of energy in the dugout," McClendon said of the go-ahead rally. "Guys had big at-bats. Those are the kinds of things you like to see. This was a tough loss. Anytime you have a lead going to the eighth, particularly with our bullpen, we expect to win."
Greg Johns is a reporter for MLB.com. Follow him on Twitter @GregJohnsMLB as well as his Mariners Musings blog. This story was not subject to the approval of Major League Baseball or its clubs.