Key offensive pieces heating up for Rangers
Choo, Andrus, Beltre showing improvement at the plate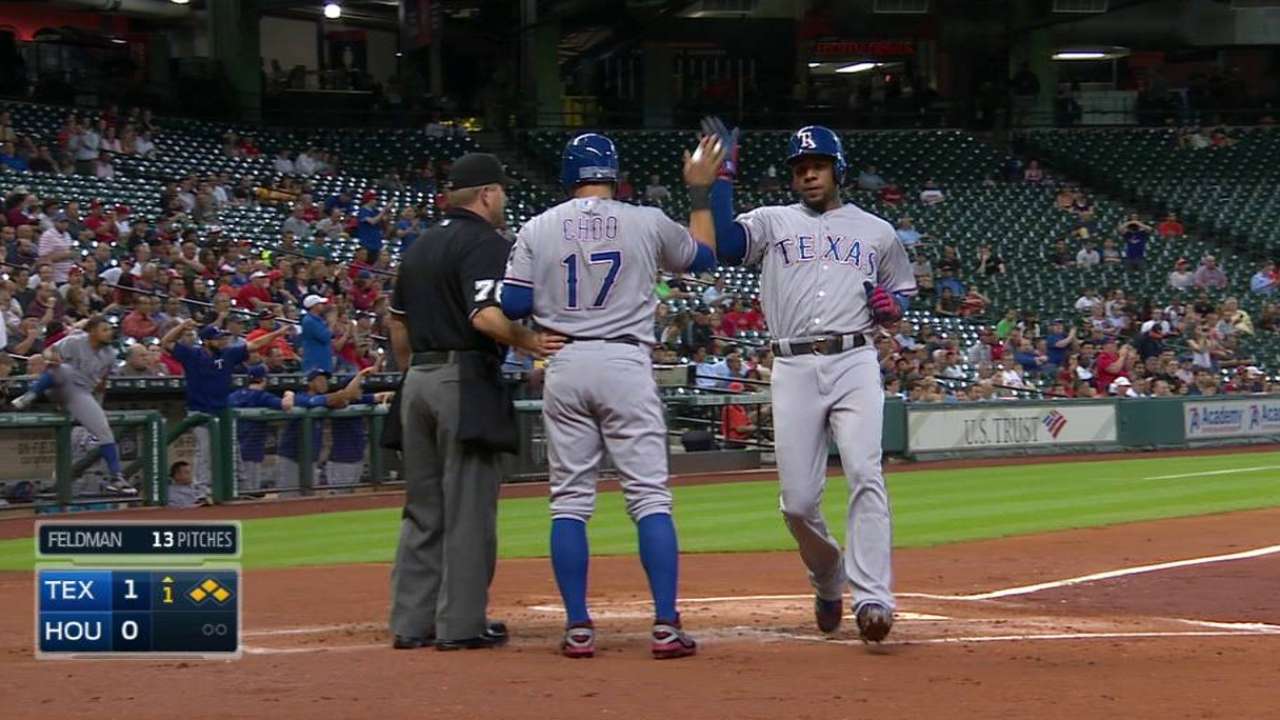 HOUSTON -- Shin-Soo Choo may be getting on a roll, and so are a couple of other pivotal players in the Rangers' lineup.
They are just getting started, but the Rangers are hoping this is a portent of better offensive days ahead. For them, any positive sign is desperately needed.
Choo, batting leadoff for the second straight game, started a four-run first inning with a double, Elvis Andrus was 2-for-3 with a walk and Adrian Beltre hit an RBI double in the Rangers' 7-1 victory over the Astros on Tuesday night.
"It was nice to see the big bats show up," manager Jeff Banister said.
The Rangers had a 6-1 lead after three innings on their way to their first back-to-back wins of the season. It was the longest the Rangers have ever needed to win two straight games in a season. They have also won three of their last four.
Choo's double was his only hit in five at-bats, but he is 6-for-21 in his last five games since being given two games off to get extra work.
"It seems like I hit the ball hard two or three times a game, but at people," Choo said. "I feel good at the plate."
Andrus is 17-for-55 (.309) over his last 14 games. He followed Choo's leadoff double against Astros starter Scott Feldman with a bunt single. That put runners at first and third and really set up the inning.
"I was trying to see if I could get a good pitch to hit, but I saw a [cut fastball] and it was a good cutter," Andrus said. "But I know Feldman, I played with him and I know he has a hard time handling the bunt."
Prince Fielder followed with a two-run double to left. After Beltre popped out, Kyle Blanks singled to center, but Fielder was thrown out by Jake Marisnick trying to score. That did not stop the rally. Carlos Peguero crushed a two-run home run to right field to give the Rangers a 4-0 lead.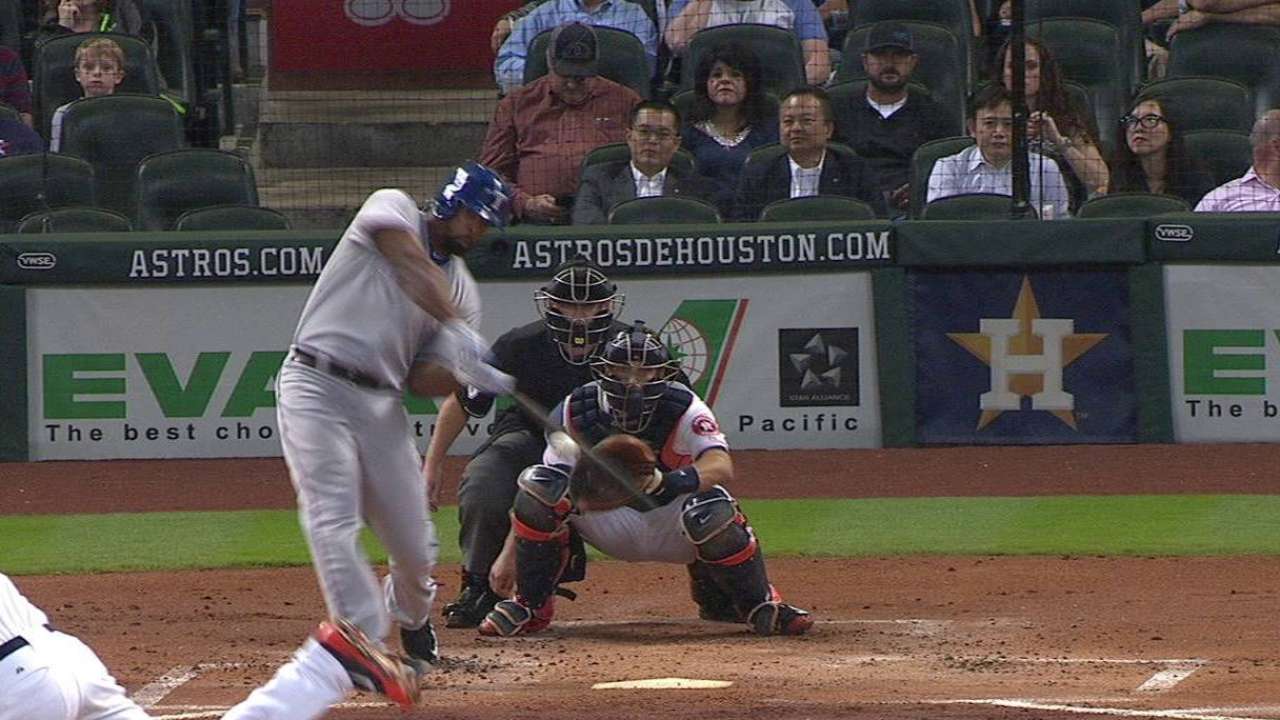 It was the first home run of the season for Peguero, who is trying to show the Rangers he belongs in the big leagues before Josh Hamilton is ready to come off the disabled list. That could be in the next two weeks.
"I'm just trying to make my adjustments and have good at-bats," Peguero said. "I'm just trying to be patient and not do too much."
Beltre hit an RBI double in the third and scored on a sacrifice fly. After a slow start, Beltre is hitting .291 in his last 14 games. He was 1-for-4 on Tuesday, but had a hit taken away in the seventh on a spectacular catch by right fielder George Springer.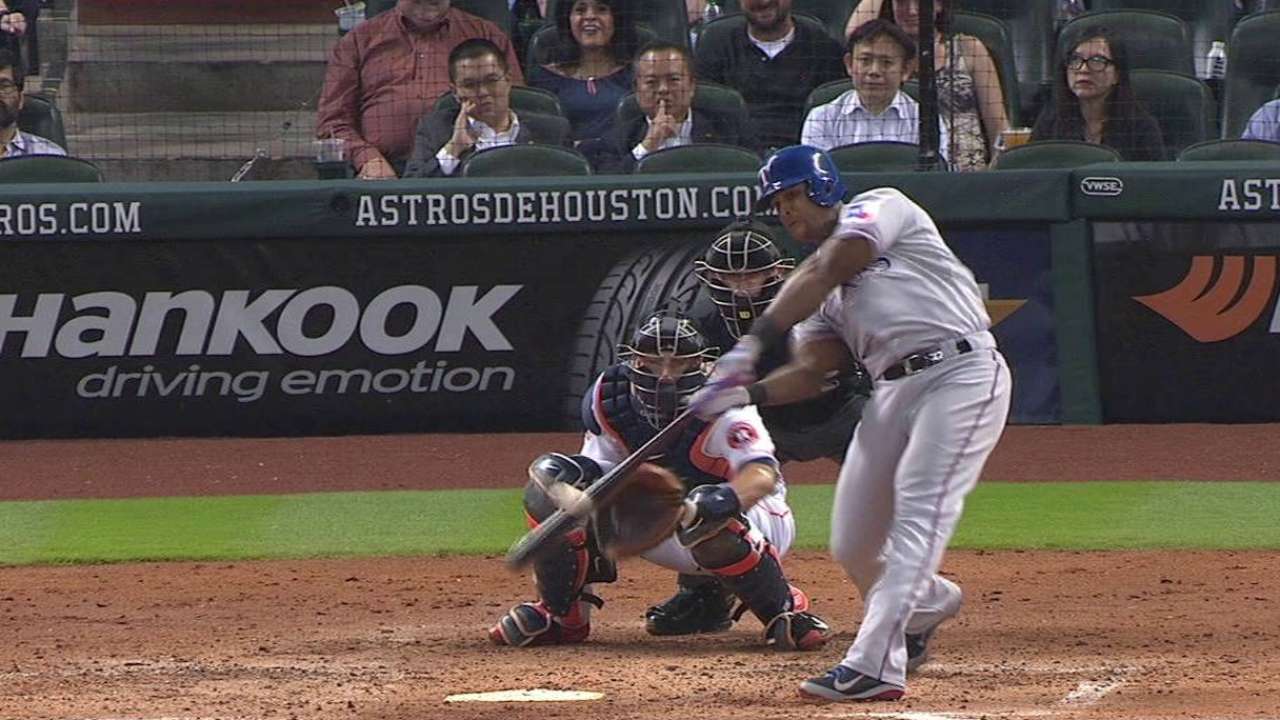 T.R. Sullivan is a reporter for MLB.com. Read his blog, Postcards from Elysian Fields, and follow him on Twitter @Sullivan_Ranger. This story was not subject to the approval of Major League Baseball or its clubs.