Latos rebounds from hamstring issue with win
Bullpen follows right-hander's lead to secure his first victory with Miami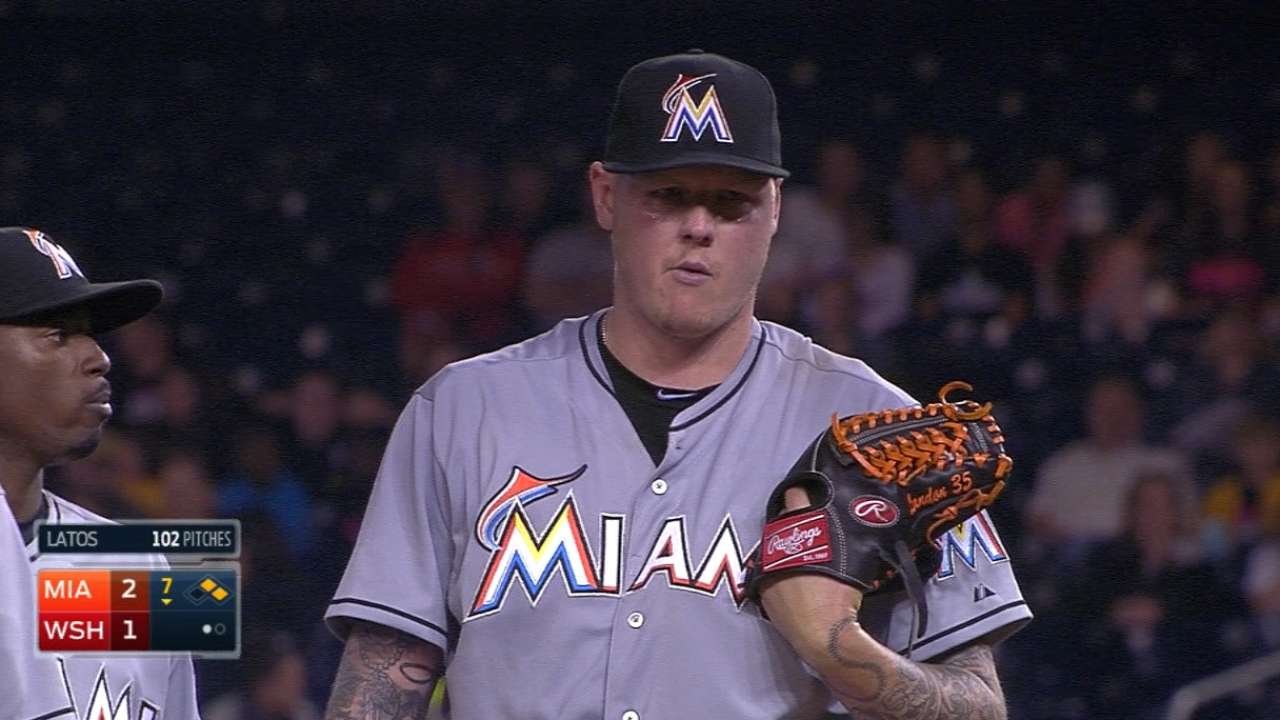 WASHINGTON -- Six days after leaving his last start with a strained hamstring, Mat Latos returned to the mound on Tuesday night for an outing he would describe as his best of the season.
Latos threw 6 1/3 innings and allowed one run and two hits as the Marlins beat Washington, 2-1, at Nationals Park. The win was the Marlins' 10th in their last 13 games, but the first of the season for Latos, who improved to 1-3 in his first campaign with Miami.
"That's probably the best that I've felt all year," said Latos, who broke a personal seven-game winless drought dating to last season. "The [velocity] on my fastball was a little higher than normal early in the game. I had good command of my curveball, better command of my slider and my changeup as well, so it was good to be able to mix them all together."
Latos threw a season-high 102 pitches and finished with six strikeouts and five walks. The 27-year-old left the game with one out in the seventh inning after walking Wilson Ramos and Dan Uggla.
"Not really knowing what to expect out there tonight after his last outing," said manager Mike Redmond, "it was good to see him go out there and get some quick outs. ... I would have loved for him to get through that seventh, but he gave us everything he had, and he kept a great lineup in check."
Nick Masset came on in relief and ended the Nationals' threat with two quick outs. A night after the Marlins' bullpen blew a 2-1 lead in the seventh inning and a 4-2 lead in the eighth, Masset combined with three other relievers for 2 2/3 shutout innings to secure Tuesday's win.
Mike Dunn and A.J. Ramos pitched a scoreless eighth, while closer Steve Cishek overcame the first two Nationals reaching base in the ninth to pick up his third save of the season.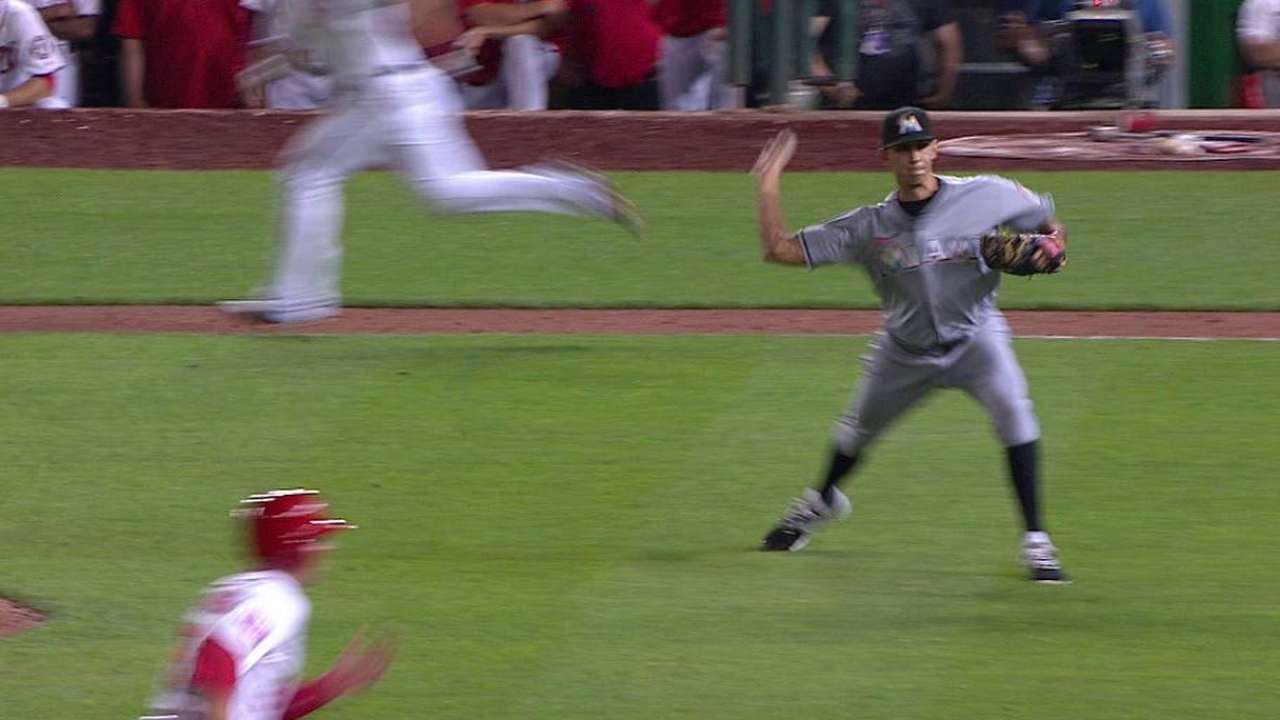 "We've played some tight games," Redmond said. "They're not always perfect, but our guys keep playing, they keep battling, we'll make some mistakes here and there, but we're able to overcome them, and you saw that again tonight."
Ramos led off the bottom of the ninth with a single to right field, and after a fielding error by Marlins shortstop Adeiny Hechavarria, the Nationals had the potential tying and winning runs on base with none out. Cishek then recorded the final three outs in succession, closing it out with back-to-back strikeouts of Michael Taylor and Tyler Moore.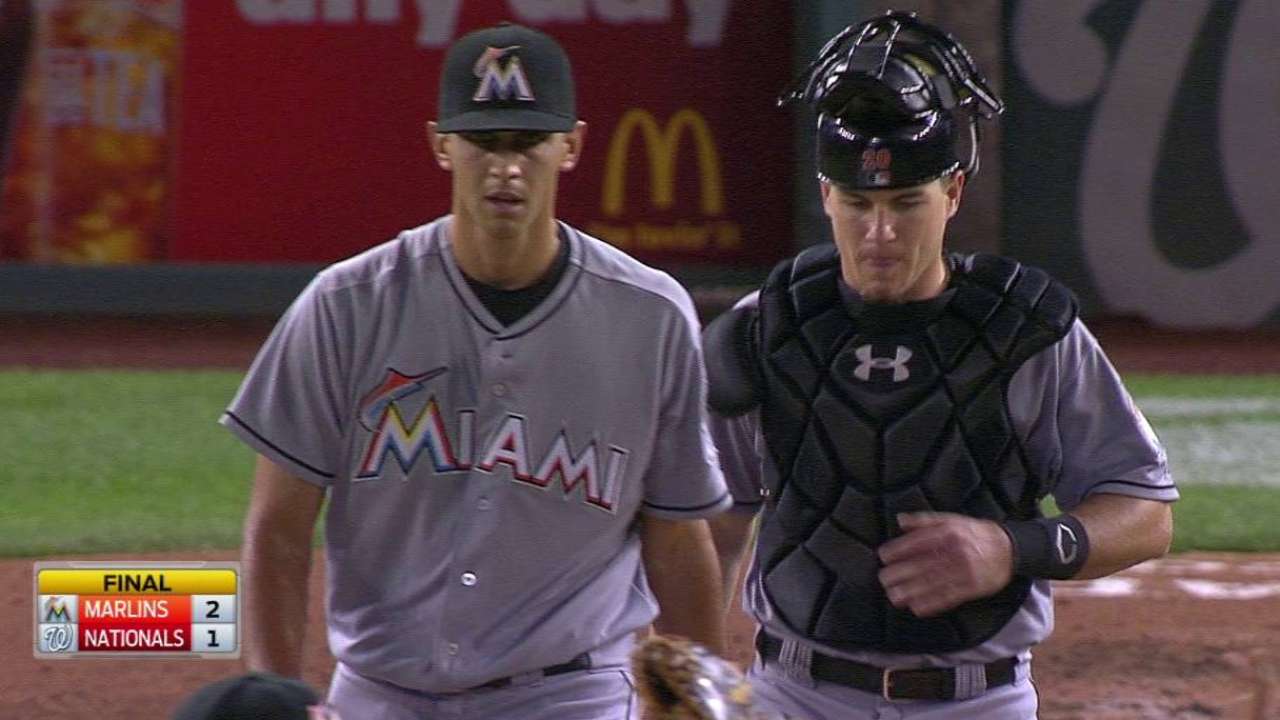 "It feels good to come out on top, especially after a tough one like [Monday's 6-4 loss]," Cishek said. "So for the team to bounce back the way we did in response to that was great to see."
Ben Raby is a contributor to MLB.com. This story was not subject to the approval of Major League Baseball or its clubs.