Greinke once again proves status as stopper
Dodgers pitcher is 21-6 when starting after a team loss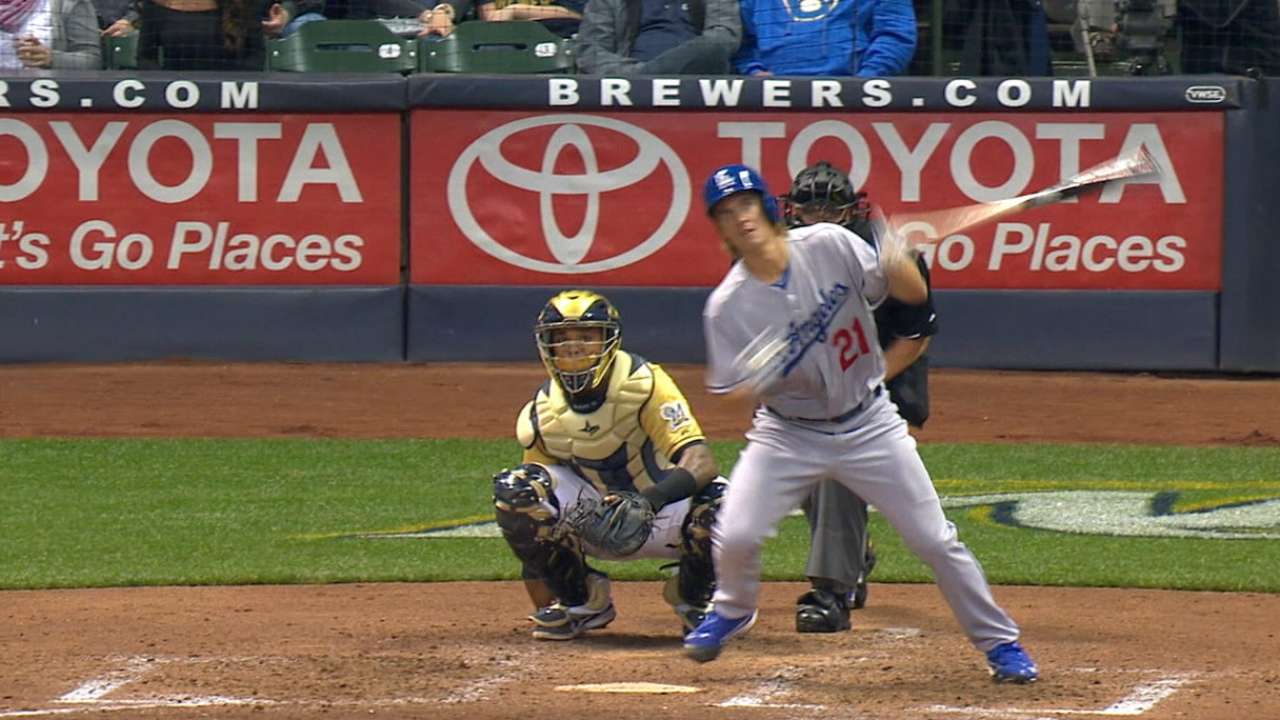 MILWAUKEE -- Zack Greinke was asked where that Yasiel Puig-like bat flip came from.
"It's always there. I just haven't hit one hard like that in a while," Greinke said about his seventh-inning double in Tuesday night's 8-2 Dodgers' win over Milwaukee.
The Silver Slugging pitcher had a lot of company hitting balls hard. Justin Turner slugged a three-run homer with four RBIs. Adrian Gonzalez and Jimmy Rollins had two-run shots, Gonzalez's Cinco de Mayo blast reaching the scoreboard below his picture.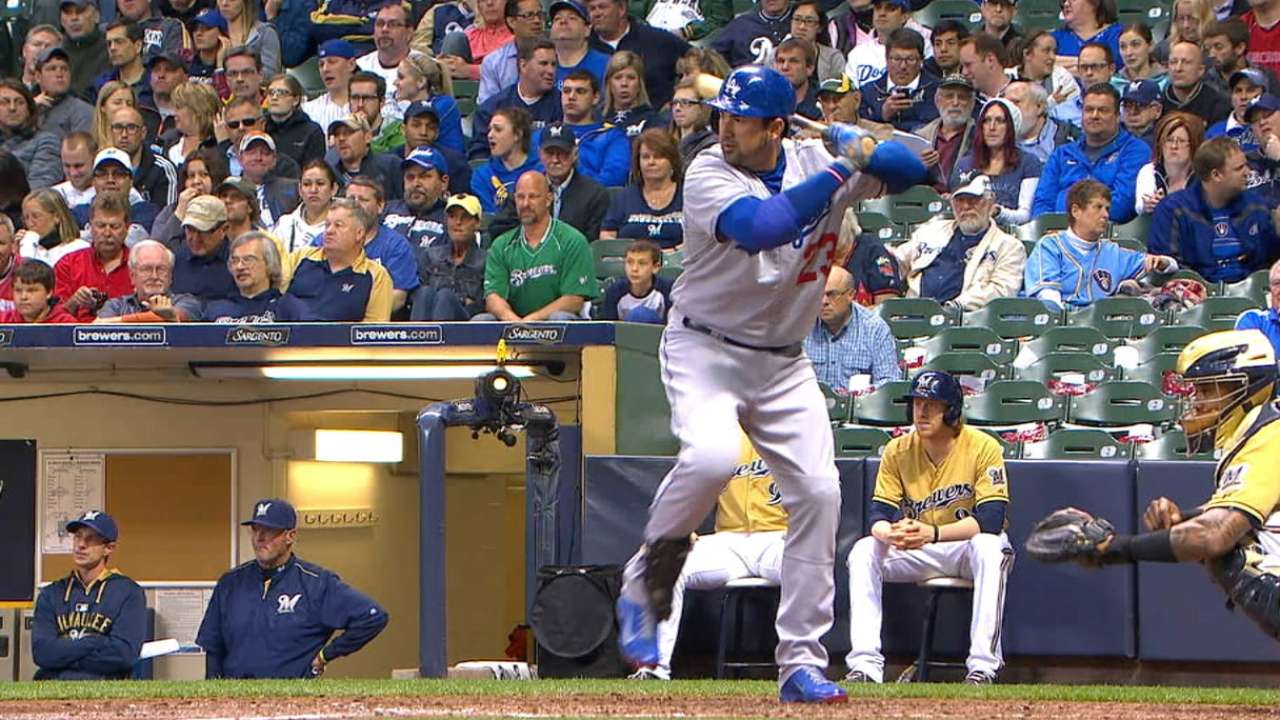 And with Greinke on the mound, the Dodgers were pretty certain of winning. He's off to a 5-0 start for the second consecutive season. He's 10-0 in his last 14 starts and now 16-2 at Miller Park, which he once called his home field. This was the first time he has beaten a former team.
Since joining the Dodgers he's 37-12, and the club has gone 45-20 in his starts. And perhaps most important, he is 21-6, and the Dodgers are 25-8, after a team loss, this one coming a day after Clayton Kershaw let a lead get away late. After four Dodgers losses this year, Greinke has allowed three earned runs in 27 2/3 innings.
"I don't know why -- it's like winning on the road," manager Don Mattingly said, unable to explain Greinke's record after team losses and his club's poor road mark (4-7) so far. "I think Zack is good in general."
Greinke threw a two-hitter for 7 2/3 innings, the only run unearned after center fielder Joc Pederson momentarily lost a line drive and was charged with an error. Greinke struck out seven, walked two and doubled to center with the bat flip.
"I still don't understand why people make a big deal out of Puig's bat flip," said Gonzalez. "Zack's is way better than Puig's."
Comparing his consistency with the Dodgers to his Cy Young season of 2011 with Kansas City, Greinke said he doesn't try to do as much as he used to, doesn't try to throw perfect pitches every time.
"I think since he's been [with the Dodgers] he developed this changeup that's really a weapon for him," said Brewers manager and former teammate Craig Counsell. "He's become a four-pitch guy now, and that changeup is a true weapon, almost more than his slider at this point."
The Dodgers are averaging 5.6 runs in Greinke's starts and have homered in all but one. Gonzalez insisted all spring that the club would score runs.
"I kept saying that and nobody listened," he said.
The National League Player of the Month of April leads the club with nine homers, but this one came against a pitching staff that hadn't allowed him to put a ball in play in seven previous plate appearances (five walks, one hit by pitch, one strikeout).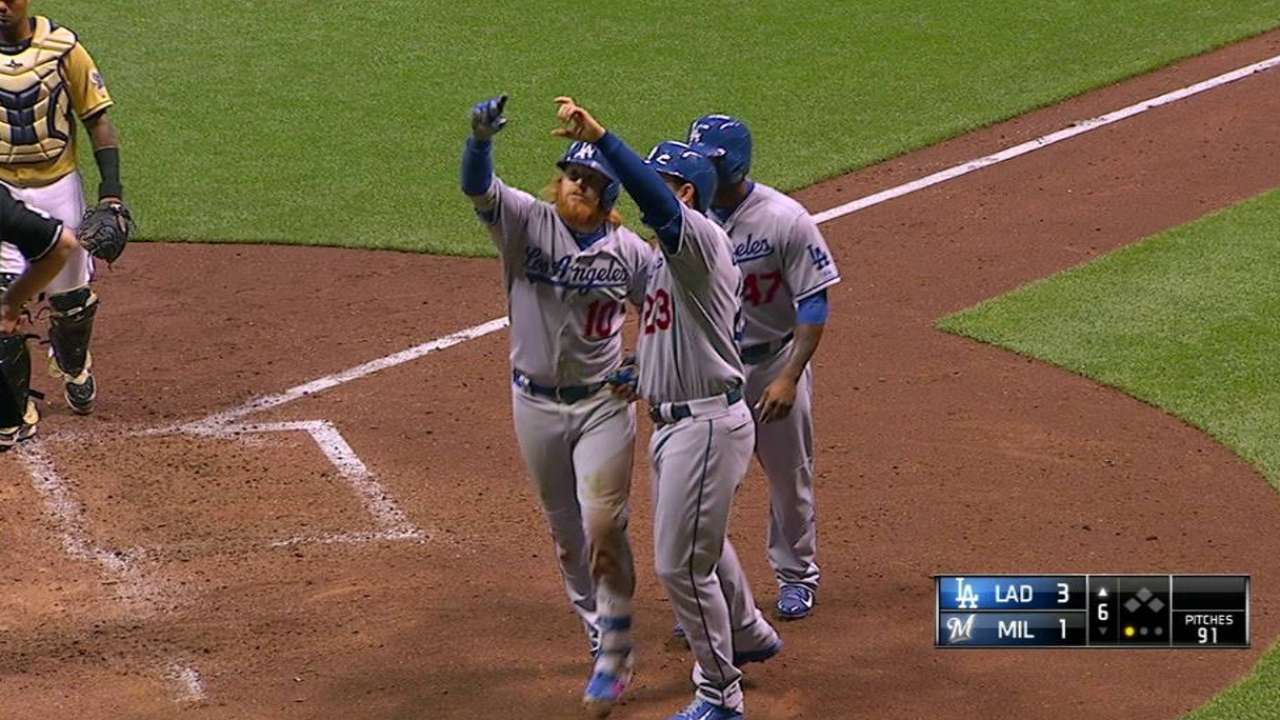 Meanwhile, Turner has homered in four of his last six games. He started ahead of third baseman Juan Uribe, who has a 13-game hitting streak.
"Justin's been extremely hot lately," Mattingly said of his third-base options. "That makes it tougher and tougher."
Ken Gurnick is a reporter for MLB.com. This story was not subject to the approval of Major League Baseball or its clubs.