MLB.com Columnist
Mike Bauman
Maddon the steadying force Cubs need
ST. LOUIS -- The Chicago Cubs did not hire Joe Maddon as manager just so he could give the speech at the parade celebrating the World Series championship.
Maddon, of course, would be fine giving that speech or any other speech. But first there is the matter of getting the Cubs over the considerable distance from here to there. And that is going to entail some bumps in the road, some sections of the road that don't appear to be paved, and, occasionally, some difficult detours.
This is where Maddon comes in, and stays in, as manager. He guided the Tampa Bay Rays -- much bigger underdogs than even the Cubs -- to the status of perennial contenders.
Maddon can do this kind of thing because of a relentless positivism, which is not just a function of wearing rose-colored lenses. His optimism is credible. His optimism is reality-based. Maddon is not peddling Brooklyn Bridge deeds. He is planting the seeds of well-reasoned hope.
This is the Joe Maddon the Cubs need now. The Cubs have lost four straight. The past two nights, they have lost leads and games to the archrival Cardinals; Monday night, 10-9, and Tuesday night, 7-4.
These are obviously not the desired results. But it is OK. There is growth. Maddon thought it would take a month for him to get to know his players and vice versa. The 2015 regular season turned one month old on Tuesday. That part of it, for Maddon, is on schedule.
This is the person-to-person stuff. Here is where Maddon separates himself from the managerial crowd by covering the whole spectrum. He is on the cutting edge with advanced analytics. But one-on-one in the clubhouse, he is a humanist.
"I'm getting to know the players better, they're getting to know me better," Maddon says. "I've talked a lot about trust, and I think we're beginning to trust each other implicitly, so that's a good thing.
"It's just the ease of the conversation. You know what I'm talking about -- when you're talking to another human being, how easy is that conversation? And when you're talking about a young baseball player who doesn't have the social ease or the social graces, maybe that conversation has to be worked out a little bit -- compared to a veteran, who has maybe had that conversation before and it's a little easier to pass thoughts back and forth. It's just a little easier, and I'm aware of it.
"When it comes to the young players, it's almost like you have to draw out the conversation. Where with the veteran dudes, they maybe let it fly a little bit. I'm at the point where the younger guys are talking a little bit more easily, and that's what I encourage. I don't want it to be just a baseball conversation."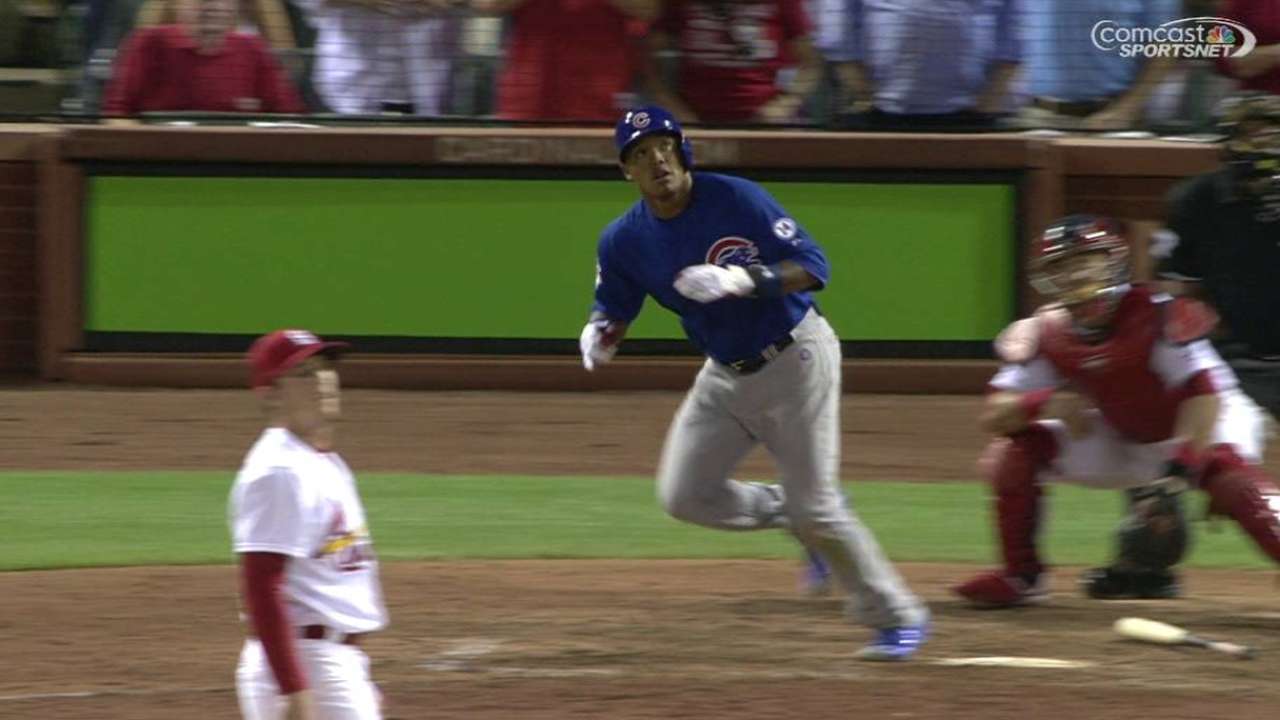 For instance, there is Addison Russell. The 21-year-old is new to the Cubs and new to second base, but he is a player whose talent suggests sky-is-the-limit potential.
"Conversationally, he's smiling and at ease now, like he was in Spring Training," Maddon said. "To me, that's the true indicator. With all the young guys, I try to engage them in conversation in normal moments, not just in baseball moments. His ability to speak with me has become easier. That's just normal stuff.
"And as he relaxes, heads up. Because you see the ability. He's playing really, really well, and you know what? He's going to keep getting better."
On the other side of the ledger, the Cubs have had erratic performances out of the bullpen, particularly in middle-inning situations. This has led directly to defeats the past two nights.
"The middle innings, that to me is so vital," Maddon said. "We'd be in really good shape if we'd done a better job in the middle of the ballgame. We're missing two really nice pitchers, Neil Ramirez and Justin Grimm. We're playing really well, but we have to keep leads."
The Cubs will undoubtedly be better off in the bullpen when Ramirez and Grimm come off the disabled list.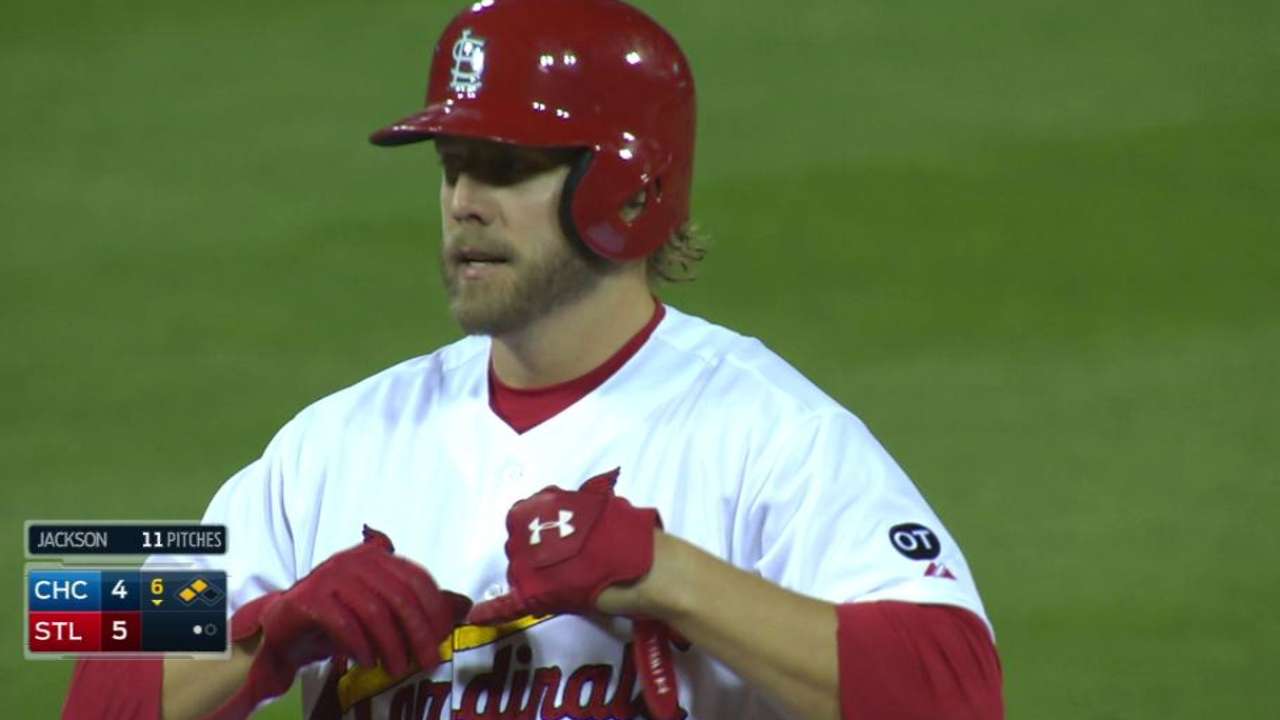 There are other concerns, brought to Maddon's attention on a daily basis. The Cubs are above .500, which represents serious progress from their level of the past five seasons. But with the Cards at 20-6 and winning eight in a row, the Cubs' success becomes a relative matter.
So why isn't rookie phenomenon Kris Bryant hitting a bunch of home runs? Maybe for the moment, we could just appreciate his .442 on-base percentage and acknowledge that the opposition is approaching him with real caution.
Maddon notes that Bryant has played solid defense at third and has run the bases aggressively and well.
"He's going to hit his home runs, he's going to hit for a high average," the manager said. "By the end of the season, you're going to see how good this kid is. Is he struggling? I don't think so."
After watching Maddon manage the Rays all the way from oblivion to the World Series, you understand that what he says always has the force of sweet reason behind it.
The Cubs aren't going to win a World Series championship overnight. But they have the right managerial man, Joe Maddon, for a major march in that direction.
Mike Bauman is a national columnist for MLB.com. This story was not subject to the approval of Major League Baseball or its clubs.