Correa's big night among Minors' top performances Tuesday
Astros No. 1 prospect notches his third consecutive three-hit game for Corpus Christi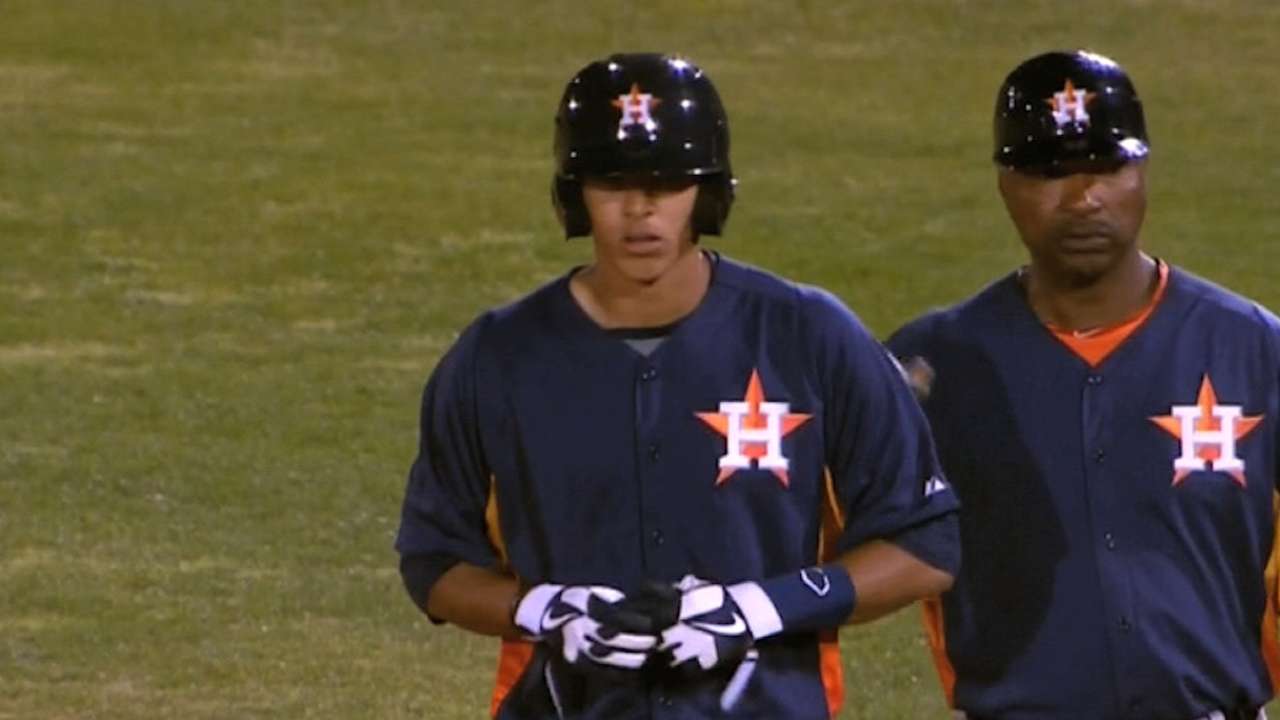 Astros fans have likely noticed No. 1 prospect Carlos Correa's white-hot hitting over the past few nights, and he came through again Tuesday night with his third straight three-hit game and a three-run homer. But there's another reason for optimism in Houston's Minor League stable: the near-perfect performance from the Class A Quad City pitching staff.
No. 22 prospect Daniel Mengden kept QC rolling with six innings of shutout ball in the River Bandits' 4-0 victory over Kane County. Mengden picked up the win, and improved to 1-1 with a 1.52 ERA on the year.
Bandits pitchers -- including No. 16 prospect Joe Musgrove -- have only allowed five earned runs in the past eight games, during which Quad City is 7-1.
More standout performances from Top 100 prospects on Tuesday night
• Red Sox No. 3 prospect (No. 20 overall) Henry Owens got the win for Triple-A Pawtucket. He went six innings, giving up five hits, two walks and one run to go along with three strikeouts. On the year, he's now 2-1 with a 3.67 ERA.
• Braves No. 1 prospect (No. 38 overall) Jose Peraza was 3-for-4 for Triple-A Gwinnett on Tuesday. He began the game 3-for-3, which gave him seven straight hits. After spending nearly the entire season below .300, his average jumped passed that mark Sunday, and is now hitting .320/.362/.371 on the year.
• Rangers No. 2 prospect (No. 44 overall) Jorge Alfaro and No. 3 prospect (No. 53 overall) Nomar Mazara had Double-A Frisco locked in a tight 7-7 battle with San Antonio, but rain suspended the game in the eighth inning -- the teams will finish the contest Thursday. The Texas pair teamed up to start the game 6-for-8 with two doubles, two triples and three RBIs.
• Phillies No. 3 prospect (No. 54 overall) Maikel Franco went 3-for-5 and hit his second home run of the season in a 12-1 win for Triple-A Lehigh Valley. The Dominican third baseman is now hitting 321/.351/.486 on the year.
• Mets No. 3 prospect (No. 65 overall) Steven Matz won his fourth straight start for Triple-A Las Vegas. He went six innings, giving up nine hits and two runs while striking out seven. The 23-year-old southpaw is now 4-1 with a 2.04 ERA, and has surrendered just four runs in his past four starts.
• Yankees No. 2 prospect (No. 67 overall) Aaron Judge continues to lead the offensive charge for Double-A Trenton. The 6-foot-7 right fielder went 1-for-4 with a two-run home run on Tuesday, and is now 11-for-24 with two home runs and five RBIs in his past five games. On the year, Judge is now hitting 333/.367/.539.
• Rays No. 3 prospect (No. 76 overall) Willy Adames' performance was a lone bright spot in Class A Advanced Charlotte's 4-0 loss to Jupiter. The 19-year-old shortstop went 3-for-4 with a walk, and bumped his batting average from .238 to .261.
Other notable performances from around the Minor Leagues
• Dodgers No. 7 prospect Jose De Leon had the night's most impressive pitching line, striking out 12 while giving up just one hit in seven innings of shutout work for Class A Advanced Rancho Cucamonga. The 22-year-old right-hander picked up his second win a row, during which time he's allowed just one run in 13 innings. He's now 2-1 with a 1.80 ERA on the year.
• Rockies No. 8 prospect Tom Murphy had not hit a home run in 16 games before Tuesday night's tilt between Double-A New Britain and Harrisburg. But the catcher launched two in Connecticut, including a walk-off blast to give the Rock Cats an 8-7 win. Murphy went 4-for-5 and notched six RBIs on the night. The 24-year-old now has nine RBIs in the past three games, and his season line reads .337/.415/.614, with a 1.029 OPS.
• Rays No. 5 prospect Casey Gillaspie turned in a 2-for-4 performance that included two home runs and four RBIs. The Class A Bowling Green first baseman has now crushed four homers in his last six games, and has a half-dozen dingers this season. Gillaspie is batting only .236 this year, but he's already collected five doubles and 14 RBIs.
• Brewers No. 24 prospect Tyler Cravy had a solid pitching performance for Triple-A Colorado Springs, but he also made an impact with his bat. The righty went 1-for-3 with a home run during a 6-4 win over Memphis. The extra offense helped his work on the mound, where he struck out seven in six innings while giving up three hits and one run. The "W" was Cravy's first since his season opener on April 13, and he's now 2-3 with a 4.18 ERA.
• Royals No. 13 prospect Bubba Starling hit his first home run for Double-A Northwest Arkansas. Now with 10 games under his belt, the center fielder finished 2-for-4 with three RBIs on Tuesday. He's 4-for-8 with four RBIs in the past two games, and his season line reads .216/.310/.378.
• Padres No. 20 prospect Franmil Reyes knocked out his first homer of the year. The Class A Fort Wayne outfielder went 2-for-4 with a solo dinger in a 4-1 win over Dayton. Reyes is now hitting .228/.282/.278 this season.
• Yankees No. 20 prospect Tyler Wade broke a 0-for-12 slump with a big game at the plate. The shortstop led Class A Advanced Tampa to a 9-3 win over Dunedin with a 3-for-5 night. He also knocked in four runs. Wade notched just his first run batted in since April 27, but his overall hitting numbers -- .315/.369/.348 -- are impressive.
• Indians No. 23 prospect Carlos Moncrief is back above .200 thanks to a big night for Triple-A Columbus. He went 2-for-4 with two homers -- his first since April 26 -- and four RBIs. The outfielder's line now reads .215/.350/.400, and he's now hit four home runs this season to go along with 12 RBIs.
• Tigers No. 18 prospect Chad Green rebounded well from his previous start for Double-A Erie. A week after his night to forget -- three innings, seven earned runs -- the righty gave up four hits in six innings of shutout ball. Tuesday's 5-2 win against Trenton marked Green's first win of year. He's now 1-3 with a 6.65 ERA.
• Royals No. 15 prospect Chesler Cuthbert went 3-for-3 with a solo home run in Triple-A Omaha's 3-1 win over Round Rock. The 22-year-old Nicaraguan is now 7-for-15 over his past four games, and is hitting .310/.410/.536 on the year with four homers and 12 RBIs.
• Orioles No. 14 prospect Drew Dosch now has a six-game hitting streak for Class A Advanced Frederick. He dominated Winston-Salem pitching on Tuesday, going 4-for-5 with three RBIs in a 12-10 win. The third baseman is 11-for-24 during the streak, and has a .327/.391/.469 line on the year.
• Yankees No. 21 prospect Abiatal Avelino is finally figuring it out at Class A Charleston. He started the season 1-for-13 with no RBIs or extra-base hits, but turned it on in his fourth contest. The 20-year-old went 3-for-4 with a double and an RBI on Tuesday, and bumped his batting average from .077 to .235 in one night.
• White Sox No. 8 prospect Trey Michalczewski tallied his first home run of the year and knocked in his first run in seven games for Class A Advanced Winston-Salem. He went 1-for-4 with five RBIs in a 12-10 loss to Frederick. The 20-year-old is now .231/.300/.319 on the year with the one homer and 13 RBIs.
• White Sox No. 11 prospect Matt Davidson hit his International League-leading sixth home run for Triple-A Charlotte. He was 1-for-4 on the night and now has 16 RBIs on the season to go along with a .244/.313/.500 line.
• Braves No. 20 prospect Andrew Thurman is still cooking for Class A Advanced Carolina. After Tuesday's performance -- five innings, three hits, three strikeouts, no runs -- he is 2-0 with a 0.00 ERA in his past two starts. The right-hander is now 3-2 with a 2.77 ERA on the year.
• Nationals No. 8 prospect Wilmer Difo went 2-for-4 with a double, triple and an RBI in his fifth game for Double-A Harrisburg The 23-year-old Dominican shortstop has an extra-base hit in four of his five contests, and is hitting .389/.400/.722.
Alex M. Smith is a reporter for MLB.com. This story was not subject to the approval of Major League Baseball or its clubs.