Byrd provides offensive punch Reds needed
Outfielder hits two-run homer, drives in four runs vs. Pirates
PITTSBURGH -- The Reds' main offseason goal was to add more punch to their offense, something they hoped Marlon Byrd would bring after his trade from Philadelphia. Until Tuesday, that boost was conspicuously absent.
Byrd came through with four RBIs during the Reds' 7-1 victory over the Pirates. In his 2-for-5 night, he hit a two-run home run in the third inning. But his biggest hit was the two-run double in the ninth that provided the six-run lead.
"It was beautiful," Reds manager Bryan Price said. "The home run was beautiful. We always love those but the double there in the ninth to give us those extra runs was big. It really gave us that cushion. We talk about it all the time, I love separation. It's easier to manage a game when you're up by six rather than up by one or down by one. That was really nice."
In the third, Byrd sent a 2-0 pitch from Jeff Locke to left-center field for a no-doubt homer. In the ninth, following Billy Hamilton's RBI infield single against Antonio Bastardo, he hit a first-pitch changeup for a liner to right field that scored two more runs.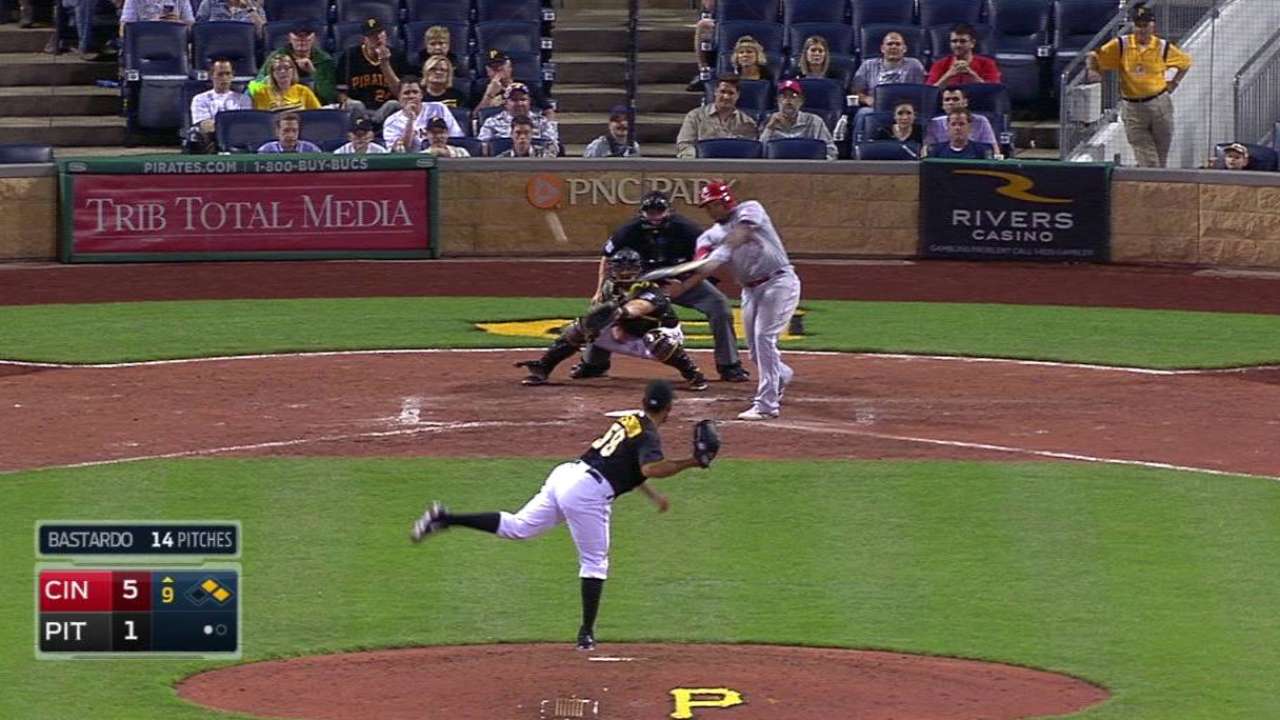 "It was nice just getting some runs and a cushion," Byrd said.
Through 24 games, the 37-year-old Byrd is batting .193/.226/.364 with four home runs and 13 RBIs. Last season, he hit a career-high 25 homers for the Phillies.
"It felt really good to contribute," Byrd said. "April was a struggle for me. I kept working and kept working, trying not to get frustrated. I kept swinging, trying to find that feel I had the past two years. Working with [hitting coach] Don Long every single day, it's slowly coming where I feel more consistent as far as my moves at the plate, my approach at the plate, my mechanics at the plate. It felt good tonight."
Mark Sheldon is a reporter for MLB.com. Follow him on Twitter @m_sheldon. This story was not subject to the approval of Major League Baseball or its clubs.