Porcello stops Sox's skid in impressive effort
Comfortable with Swihart behind plate, righty mixes in curve with sinker, fastball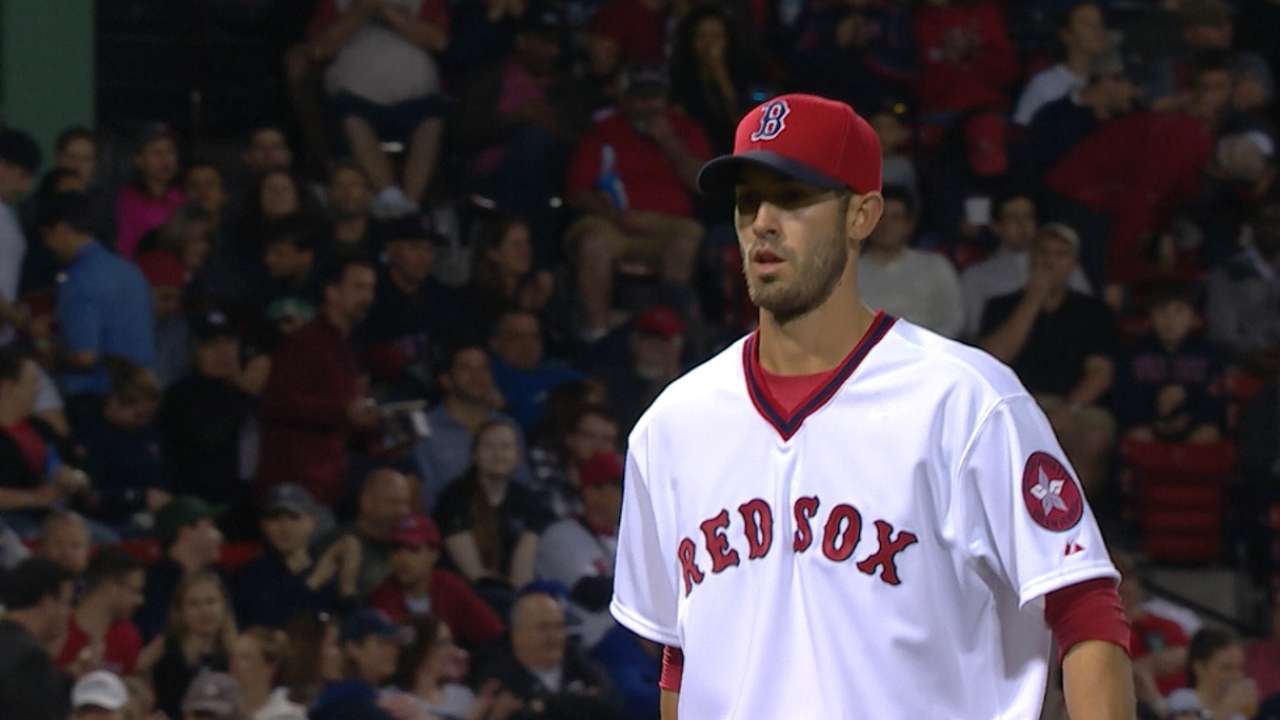 BOSTON -- In a season that has seen the Red Sox lucklessly fish for a reliable starter, they appear to have caught one in Rick Porcello.
Porcello played the role of stopper in Tuesday night's 2-0 win over the Rays at Fenway Park, tossing seven strong innings and outdueling former Tigers teammate Drew Smyly, who had a no-hitter broken up in the sixth. The outing helped snap Boston's four-game losing streak and marked the club's first victory since Porcello's previous start Wednesday.
"We needed it," Porcello said. "We've got to step up as a staff, provide some stability for our offense. It was a nice win. Hopefully we're headed in the right direction."
Perhaps most impressively, rookie backstop Blake Swihart was catching Porcello for the first time. The pair had never even thrown a bullpen session in Spring Training.
"I spent a lot of time talking to [Porcello on Monday] watching the game," said Swihart, who rested Monday. "He and I were sitting side by side most of the game just saying, 'What do you feel like here? What do you feel like there? This situation, what does this dictate?'"
Porcello, the only member of the rotation with multiple games of at least seven innings, has quality starts in four of his six outings. He had been pitching around baserunners all night, allowing singles in each of the first six innings before turning a 1-2-3 seventh to cap off his impressive night.
Porcello scattered eight hits while fanning six and walking none.
"The biggest thing was he didn't walk anybody," Red Sox manager John Farrell said. "I thought after the fourth inning, those final three innings, he started to throw the ball down in the strike zone a little bit more consistently. But on a day when we needed a strong performance, he gave it to us. Smyly has come in throwing the ball well."
Well known as a sinkerballer, Porcello relied more on his four-seamer to attack Tampa Bay's hitters, throwing it on 61 of his 102 pitches and inducing whiffs on seven of 29 swings, according to Brooks Baseball. However, he also went to his curveball to great effect in the later innings and recorded two strikeouts on curves.
"Curveball was big later on in the game today," Porcello said. "Really helped me settle down and get them off my fastball. I felt like I threw a lot of fastballs early. I felt like I had a good fastball. Being able to mix in a curveball for strikes and get some outs with it later on was nice."
Ultimately, the success can be attributed to Porcello's comfort with Swihart, who has performed admirably since making his Major League debut Saturday.
"We definitely talked a lot about our game plan, what we wanted to do to guys," Porcello said. "He really did an outstanding job.
"It's just a different feeling," Swihart said. "I was comfortable [before], but going out there today, I wanted it. I really wanted the win."
Alec Shirkey is an associate reporter for MLB.com. This story was not subject to the approval of Major League Baseball or its clubs.