Twins' offense has no answers against A's
Chavez, Clippard deliver dominant performances in low-scoring game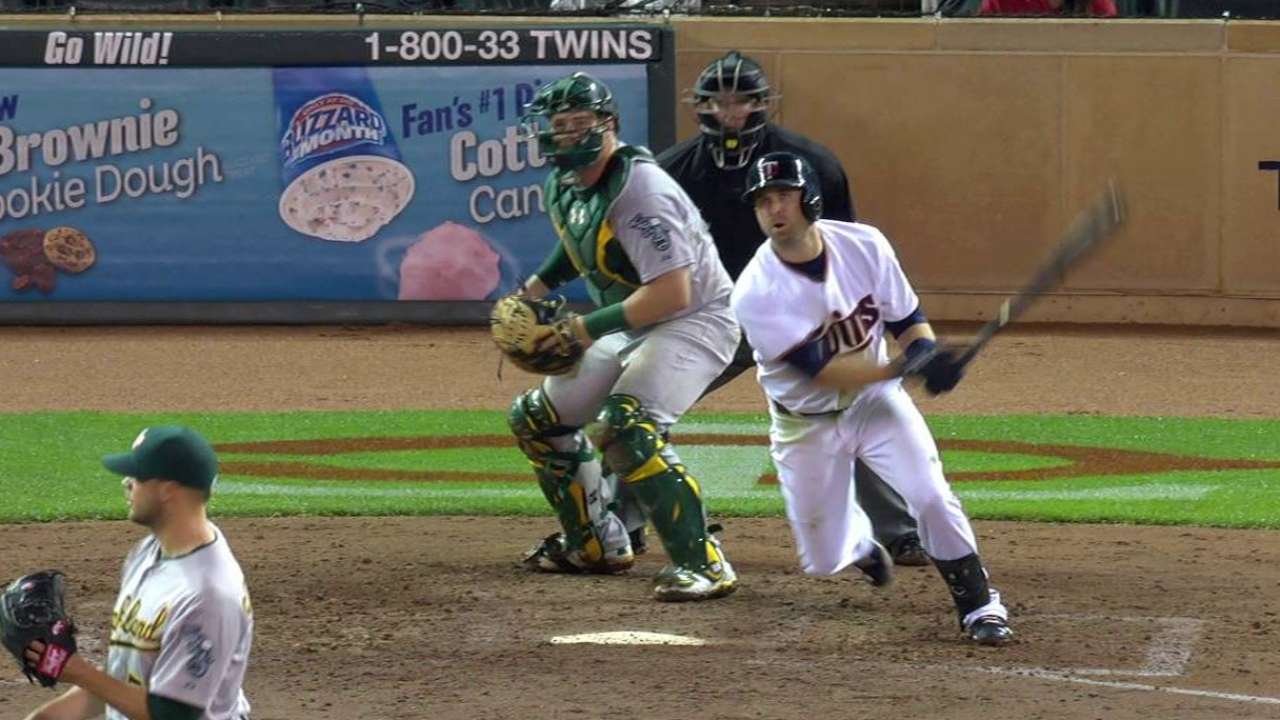 MINNEAPOLIS -- The Twins entered Tuesday's game against the A's with their offense rolling and a five-game winning streak, but it all came to a halt in a 2-1 loss at Target Field.
After averaging 6.6 runs through their first eight games of the homestand, the Twins managed just five hits and didn't score until the eighth inning. They were held in check by A's right-hander Jesse Chavez, who tossed 7 1/3 strong innings with seven strikeouts.
"We had been rolling pretty good offensively," Twins manager Paul Molitor said. "I don't know if he took personal or whatever, but he went out there and threw a lot of baseballs with really good command. A lot of fastballs down in the zone with plenty of velocity and we couldn't square up many balls."
The Twins didn't have many chances against Chavez, but couldn't capitalize when they did. They had two runners on with one out in the seventh, but Kurt Suzuki and Kennys Vargas flied out to end the inning.
Minnesota finally broke through in the eighth, but it came with the help of an error by A's first baseman Ike Davis, who tried to throw to second for a forceout attempt but it sailed into the outfield to give the Twins runners at first and third with one out.
Brian Dozier came through with an RBI single off reliever Evan Scribner, so the A's went to closer Tyler Clippard to face Torii Hunter and Joe Mauer. Clippard struck out Hunter on a 3-2 fastball, while he got Mauer to fly out to left on a 3-2 changeup to get out of the jam.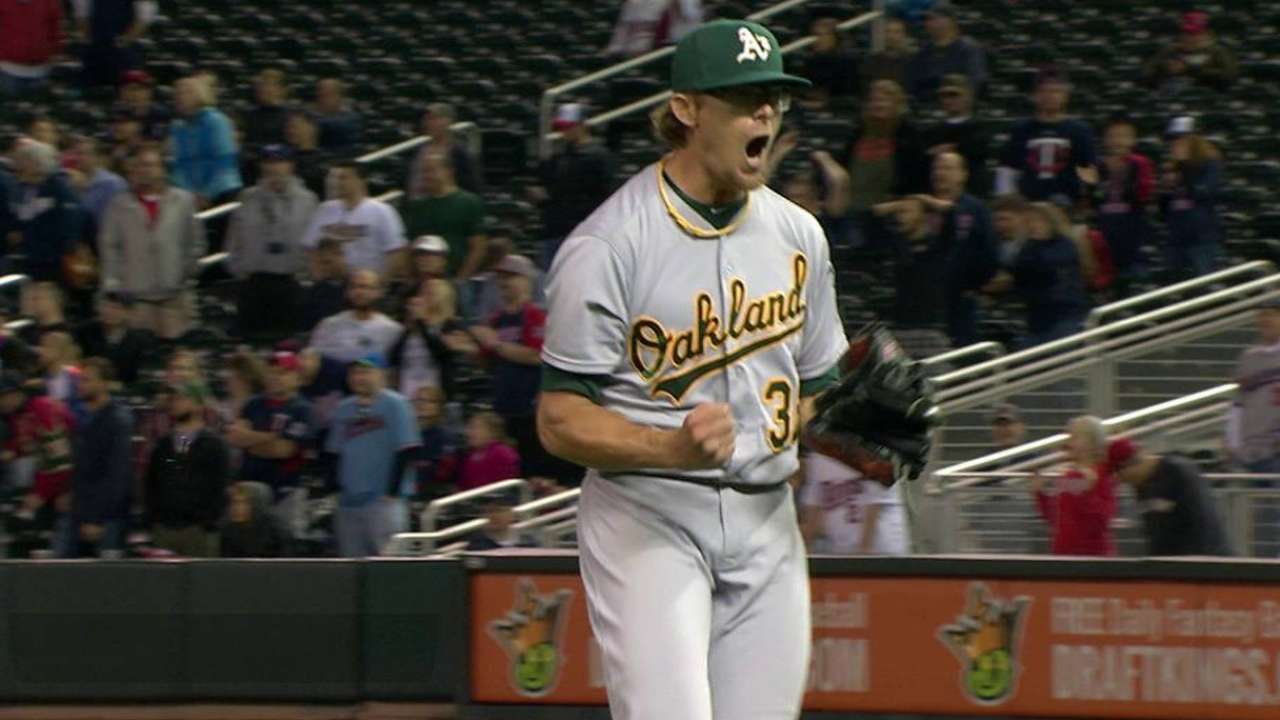 It was two players Molitor wanted to see at the plate in that situation, but it just didn't work out.
"They've been doing it for us," Molitor said. "Torii has had a good homestand with a lot of big hits and Joe has been doing it since the beginning. That guy came in and kind of mixed up that fastball and changeup combination."
Hunter said he was looking for a changeup on the 3-2 pitch from Clippard and it allowed Clippard to beat him on a fastball.
"I know his changeup is probably his best pitch, so I had that in the back of my mind at 3-2 and he threw the fastball by me," Hunter said. "I was trying to foul it off and fight and make something happen, but he threw it by me. He's in their closer position for a reason."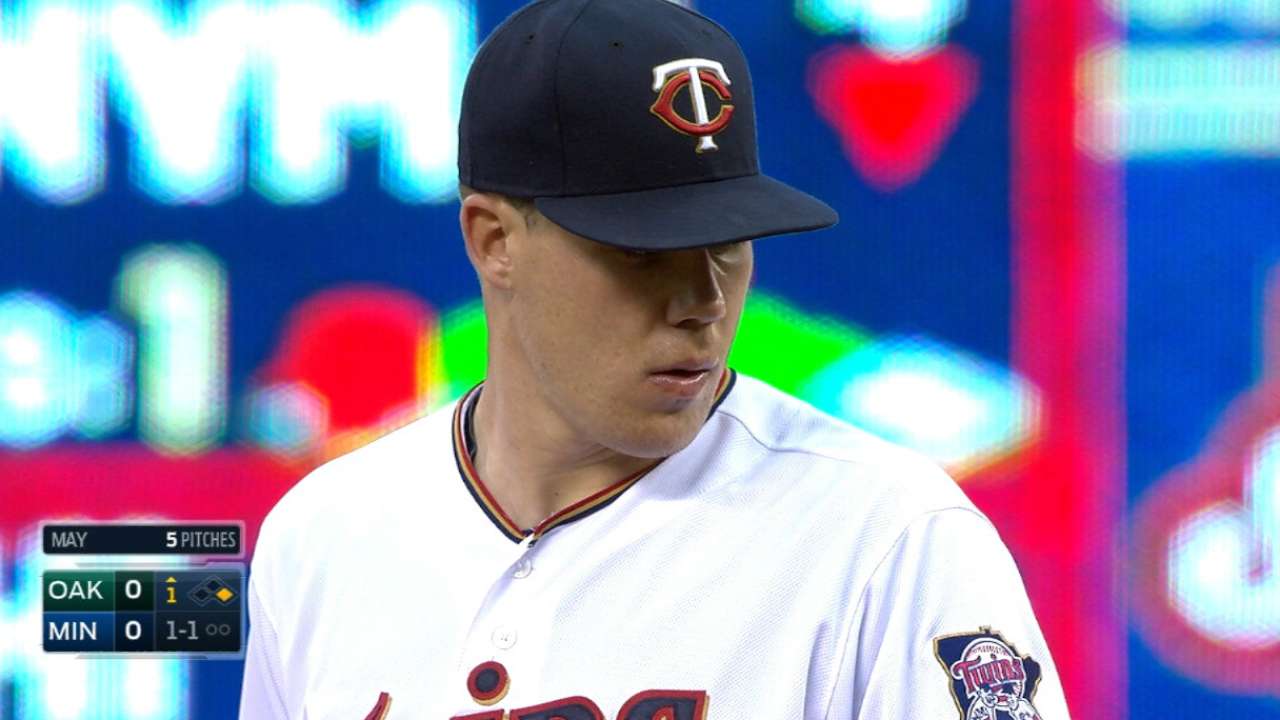 The lack of offense gave right-hander Trevor May a tough-luck loss after he allowed two runs on five hits over 5 2/3 innings. He threw 101 pitches, which kept him from going deeper in the game, but was happy with the progress of his curveball.
"I was able to throw my curveball over for strikes," May said. "It was maybe the first time this year consistently. So that helped. It was part of our gameplan. I was confident in it and threw it when I needed to."
Rhett Bollinger is a reporter for MLB.com. Read his blog, Bollinger Beat, and follow him on Twitter @RhettBollinger. This story was not subject to the approval of Major League Baseball or its clubs.