Outstanding Chavez, Clippard lift A's
MINNEAPOLIS -- Right-hander Jesse Chavez gave the A's 7 1/3 superb innings, and closer Tyler Clippard notched a five-out save, guiding the A's to a 2-1 victory in Minnesota on Tuesday evening -- the kind of win the A's witnessed so many times in previous years, but eluded them in the first month of their newest campaign.
In fact, it was their first one-run win of the season. They were 0-7 this year in such games before Tuesday and 0-10 dating back to Sept. 24, 2014.
"Oh, we knew," said catcher Stephen Vogt, smiling. "Now we can win any game."
"We're used to winning games like that around here," said manager Bob Melvin. "Certainly, '12, '13 a lot of '14. We've been in a little bit of a rut as far as that goes. Our pitching is what carries us in those games when we score just enough, so hopefully this is the start of a good trend for us."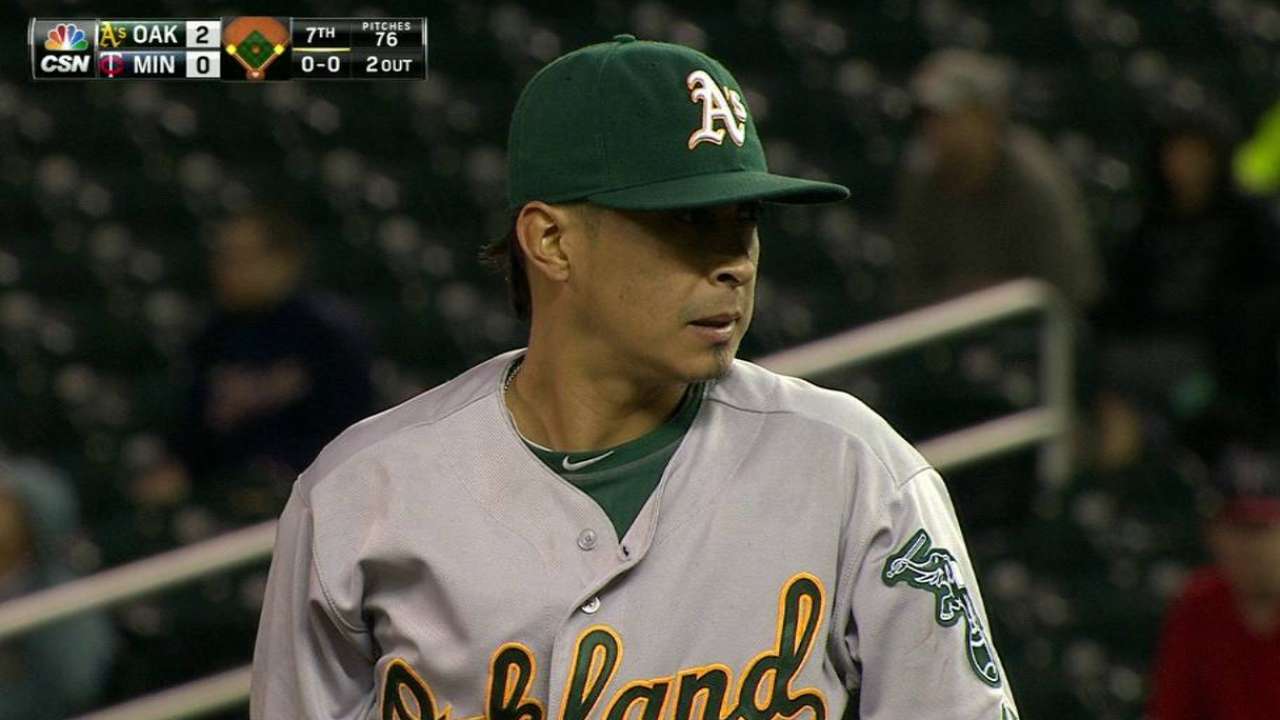 Chavez's outing was significant beyond just his line, which revealed just one unearned run and four hits allowed with seven strikeouts in 7 1/3 innings. That he was able to pitch so deep into the game meant much of a beleaguered bullpen -- sporting a 4.82 season ERA -- could simply rest for one night.
"My whole goal today was to go as deep as I can and just give everyone a mental day down there," said Chavez. "That's something we needed down there. I know how it is down there. It's a grind. But it's something that we're going to get out of, and today should be a jumpstart."
"It's exactly what everyone in this room needed," said Vogt. "You knew from pitch No. 1 that he was right where he wanted to be. Made some great pitches in some big times, really kind of kept it very relaxed in our dugout."
Chavez faced just one over the minimum through the first six innings. He pitched around two baserunners in the seventh and boarded Jordan Schafer to lead off the eighth, but he induced a potential inning-ending double play ball from Danny Santana that first baseman Ike Davis airmailed into left field, putting runners at the corners. That's when Melvin called on right-hander Evan Scribner.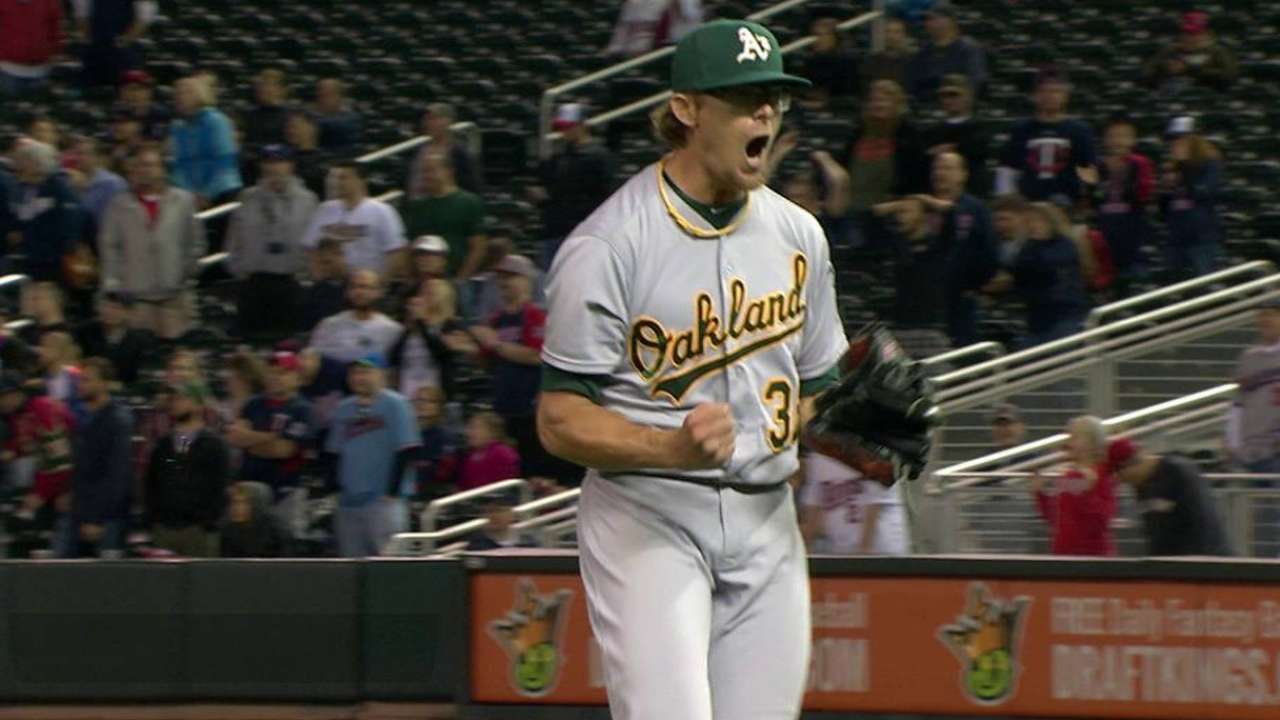 "I saw some elevated balls that inning, moreso than any other inning," said Melvin. "I would have loved to get that double play."
Scribner offered up an RBI single to Brian Dozier, but Clippard came in and retired each of his five batters faced thereafter, collecting his third save of the season -- and first save of more than three outs in his career.
"I was itching to get out there and contribute," said Clippard, laughing. "It feels like I haven't really done much this year, I haven't been able to get out there. So it was nice to come in in a big spot and get us out of it and have a clean ninth and get us the win. It was fun."
Jane Lee is a reporter for MLB.com. This story was not subject to the approval of Major League Baseball or its clubs.