Scoreless outing extends Pineda's streak to 6
Big right-hander tosses eight frames, strikes out six in win over Blue Jays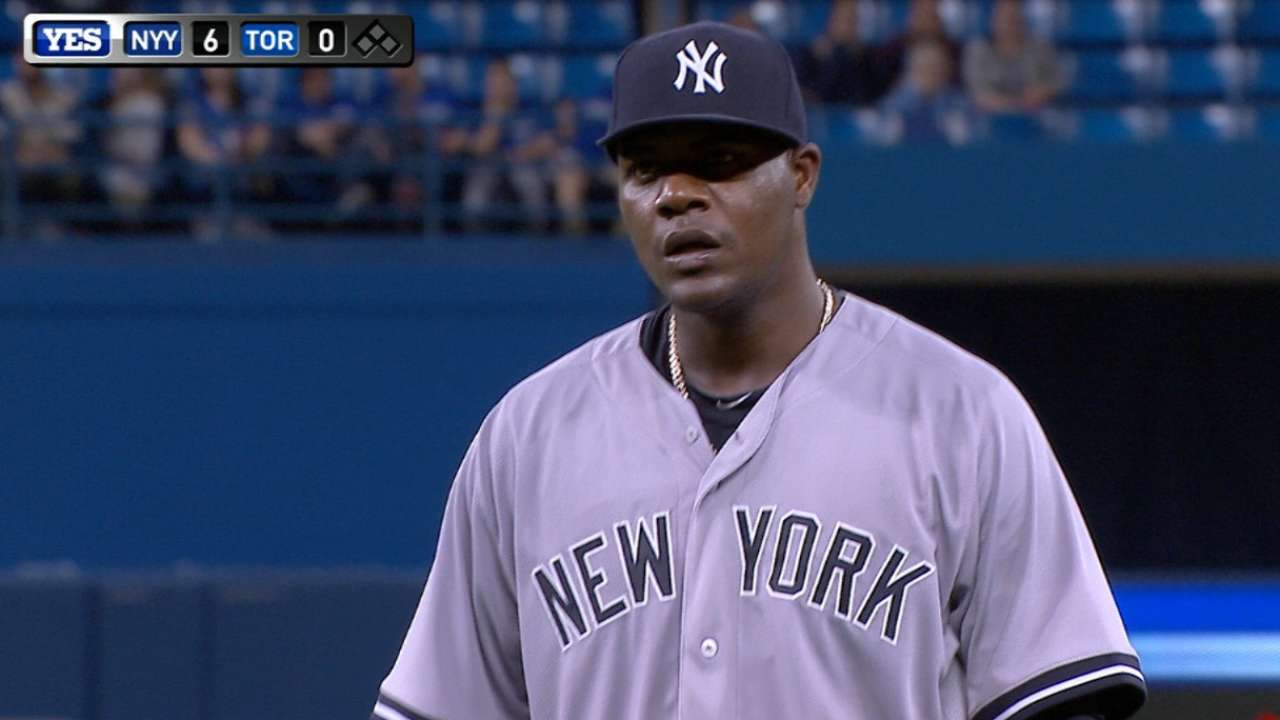 TORONTO -- Michael Pineda strung together eight scoreless innings to increase his winning streak to six games as the Yankees topped the Blue Jays, 6-3, at Rogers Centre on Tuesday.
The imposing right-hander didn't have his best stuff early, but got better as the game went on and managed to surrender only five hits and one walk while striking out six against a normally potent Blue Jays offense.
"He got into a better rhythm, and I thought his stuff got better. He seemed to get on top a bit better after the fourth inning," Yankees manager Joe Girardi said. "He gave us a great eight innings."
Pineda turned the ball over the bullpen for the ninth, and, despite a late charge from the Blue Jays, he was awarded his sixth consecutive win in a streak that dates back to September 2014.
The only real danger he encountered came in the third inning, when he issued a leadoff walk to Blue Jays No. 9 hitter Ezequiel Carrera before Russell Martin swatted his second double of the night with two away. But Pineda escaped the frame unscathed when he got Edwin Encarnacion to fly out to left field.
Pineda's walk to Carrera was the first free pass he'd given up in his previous 20 innings.
Yankees catcher Brian McCann said Pineda created tough angles that Blue Jays hitters weren't able to square up to.
"That's why he doesn't give up big innings, that's why he pitches deep into ball games," McCann said. "He's just got really good stuff and he knows what he's doing."
In tossing his third quality start of the season, Pineda recorded his fourth consecutive road victory while matching a career high in innings pitched.
"I'm proud of pitching eight innings tonight," Pineda said. "Helping out the bullpen. They've been working really good in the last couple of series."
Jamie Ross is an associate reporter for MLB.com. This story was not subject to the approval of Major League Baseball or its clubs.